I have been asked by a couple of people how I add pictures into my blogs so I thought that I would make a little blog on how I do it. This is what works for me and not the only way to do it.
First you have to have your pictures in your computer. You can download then from your camera or scan them with a scanner or whatever method you want.
I like to resize the pictures in advance. The maximum width picture that you can display in a blog is 640. I don't know what the limit for the height is. Anyway I use a free little program from Microsoft to resize my pictures. You can find it HERE. All the instructions on how to use it are there.
Then you need a place online to store your pictures. I use Photobucket, it's FREE. You can find it HERE.
Once you sign up, you can start uploading your pictures. The following are a series of pictures showing how I upload a picture.
First select "Albums and upload" from the drop down menu.
.
.


.
.
Here's another way to change the size of your pictures. Just do it before you select your files.
.
.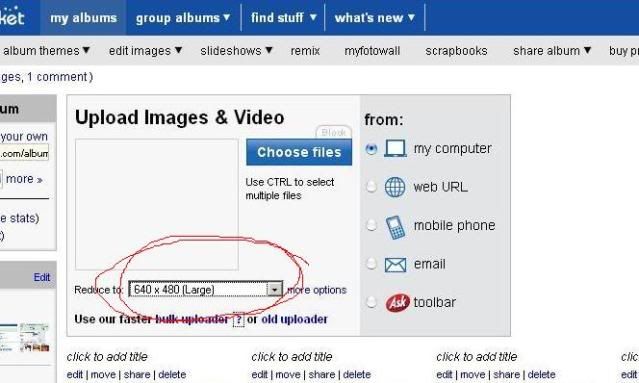 .
.
Then select "Choose Files"
.
.


.
.
Find the file you want to upload on your computer, hightlight it and select "open".
You can select as many files as you would like.
.
.


.
.
Then you will wait while it uploads.
.
.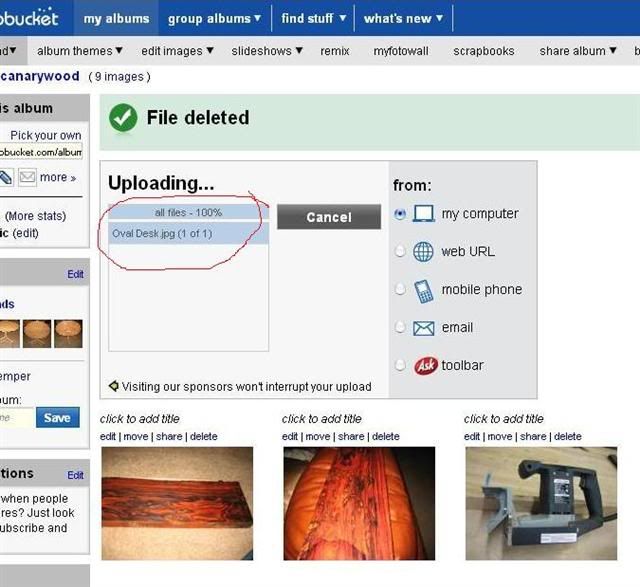 .
.
Once it's done you can add a title and so on if you like. Then select "return to album"
.
.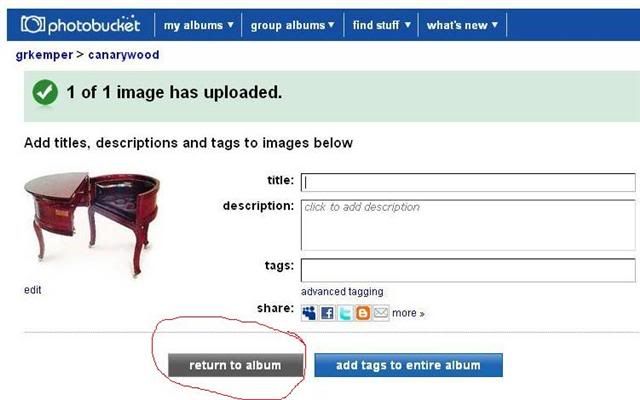 .
.
And there's the picture I uploaded.
.
.


.
.
The picture itself will have it's own pull down menu. Go to "Direct Link" and highlight the link and copy it. (right click and select "copy").
This is the link that you will paste into your blog.
.
.


.
.
Then go to Lumberjocks and start your blog like you normally would.
Paste your picture link (right click, paste) into your blog.
To get your picture to display you MUST put an exclamation point at the beginning and end of your link with no spaces like the picture below.
I like to add a couple of periods to space my pictures and text. If I don't everything looks too crowded.
Then click "Preview" to see if it's correct.
.
.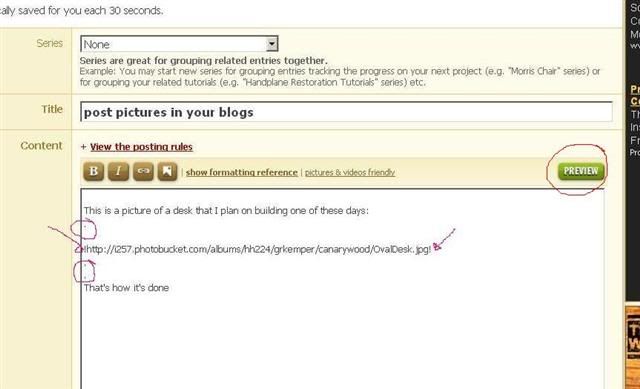 .
.
If you still need to edit it some more select "Close Preview" and make your edits.
Post it when you are done.
.
.


.
.
If I have forgotten any thing, let me know and I will add it to this blog.
You might want to add this blog to your favorites so that you can point other people to it when they ask how you do it.
I hope this answers your questions
-- Gary - Never pass up the opportunity to make a mistake look like you planned it that way - Tyler, TX
---