This is just a quick blog to show my progress so far on the base. Since very few have Legacy Mills I have forgone the process on using it for this.
This is the first part where you will see that I am not making a traditional Pie Crust Table. Like I said in my previous blogs this will be different.
I guess you can say that I am going for a Jacobean/Medieval look. Google some images on Jacobean to see what I mean. The Jacobean style was big into spirals.
.
.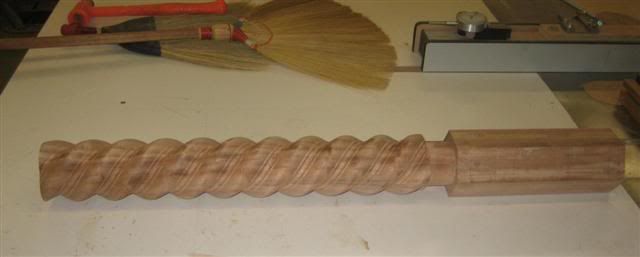 .
.
This started out at a big piece of 16/4 mahogany. After machining it I almost ended up with the same amount of chips as I did for the top.
The base is a 6 sided polygon for the 3 legs. The narrow cut you see in the middle was required due to the router bit I used to cut the spiral. I will be adding some wood there for the transition. I'm still thinking about what will look good.
Until next time.
-- Gary - Never pass up the opportunity to make a mistake look like you planned it that way - Tyler, TX
---