I guess I used this step as a lesson to myself on how to remove a lot of material fast. Having never done anything like this before I thought I would try different methods.
The first method was route channels leaving some uncut material to support the router and then use my flush cut saw to remove them. Then I thought of all the dust that would make so I tried to make a bunch of saw cuts and beat them out with a hammer. This worked very well at limiting the amount of chips.
.
.


.
.
But when I used the router I was scared to death of slipping near the and ruining the entire thing.
.
.


.
.
Then I tried to use a stationary router in moving jig. This is the jig that I used to flatten my work bench.
But once again I was afraid when I got to the ends because I was cutting blind.
.
.


.
.
This is the method I ended up using. A stationary jig with moving router. It was very effective and relatively fast.
I made it with hardwood sides the keep it from drooping in the middle and melamine to reduce friction. Another thing I did for safety was to install stops. One on each end to limit the travel of the router and in the lower picture to keep the jig in position.
I just lined it up in the center and made a cut and then rotated the jig around the center point looking through the slot to position it. I also used an old candle to wax the bottom and edges or the router to make it slide very easily.
.
.


.
.


.
.
The slot was about 2" wide allowing me to make two passes, with the 1 1/2" bottoming bit I used, before re-positioning the jig. One half a rotation of the jig and I was done with the first pass. I took about 1/4" of material off at a time.
.
.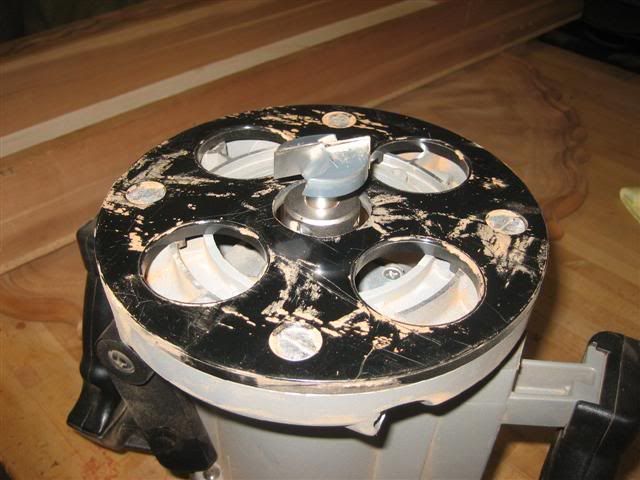 .
.
It ended up taking me about 1/2 an hour of cutting to complete it.
.
.


.
.
After a little sanding with 40 grit
.
.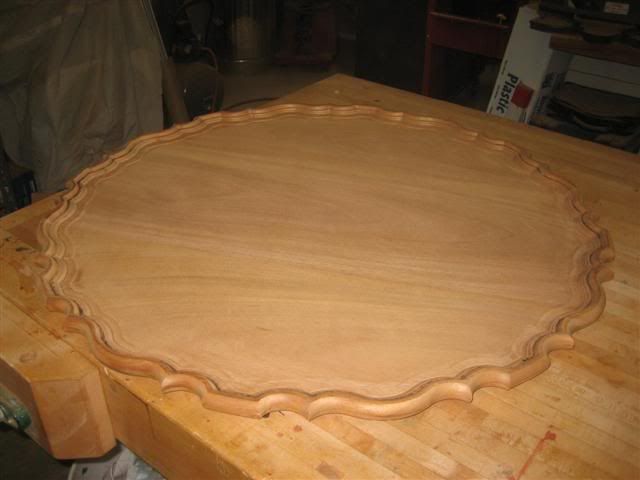 .
.
And Last but not least 1/2 of the pile of wood removed with router. That's an 18" scale.
.
.


.
.
Next time I will start with the stand. Like I said in the beginning it will be something different.
-- Gary - Never pass up the opportunity to make a mistake look like you planned it that way - Tyler, TX
---