Now I feel like David Marks with all the templates, but it was the only way I could think of that was fool proof. By fool proof I mean that you can't wander with the router and cut off what you didn't want to.
I needed to make three paper patterns. One for each of the cuts I will be making. Here are two of them taped to the template before cutting.
.
.


.
.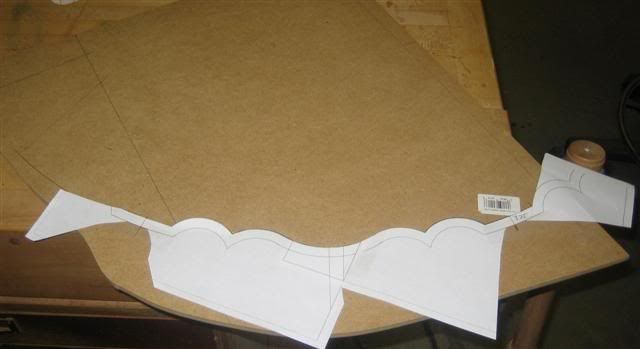 .
.
These were made from the corners of MDF like the one for the outside. I had to leave more material on the outside edge so that when I applied pressure with the router if didn't flex away. They don't look pretty but they turned out pretty good where they counted.
These gave me a chance to use my scroll saw which sits neglected in my shop most of the time. Then some sanding and filing and the edges were perfect (as far as I could make them anyway).
.
.


.
.
Then since I wouldn't be able to see my lines in the top, once I starting removing material, to line things up I drilled a hole to allow me to see through. Then just extended my line into the hole. This is one of the reasons I am going to save cutting the outside radius until last. Otherwise it would remove my lines from the outside edge.
.
.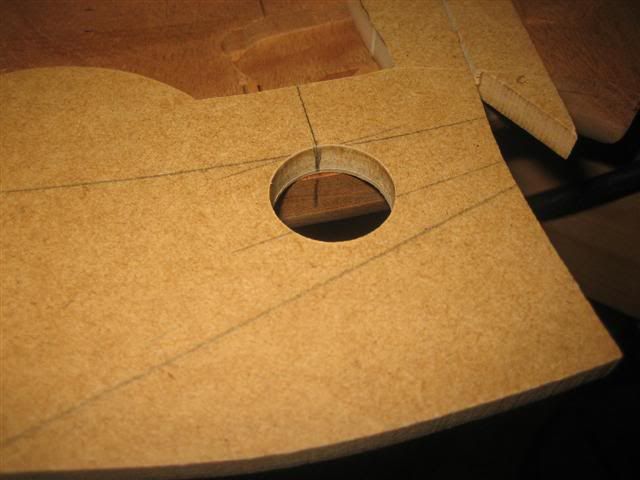 .
.
Here you can see part of the rough cut just to make clearance for the other bits. I just used the flat router bit with one of the wider templates. Now here I don't want to remove too much material from the surface because I still want to use it to support the router base when I route the outside radius. That will be the last thing I do before removing all the material from the inside.
.
.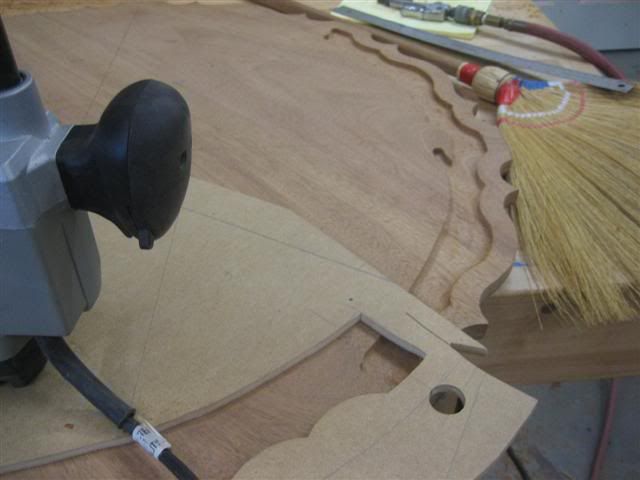 .
.
Here's one of my 2 rarely used plunge routers, set up with my router guide insert and flat bit. You can also see why I left so much material on the templates. I have to have room for the clamp.
.
.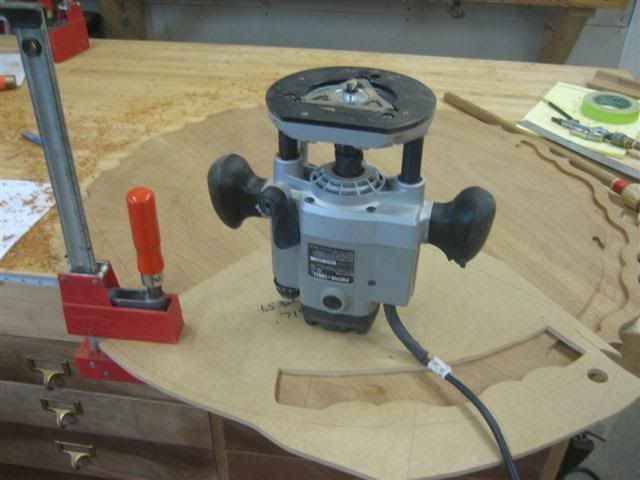 .
.
Now because of the diameter of the 1/4" radiusing bit I couldn't use a router guide insert like a did above, so I had to do something different.
I had to add a bearing to the bit. Luckily the bearing from the other bit I am going to use would work. See the larger diameter shank on the blue bit? Well, that was because the inside diameter of the bearing was 5/16". So to get it to work on my 1/4" shank red bit I had to make a sleeve to the shank to increase the diameter. Now I just happen to have a metal cutting lathe so I just made one.
.
.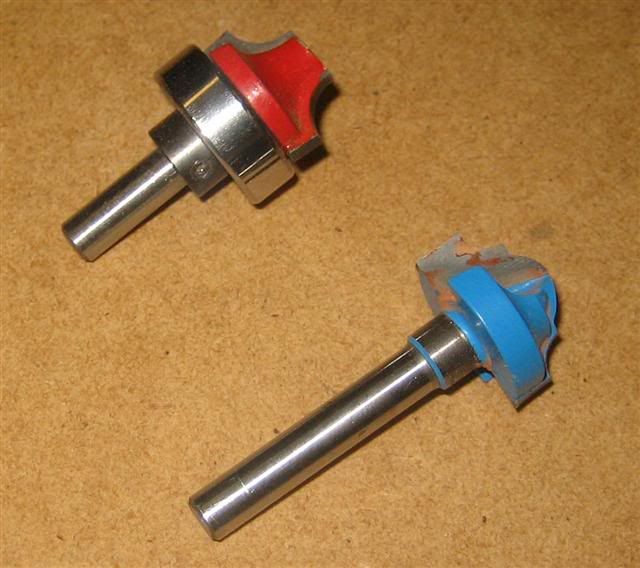 .
.
The next time you see this I should have the entire inside edge done and show you how I remove the rest of the material from the inside.
-- Gary - Never pass up the opportunity to make a mistake look like you planned it that way - Tyler, TX
---