I was just looking through some pictures and I found one I didn't even remember taking. One of me standing proudly with my new tool. I know I just finishing setting it up because the blade guard is on it. I took that off shortly after that and threw it away.
This picture was taken after I got my first real table saw. My Delta contractors saw.The one before that was a small Home Depot "Ohio Forge" that I wouldn't call a real saw. It was about 13 years ago. Look at my first 4 projects and you can see what you can do with a minimum of tools. My jointer was a 4" craftsman table top model and I also had a Porter Cable 690 router (which I still have). Add to that the cheapest dovetail jig you could find and that was it.
I really didn't have room in my garage with all the other things in there. The garage door closes right in front of it ( you can see the line on the floor just front where the door closed ) and I had to open the door to use it. When it was raining the ends of the longer boards were sticking out getting wet.
I had to shift things around, including into the house, to make room to work. I would have to store lumber on the floor next to my workbench (just behind the tablesaw). I had to buy lumber as I needed it because I had no place to keep it. What a pain in the butt, but I still have fond memories of my little shop.
.
.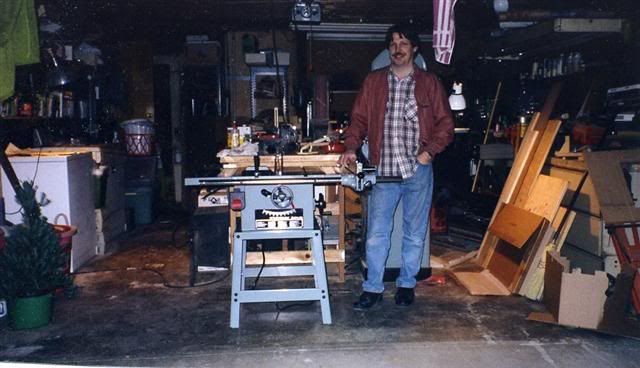 .
.
Now after 10 years in that little garage, I have a 1000 sq ft shop with what seems like all the room in the world. ( Even with all that room my stuff seems to expand to make full use of it. ) I have a corner to store my lumber and room to work without having to shift things around.
-- Gary - Never pass up the opportunity to make a mistake look like you planned it that way - Tyler, TX
---