Got an empty box that needs some kind of lining. How about fabric?
I have never used flocking to line the inside of a box before so I can tell you if it's any easier the my method.
I do know that my method gives you an unlimited choice of colors and patterns of fabric. Also you get as many chances to do it right as you want. If you don't like it just rip it out and start over.
You all might remember this box from the build something without glue or fastener compitition?
Well it looks kind of naked. I will use this as my sample box. Now since the wooden hinges are in the back
I will only put fabric in the bottom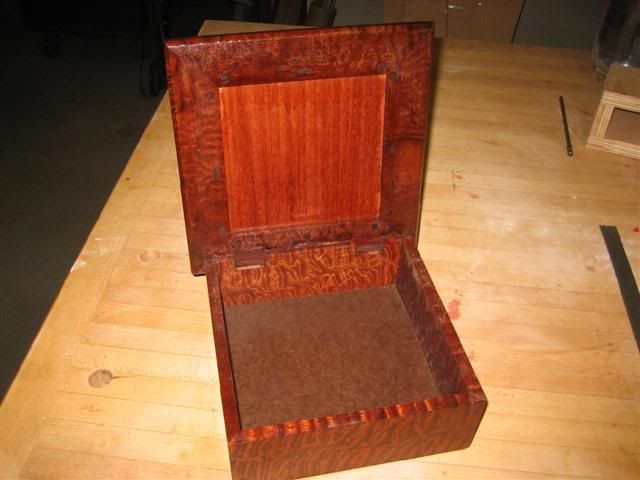 .
This is a great adhesive. I have been using this can for a couple of years now!
.


.
I glue the fabric to a thin piece of cardboard. This makes it very easy to handle.
The perfect type is what you can find on the back of a paper notepad.
I cut it so that it is a little over 1/16" undersize in both directions.
.


.
Once the cardboard is cut, I spray glue on one side and then stick it to the fabric. Then I trim to about 1/2" around the cardboard. Then lastly cut the corners at a 45 staying a little way from the corners of the cardboard.
.


.
Then spray glue around the edges and fold the fabric over on all four edges.
.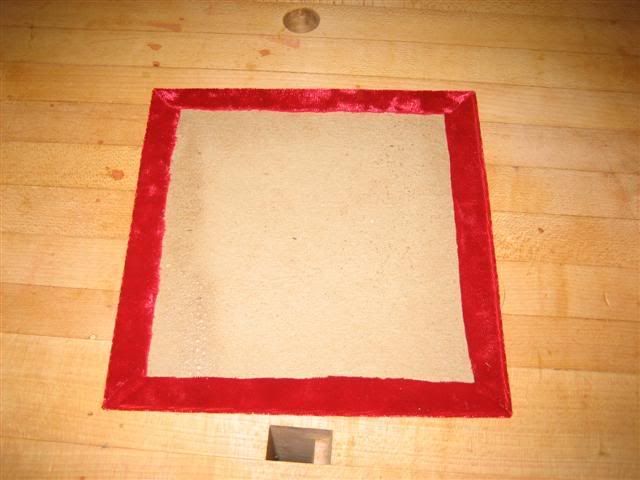 .
Then just spray glue on the back surface of the entire piece and place it in the box.
.


.
Now if I were going to do the inside of the entire box I would do the back first, then the sides, and lastly the front. The reason for that is that any seams/overlap will face away from the front of the box.
This technique works on any surface that has a single plane. Curves, circles, triangles…
Here are some boxes that I used this on:
-- Gary - Never pass up the opportunity to make a mistake look like you planned it that way - Tyler, TX
---