To see the finished project go here:
Here is the sample piece to test the concept.
I started with wood planed down to 3/8", cut to width and left a little long for trimming.
I used a 1/2" 45 degree router bit to make the grooves. They are spaces 1/2" apart and 1/4" deep, starting 1/2" from the edge. The width of your wood matters. 1/2" increments works great.
.


.
To enclose and make the sides a full 1/2" I planed some 1/8" pieces.
.


.
This is how they will be assembled. The inserts are left out of this picture.
.


.
Here I cut the inserts at 45 degrees. If you have a right tilt saw just move the fence to the left of the blade.
This allows the pieces to fall away from the blade.
.


.
Here are all the parts ready to be assembled.
.


.
You will want to glue every other piece, since to assure that the inserts filled the grooves, I cut them a little big.
.


.
Doing them all at once would not work.
.


.
Here is the first set of inserts glued in and then re-planed back to 3/8". I left the planer setup to 3/8" so it always cut the same.
.


.
Make sure that you use a lot of clamps to get even pressure. I actually measured each insert and put the thicker ones on the outside and applied more clamp pressure in the middle.
.


.
Here it is all glued and planed.
.


.
Then I gluied the 1/8" pieces to close in the inserts and bring the thickness to 1/2". Then I cut a 1/4" x 1/4" rabbet for the bottom. They were also cut to length.
.


.
Then with the blade still set to 45 degrees I cut the kerf for the splines.
.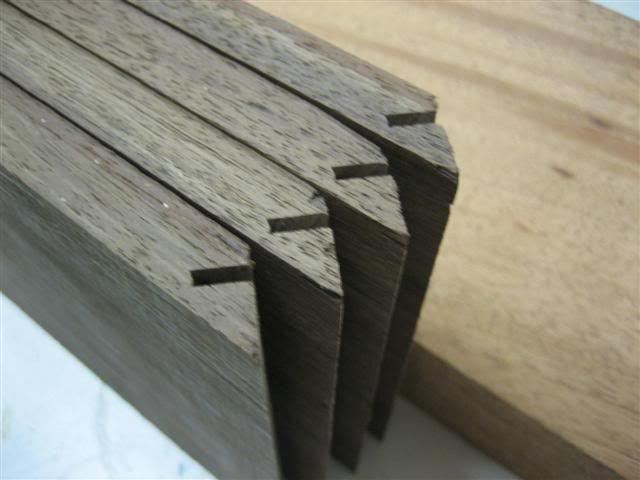 .
Here is a fixture that I made to hold the part while I ran it over the table saw blade. Make sure that you use a pushblock the hold the wood down. I raised the blade 1/4 turn for each cut Until I reached the depth I wanted. Place a piece of tape to your saw near the handle at the point for your depth of cut. This will make it easy to get a repeat depth. Notice the clamp on my fence to hold it in place. Be prepared for a lot of sawdust!
.


.
Here you can see it with it partially cut. I just flipped if end for end for the cuts. For the narrow cuts I used a 3/4" ball nose bit on the router table.
The rest of the construction is done just like you would any other box so I'll stop here.
.


.
Here is a good use for go-bars to clamp the inner sides while the glue dried.
.


.
Another variation of the use of go-bars.
.

-- Gary - Never pass up the opportunity to make a mistake look like you planned it that way - Tyler, TX
---