Now to finish it up.
Here is an area that I screwed up on. When I opened up the throat I did both angles. I should have only
done the side that the iron rests on. Doing the other side will make it wear out being so thin. I should
have cut that side straight down at 90 degrees. But I can easily fix that by adding an insert.
Here I clamped the sides on the help guide the chisel. Laying the chisel flat againse the angled part made
it real easy to cut.
.


.
I kept cutting the leading block shorter and shorter until I got the throat opening I wanted.
.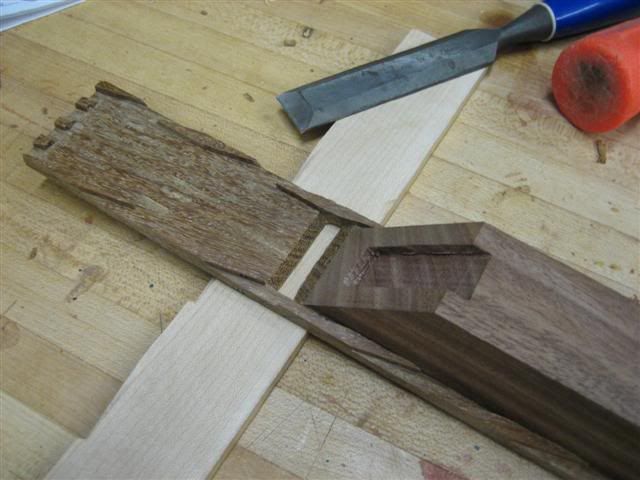 .
The way I determined the opening was by putting the iron in place and making sure that it didn't stick
out of the throat. You remove material off the sole to expose the blade as one of the last things you do.
.


.
Here you can see that I already glued the maple ends on the blocks. I glued the leading block and one side
on at the same time. It's kind of cool when you add the side on. Once you engage the side with the sole
you tap on the end of the side and it will wedge itself tight against the blocks.
.


.
Here it is with the sides finished. All trimmed and square.
.


.
Now it was time to mark out the location for the brass rod. (not sure what you call it) I drew a line that
follows the inner block where the iron sets.
.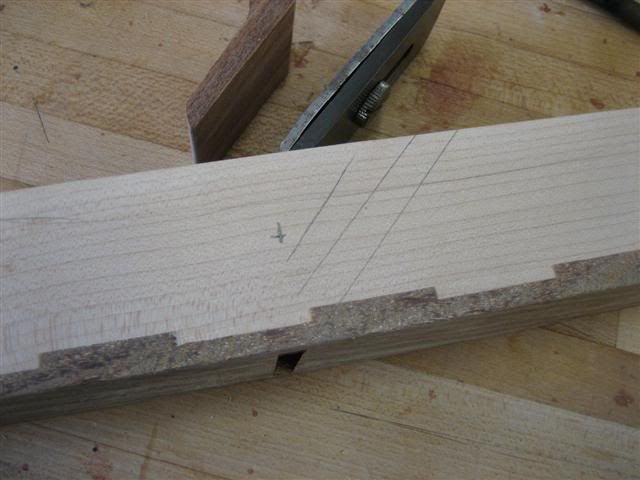 .
Then added a line where the iron sets.
.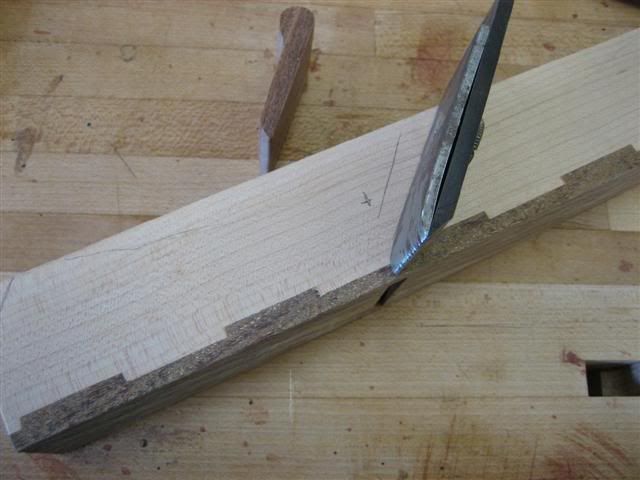 .
Then the wedge. The wedge was cut from the piece I removed when I cut the two angles from the block.
.


.
I used a 5/16 diameter rod, so I marked it in the center point. Then I drilled it on my drill press.
I start with an undersized bit so as not to drill a hole too big.
Then while it was still square I ran it through my drum sander the thin the sole until the blade just stuck out.
Finally shaped it on the bandsaw, Round over bit on the router table, and sanded it
.


.
.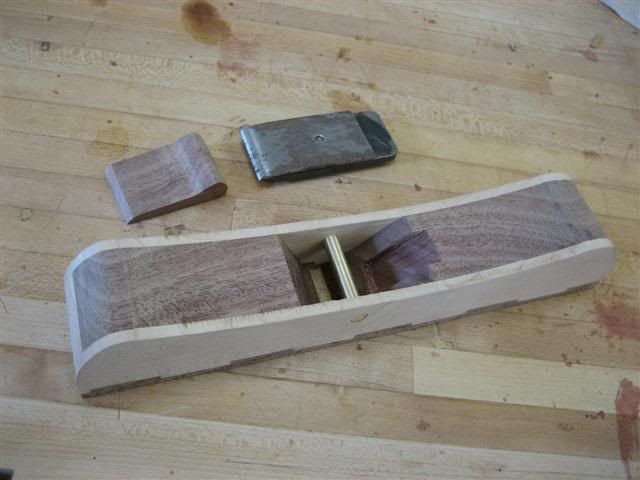 .
Now even though it looks very cool the way the sole is atached, I will never do it that way again.
It's nice to do it once, but way too much time and trouble to do it again.
I don't mean to discourage anyone from making one like this, because I would do it again just for the
challange and staisfaction of doing it. But as you can tell from my projects that I don't tend to make
more than one of anything.
I will probably put a wipe on poly on the upper part to really bring out the contrast in the wood.
I will make more planes but just not like this. They will all be different. Good luck!
-- Gary - Never pass up the opportunity to make a mistake look like you planned it that way - Tyler, TX
---