This is a restoration project it was painted white new and I notice by looking under the chairs that it was hard maple painted at the factory white so I took it all apart I had just a big pill of wood , used some remover and a lot of sanding than I glued everything back together and varnish everything by hand , I am telling you it was a big job I would not do it again I would build one instead, I made the mistake of not taking a photo when it was all apart.
It was easy to take apart as at the factory they don't use much glue, but the way I put it back together with glue and brad nails it will last a very long time.
I have worked close to two weeks on the project.
The tip is before you through some thing away have a look how it was build and if it is real wood, I was going to sell it for a few dollars and buy a new one big mistake I would have done.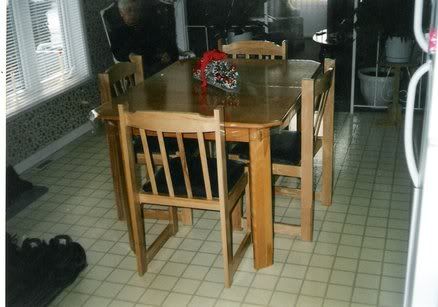 ---