This little saw was the absolute sweetest, and I thought I'd lost all the pictures, but here they are! This was a restoration I will treasure forever, and I figure if I post it here I can't lose it again. A tilting-table saw by Inca, highly sought-after and treasured by model makers especially. Swiss-made with their penchant for good engineering. I found it at a huge annual rummage sale (fund-raiser)—had to get up at 6 a.m. to be in line and then run like crazy. Restoration took about 20 hours, using EvapoRust, brushes and steel wool. Really wanted to keep it, but needed the obscene profit margin to get myself started in woodturning.
Slightly sad saw as found, close-ups of how rusty it was follow: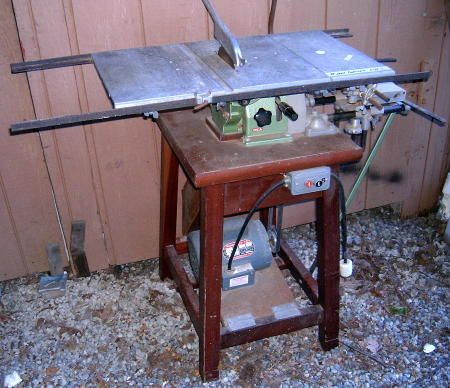 A few of the many rusty parts:
Mortising table

Hold-down assembly, with catalog picture of how it worked

Icky Hold-downs

Pretty little thing when it was done, with "after" pictures of the parts and the table loaded with accessories, as seen in my ad:
Could never have done this without EvapoRust. It didn't harm the aluminum parts if I had to soak them with a piece of steel (because it couldn't be taken apart). Easy-peasy, relatively speaking, especially the parts with threads or other intricacies. This was a labor of love!
Thanks for letting me reminisce!
-- My mother said that anyone learning to cook needed a large dog to eat the mistakes. As a sculptor of wood I have always tried to keep a fireplace. (Norman Ridenour)
---