Alright, fellas, my first ever turning project, and my first project on LJ's!
After telling my boss that I just got a new toy to play with (Harbor Freight 8" by 12" mini-lathe), he asked what I'd want to turn him some tap handles for his DIY Kegerator. Before I could answer, he offered me 5 gallons of his dark IPA home brew. Sold! His stuff always at least places in the competitions he enters, and all I really wanted was some practice turning, so seems like a win-win.
Anywho…I think I over-shot the mark. All he really wanted was a standard, tapered tap handle made of wood. What I came up with was this: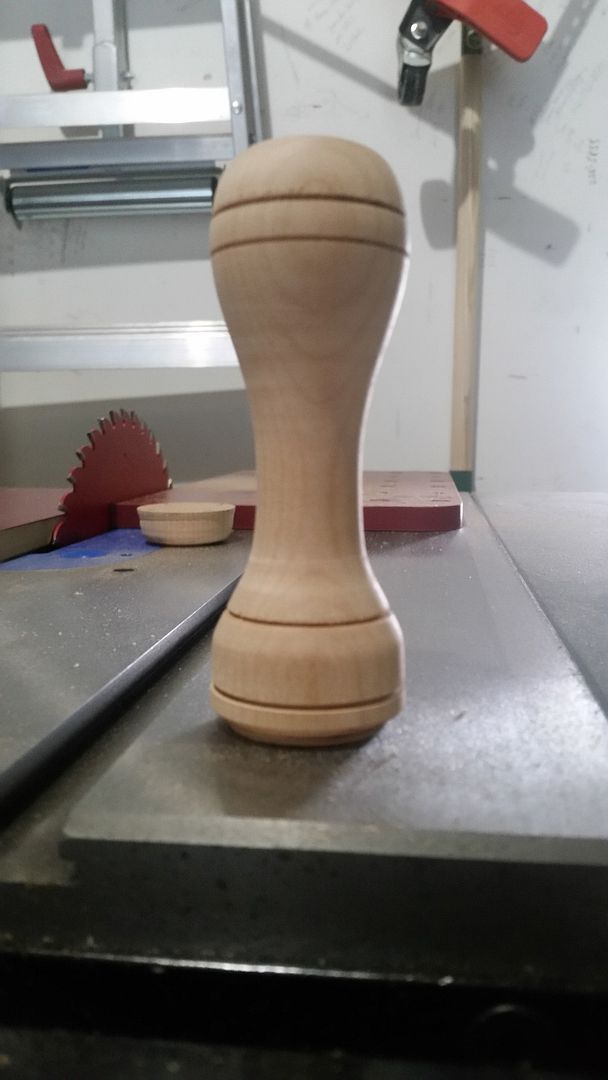 I know this is nothing special, but I'm really pleased with how it turned out, considering its the second item I've ever turned (the first was some scrap square stock I used to practice on last night). It's made from 2×2 cherry, stands about 4.5" tall, with a "bulb" diameter of 1.5". I find it pretty ergonomically pleasing, but most importantly, I had a lot of fun doing it. I went in with no plan and no profile. Just started turning to get an idea of what I can do consistently, then added little details where I saw fit, with the plan being to draw up a profile based on my prototype.
I'm delivering the prototype tonight, so he check its size to his specific needs, and go from there. The end goal is to stain these to match the wrap he's put around his kegerator, but the wrap is construction grade pine, so I consider it my duty to get him to build it from something better. Ideally, I'd love if he changed it all to cherry, then use a natural finish to enjoy the wood itself. I've got a few pieces of cherry that have been floating around for a few years, and I love the way they age (my floaters only have a Danish oil topcoat).
Once he settles on a final size, I'll make up the other 4 handles and finish them before posting. I'm thinking of doing a CA glue finish, but would love some input here. I know it's great for frequently used pens, but I'm concerned that the additional mass here would provide enough expansion to crack the finish eventually. If that's the case, any finishing recommendations?
Thanks for reading, and check back soon for updates!
-Dustin
-- "Ladies, if your husband says he'll get to it, he'll get to it. No need to remind him about it every 6 months."
---