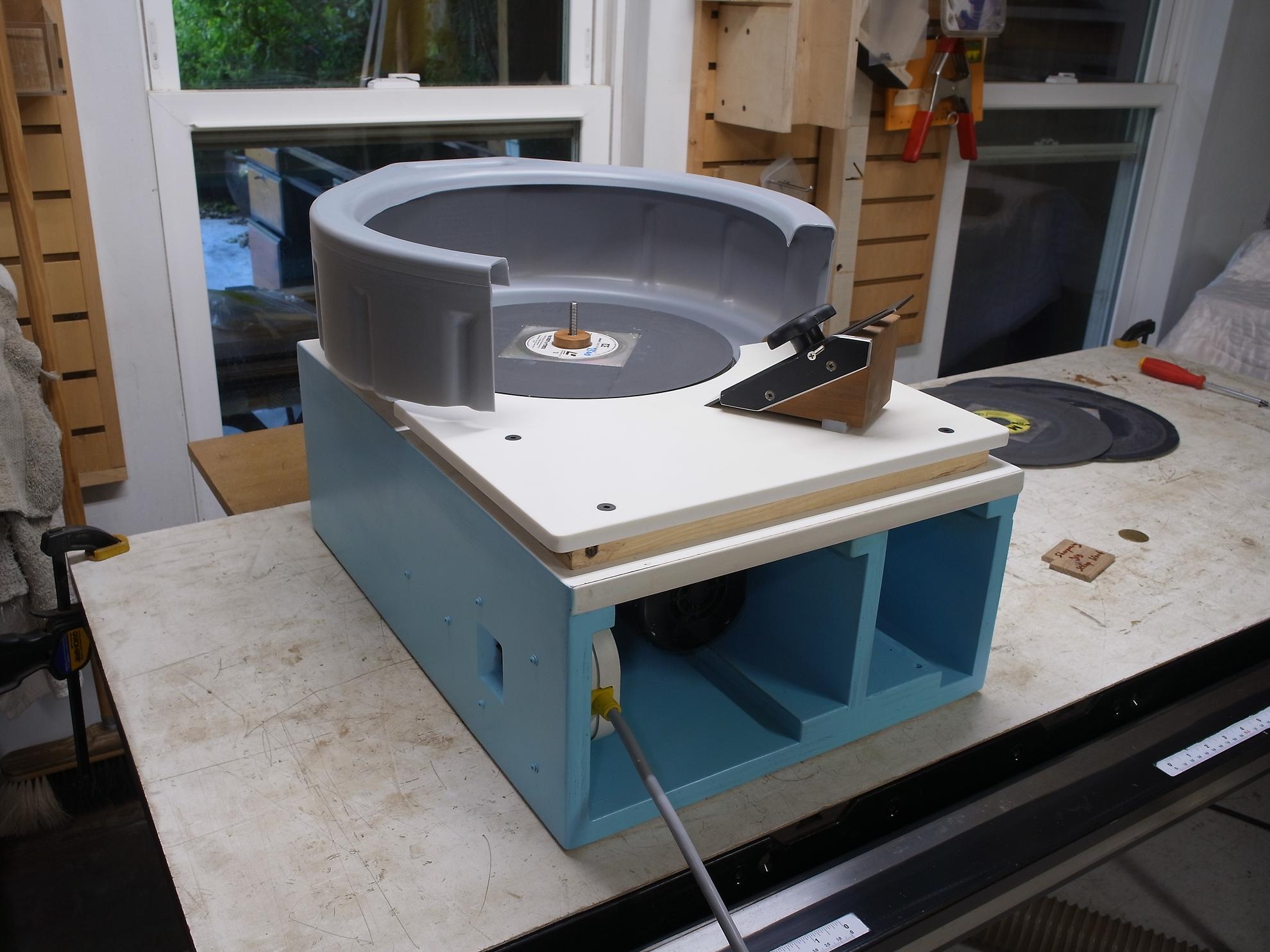 You may also want to check out this short video demonstrating the machine.
After a bit of experimentation, I finally finished my horizontal disc sharpener. I posted this idea in the forms here a few weeks ago.
This project was inspired by the WorkSharp WS3000 sharpening machine. Apart from making my own version, I also wanted to be able to wet-sharpen blades. This keeps the blades cooler during sharpening, and, due to the lubrication, should generally give better results.
Unlike the WS3000, all sharpening is done on the top; I did not incorporate a way to sharpen blades or chisels from the bottom of the disc—simply a personal preference (I like to see what I am doing).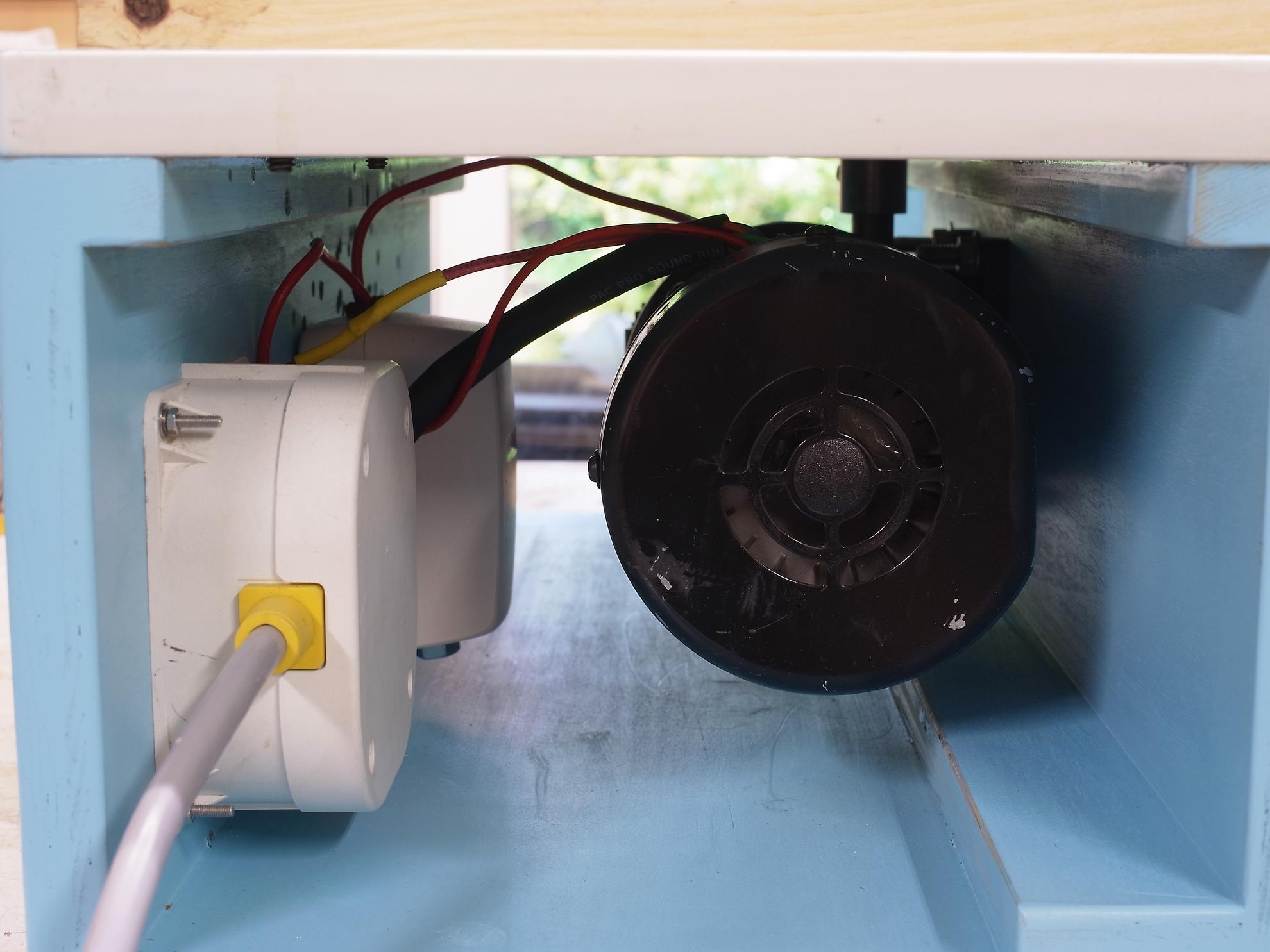 The motor is a 1/6 HP Leeson geared motor, which runs at 380 rpm. This was the most challenging part; I wanted a motor with enough torque, which is fairly easy to find, but they usually run at higher speeds. I wasn't crazy about the idea to incorporate a VDF to be able to vary the speed—the cheap ones appear to be, well, cheap, and break down easily, and the better ones would have cost easily $100+. I really just wanted everything as simple as possible, and thus set out to find a geared motor with the right speed. I got lucky with this used one for only $40 on eBay. I had to fix the cooling fan a bit, and re-oriented the breather-plug, since I mounted the motor with the gearbox shaft up. It runs very nicely and is plenty strong, it would be very difficult to stall it.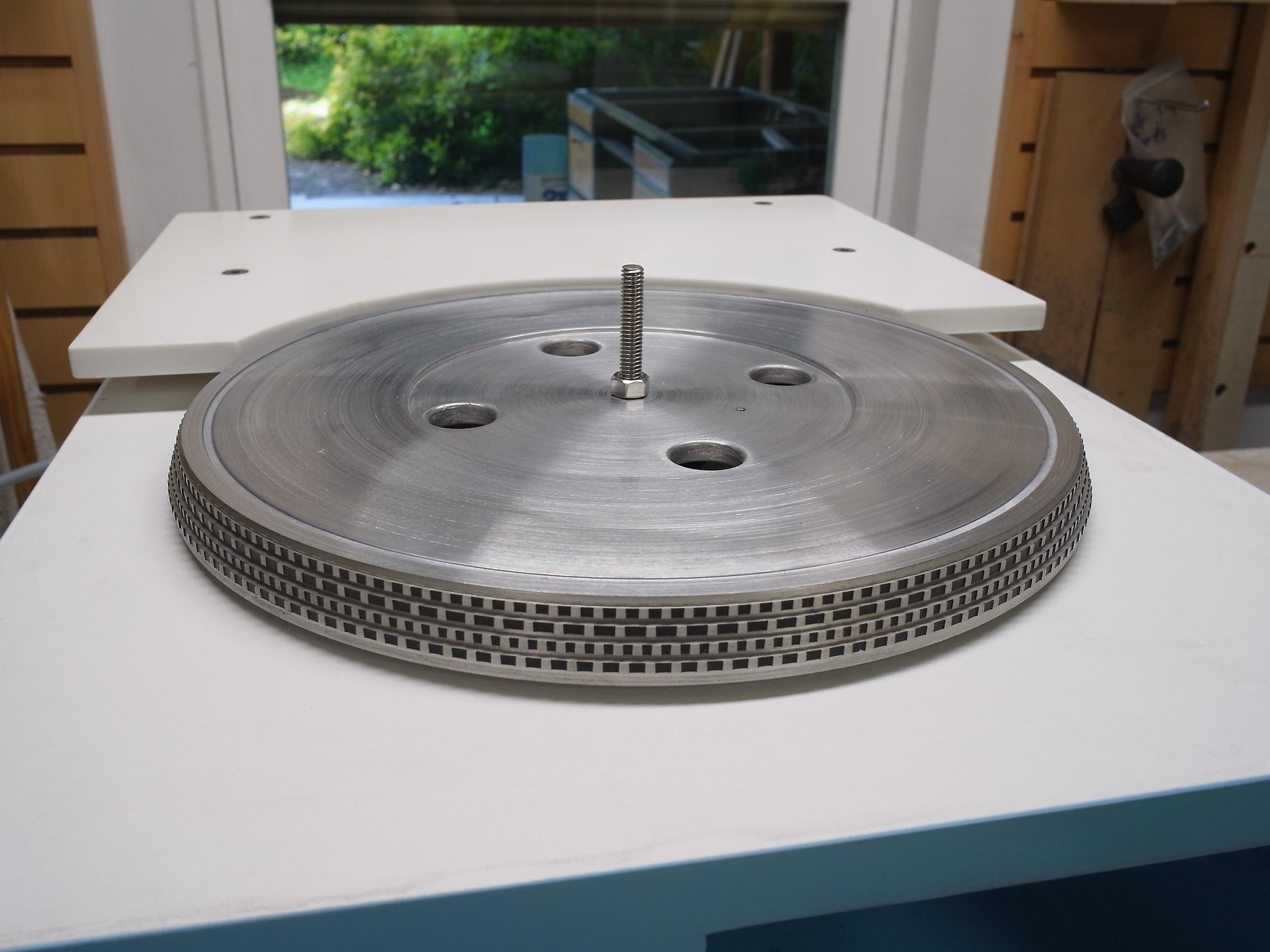 The platter is from a Yamaha YP-D6 turntable. It weighs 1.4 kilos and has very little run-out.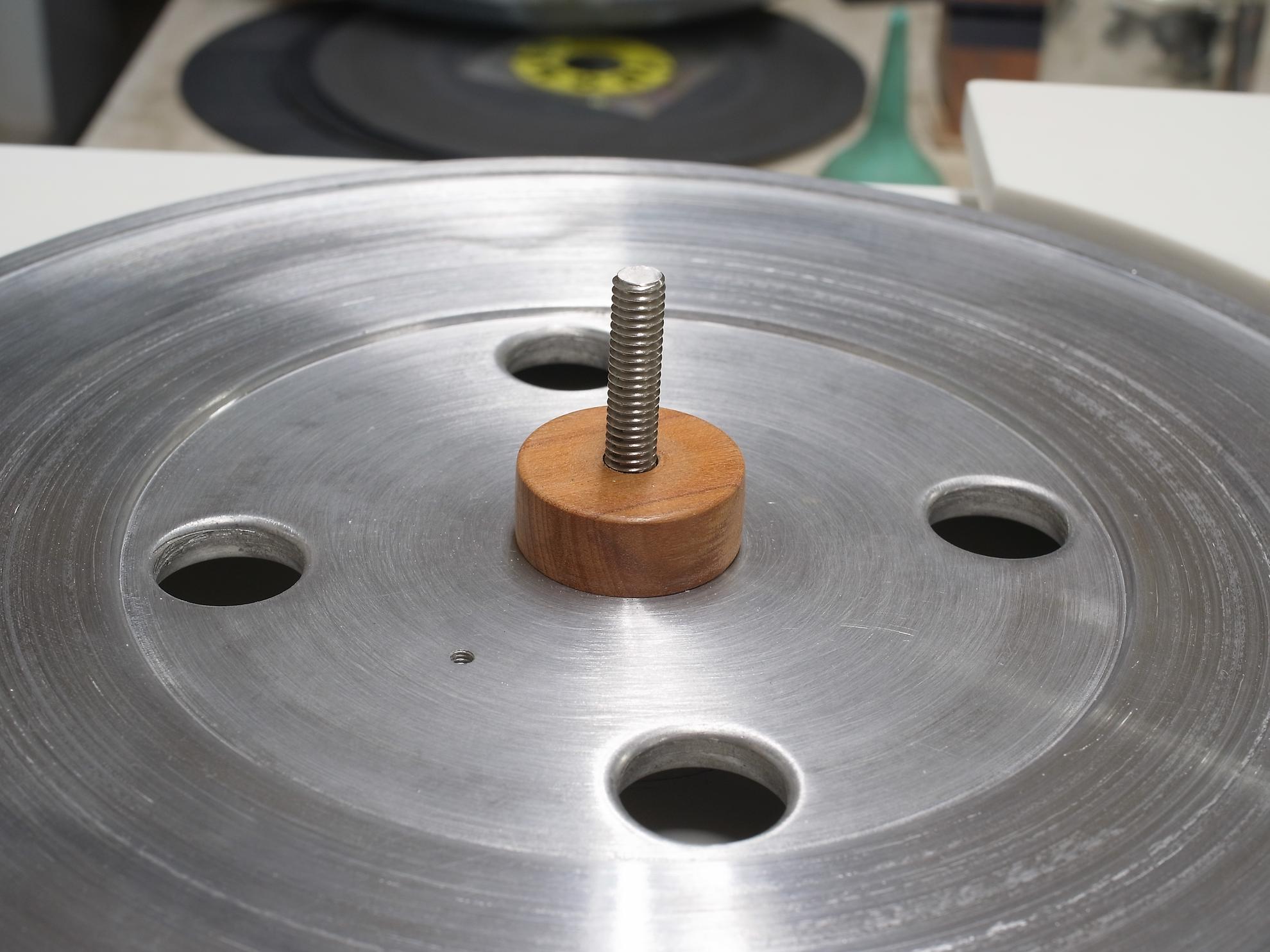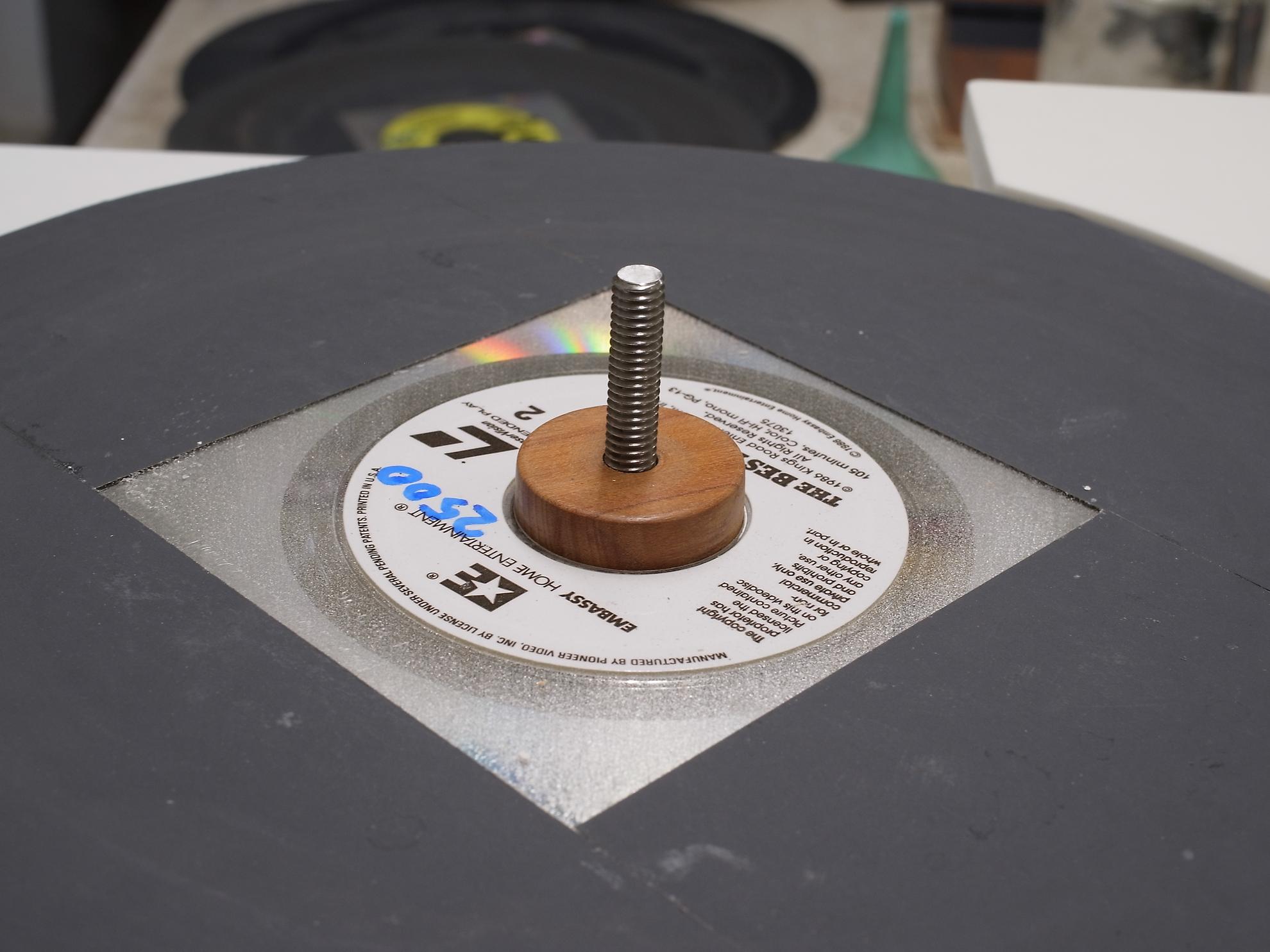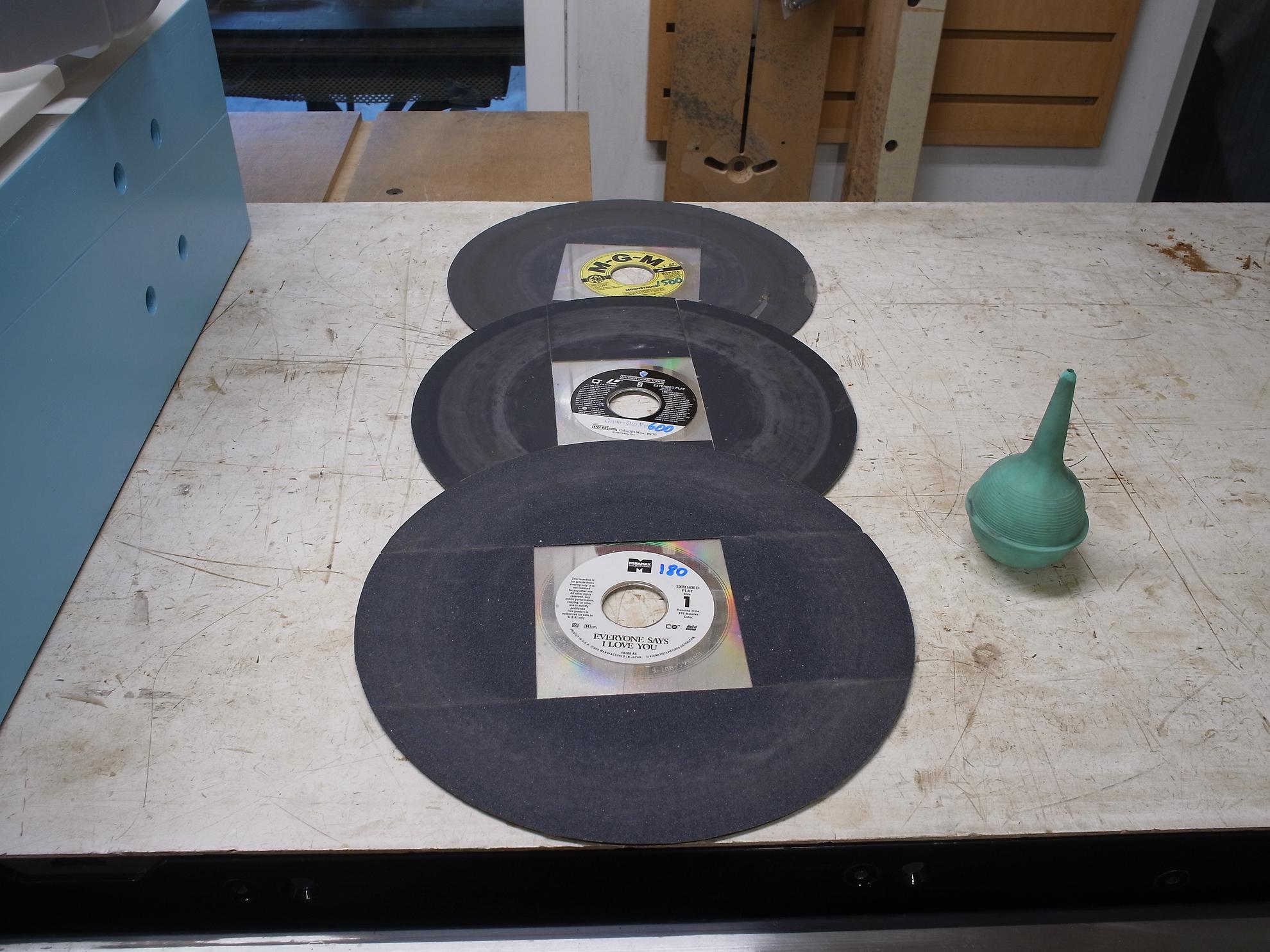 The discs with the sandpaper are laserdiscs. This is not 100% ideal, since they are a bit flexible. But it is a very cheap solution, there are often lots of four for $2.99 on eBay. One could also use MDF, plywood etc., but I figured the water may affect their flatness over time. Aluminum or thick acrylic discs would be ideal, but more expensive.
I made a little "puck" to fit the hole of the laserdiscs. I planned to fixate them with another small platter on top, but it turned out that they somehow "stick" to the platter, so that wasn't necessary, and it is now very quick and easy to change grits.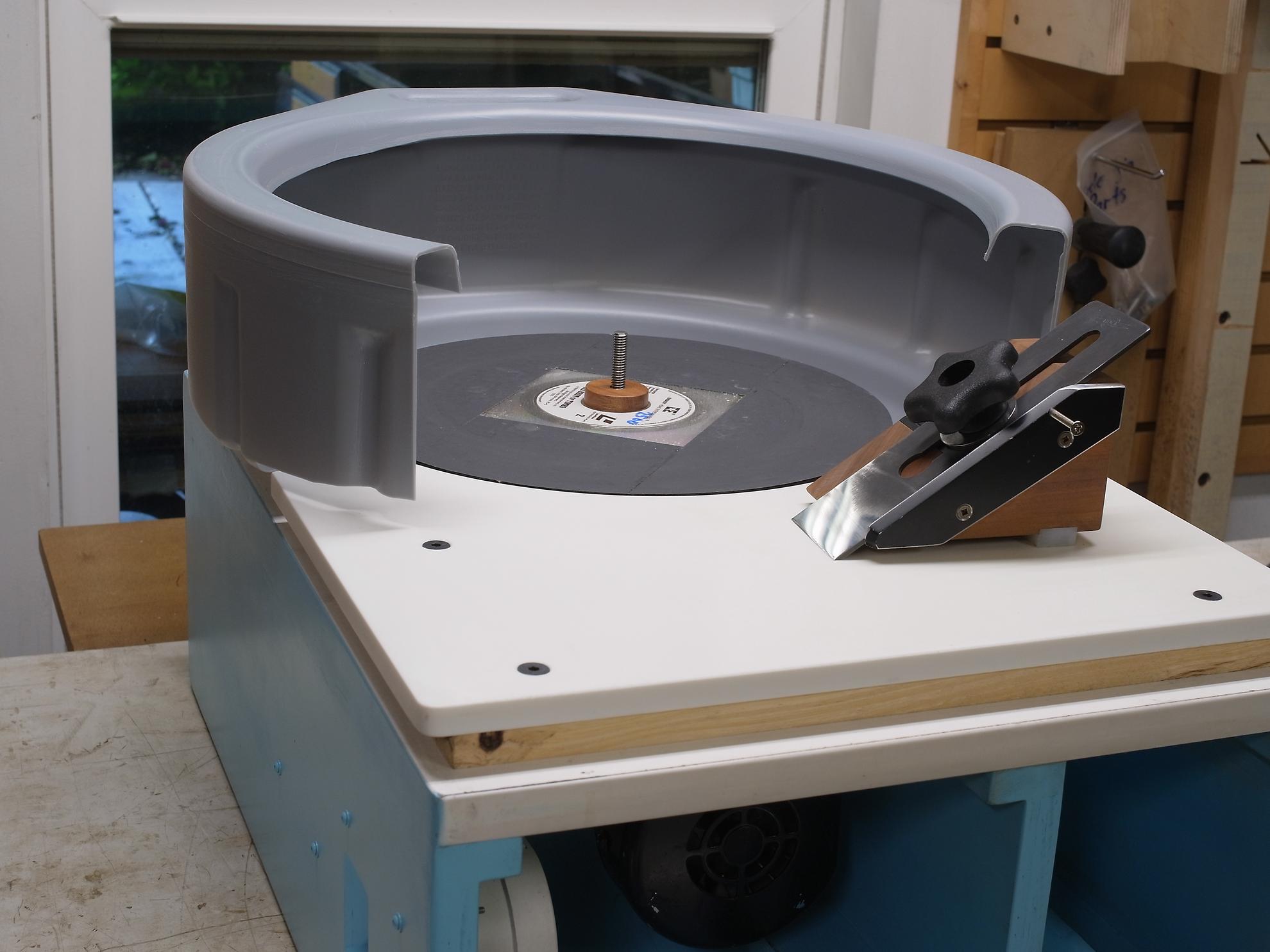 The splash guard is a modified oil change pan from O'Reilly Auto Parts. Believe me, you need it… I made a big mess when testing the machine without it.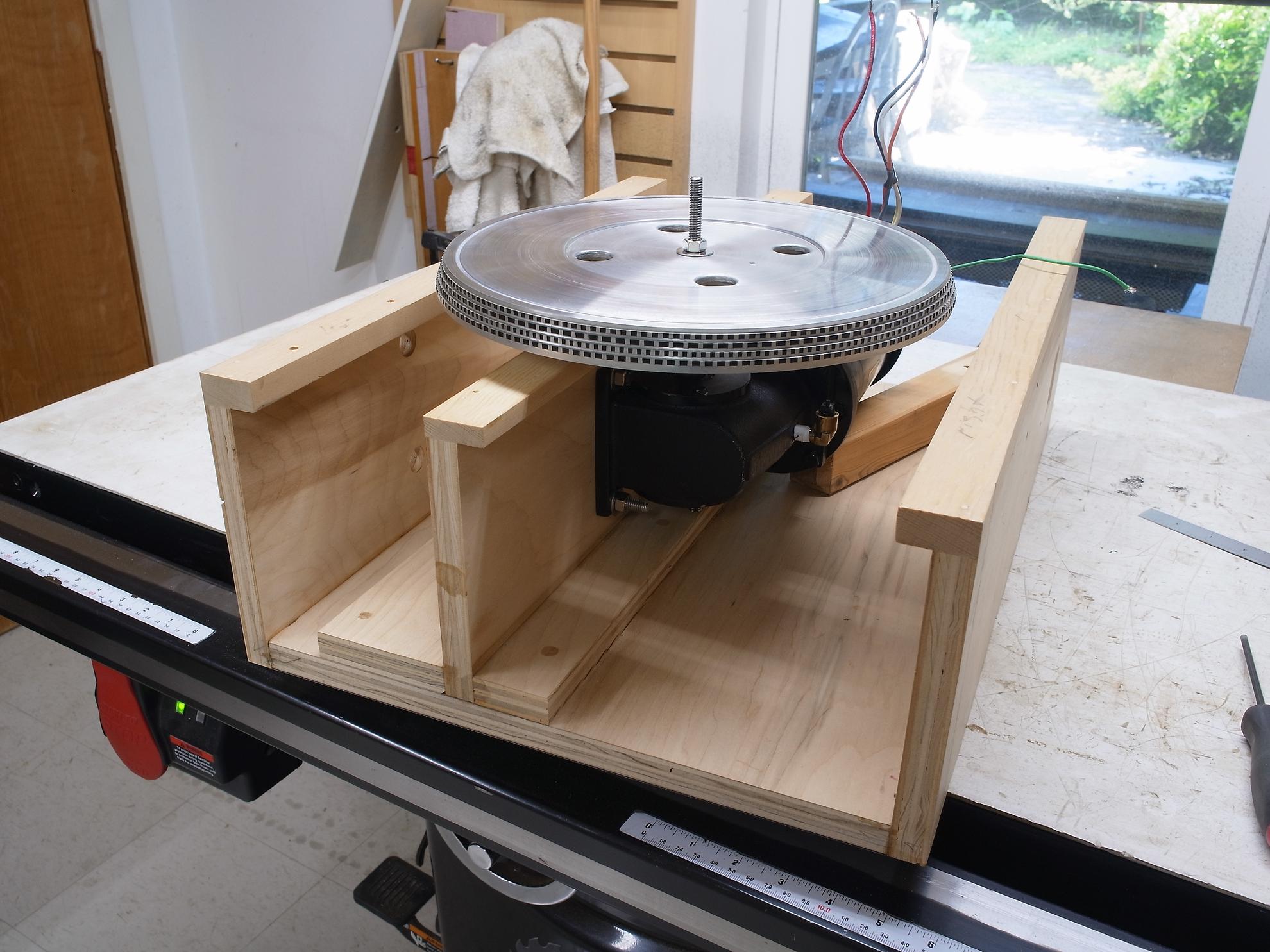 Everything else was built with whatever recycled parts I had lying around in the shop. I tried my best to make everything water proof, or at least splash proof. Most screws etc. are also stainless steel. The "platform," that is aligned with the platter, is a piece of corian. This stuff is easy to machine, and of course water proof and stable. It's just a bit messy and smells weird when cutting/routing. The corian piece sits on top of a couple of teak strips.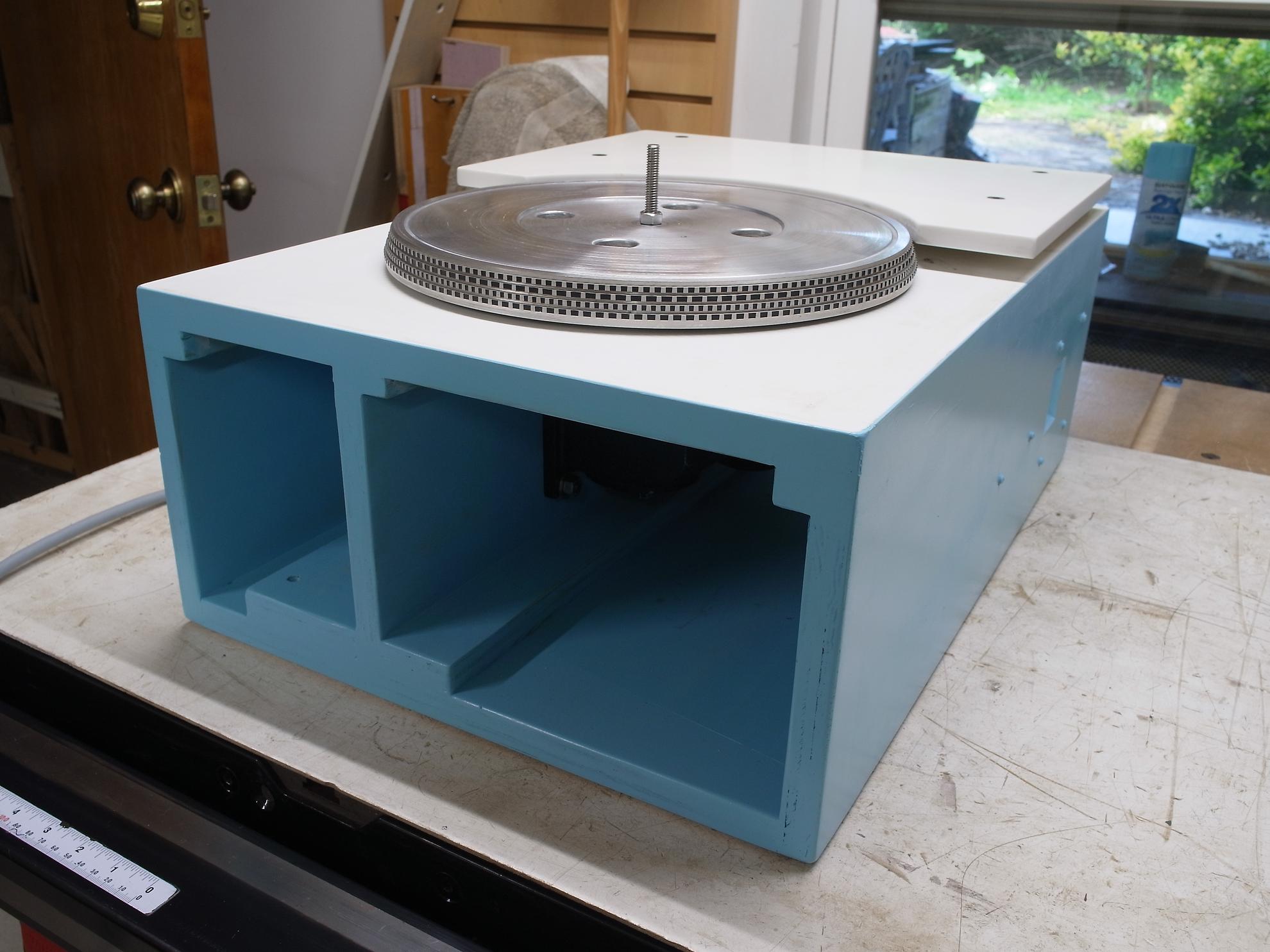 For whatever reason I decided to paint it baby blue… oh well. The paint is good though, it definitely repels water.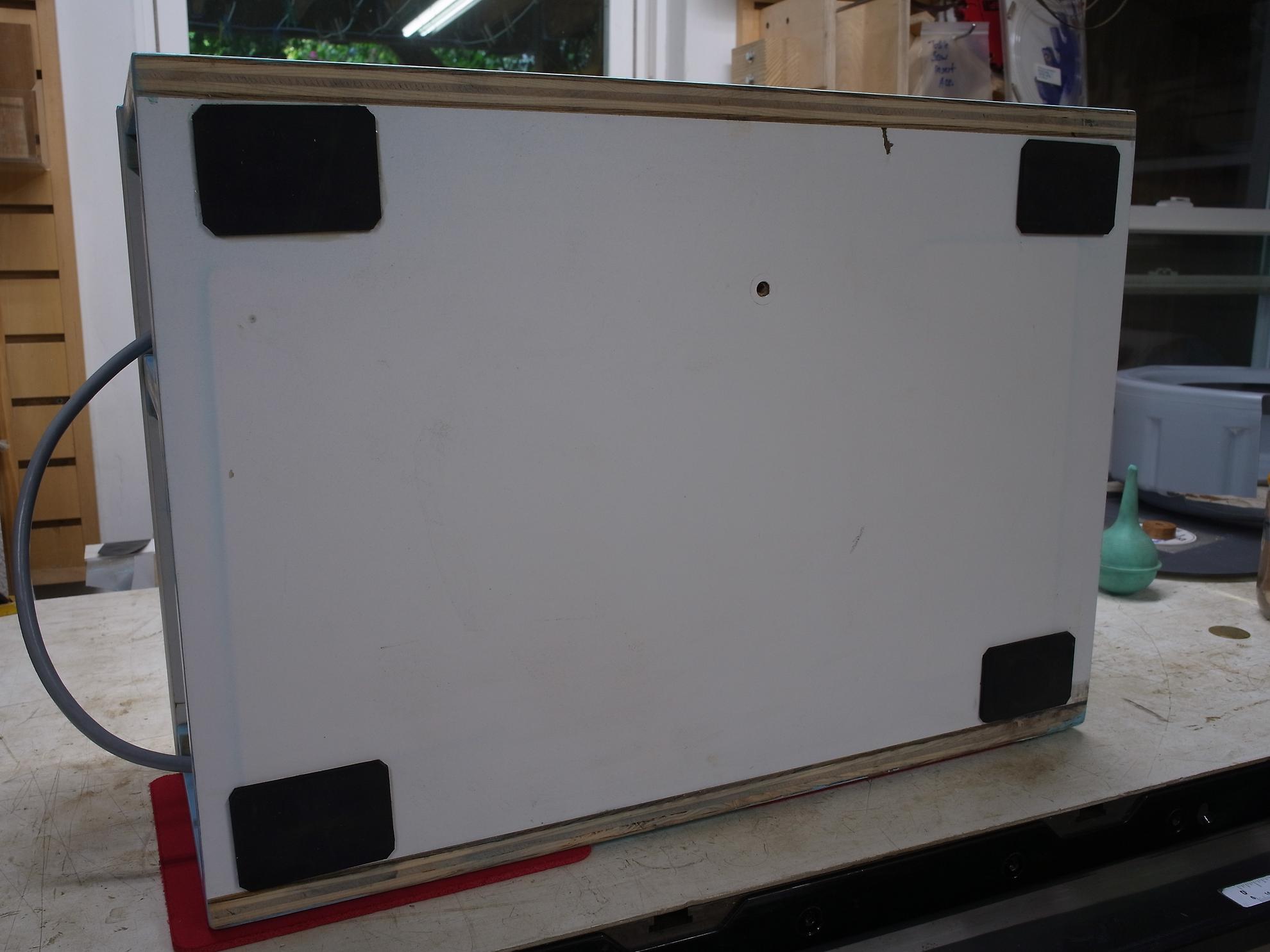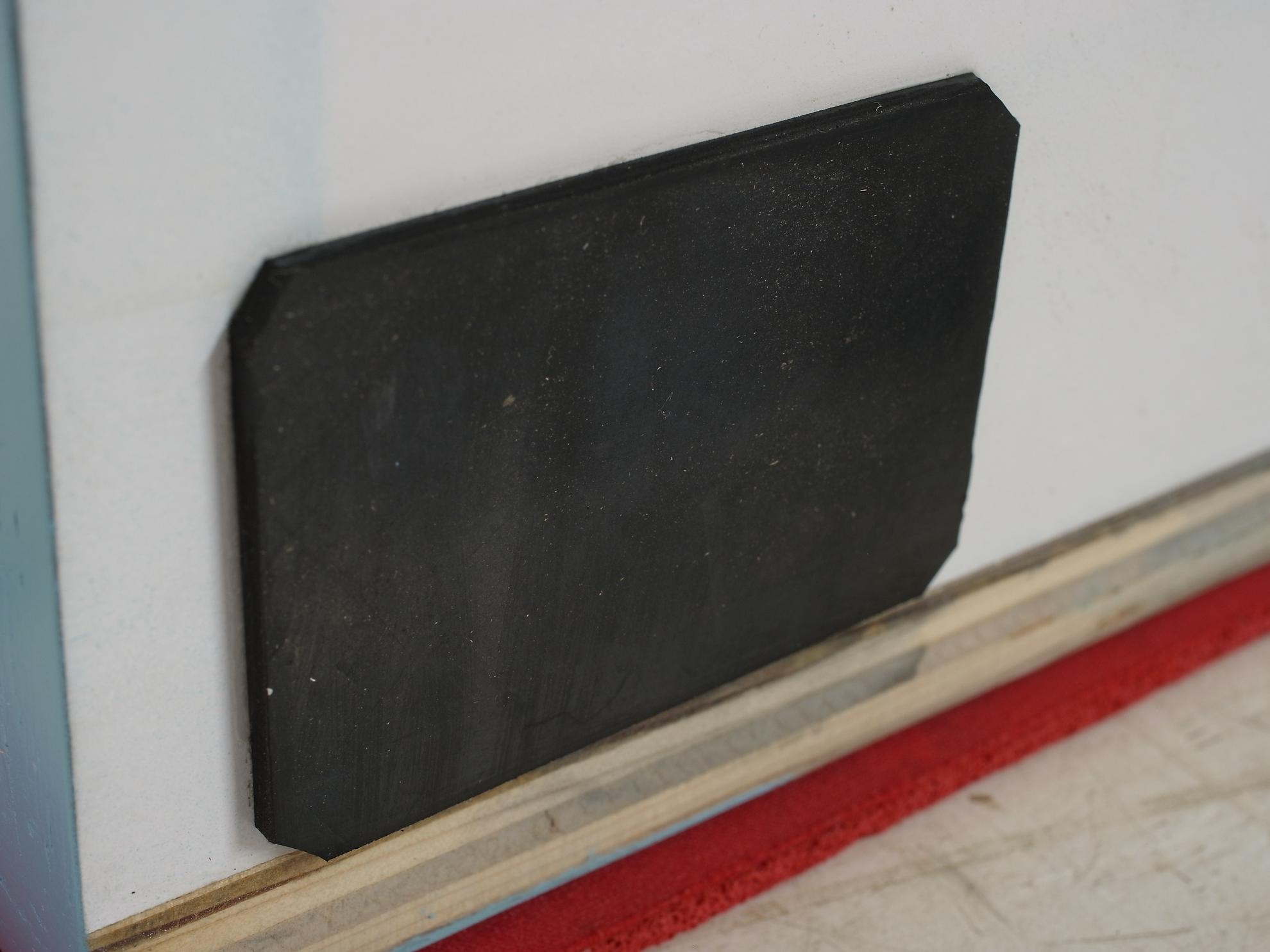 Finally I added some feet, just cut-out 1/8" thick neoprene pieces I had left over from another project. Great stuff, completely stops the hole box from shifting around.
Everything works quite well, although there is a bit of room for improvement—I will eventually swap the platter for a machined aluminum disc, since the turntable platter is slightly convex (by about 0.03" or so). The sandpaper should also be in disc form (12") instead of the cut-up sandpaper strips.
However, it works quite well already. I can now sharpen my plane blades faster than ever before, and produce some 0.02mm thin shavings.
Is this horizontal disc sharpener better than the WS3000? I don't know, I have never used that machine. I could have just bought a WorkSharp, but since I already had a motor, and a turntable… I figured I can build my own, so I started experimenting. So eventually I ended up with a pretty nice sharpening machine, spent only about $100, and have learned a thing or two about motors :)
---