With the creation of my "Sand-All Square" (aka "Sandal Square"—a play on the fact that it is part saddle square, part sanding square) which you can see here I was able to finish polishing the remaining edges of the plexiglass parts that will comprise the base of the HVAC hood for this project.
In case you have forgotten, for the past 11 months I have been working on an HVAC solution for connecting a portable A/C unit to an awning window.
Quick recap: the condominium association has a bunch of rules on modifying the external appearance of the unit, which includes a ban on cheap "window shaker" A/C units as well as any kind of external compressors (ruling out mini-split A/C units) and roof units are also out of the question. We already have an air conditioner on the 3rd floor of our condo where bay-style windows accommodate putting a vent into the window, but to install an A/C into the 2nd floor of the condo one has to vent out an awning window since the 2nd floor only has awning windows (sometimes also called casement windows—my particular kind being "push out" style versus sometimes you see crank style casement windows). My solution is to redirect the air flow through a clear plexiglass hood that meets HVAC standards for my state of residence, such that the addition of this portable A/C unit to the 2nd floor of the condo does not—as-is required by the condominium CC&R's—modify the external appearance of the unit.
There was a long delay in updates on this project because I had to learn how to polish plexiglass.
First, save yourself some effort and use the shortest cutting-height router bit you have and route the plexi close to the collet to get control of runout which causes vertical striations in the routed edge due to minute wobble in the router bit (which is greater when the bit is longer).
Second, here is how you can polish plexiglass by hand:
ASIDE: WHY!? WHY would you want to subject yourself to such pain and frustration? Well, if you take a shortcut and use a torch to flame polish the edges, you are in-fact altering the ability to create strong chemical bonds between such edges. Any edge you flame polish will become a poor weld using WeldOn or SciGrip chemical solvents. There are generally two ways you can go about dressing the edges if you need to also bond those edges. You can bond all the edges and then flame polish the end product, or if it would be too hard to flame polish without distortion, you … polish by hand before bonding. Also, I went through 6 months of Hell to give you the below information so that polishing plexiglass is in-fact neither painful nor frustrating.
Use 60-80 grit aluminum oxide sandpaper dry with a toothbrush to periodically knock away swarf and unload your sandpaper. I find that using turning strips works well because I can easily just tear off a square to replace a square that has been loaded and is no longer cutting.
Jump straight to 400-600 grit silicon carbide sandpaper and switch from dry sanding to wet sanding using Meguiar's Solo Cut and Polish cream (it's a car polish). The Meguiar's acts as a suspension to trap the swarf while also polishing as it—and the sandpaper—cuts away at edge.
Then jump to 2000-3000 grit, again using the Meguiar's atop the sandpaper.
Last but not least, grab a microfiber cloth, load it with Meguiar's, and rub in small circles.
I polished over 100 linear feet of plexiglass using a different technique every 2 feet, and this method (the one described above) so far is giving me the best turn around, best results, and least amount of effort.
The number one thing you have to control when polishing plexiglass—be it by hand, machine, chemical, or heat—is to eliminate re-work.
If you don't sand to at 60-80 grit before flame polishing, I can still see the saw/router marks. You'll have to rough-up the flame polished edge with 1000 grit to eliminate the remaining striations and then re-polish. That's no good. Not to mention creating a point that can't sustain a strong chemical bond after being flame polished.
If you don't switch to wet sanding after the initial removal of saw/router marks, you'll be re-bonding the swarf back to the surface and you'll get caught in a semi-vicious circle where the edge will start to come clear, get cloudy, come clear, get cloudy, etc. etc. The edge will come clean if you dry sand the entire thing at increasing degrees of grit, but you will have to go through more grits and you still have to use the Meguiar's on a microfiber cloth at the end anyways.
If you try to wet sand with the Meguiar's atop 60-80 aluminum oxide sandpaper, the sandpaper will just get destroyed and turned to mush (though I suspect that's due to the type of paper—it's possible that silicon carbide 80 grit sandpaper with Meguiar's could save me some time; will have to try)
I did the hard work so you don't have to. Just dry-sand to 80 grit, jump to 3k grit with Meguiar's, then microfiber cloth with Meguiar's.
You'll get results like this, where I can stick a flashlight at the end of a 4-foot long, 1" wide, 1/4" thick piece of plexiglass that I polished (times 3) and it gives the impression of walking down a light-filled hallway.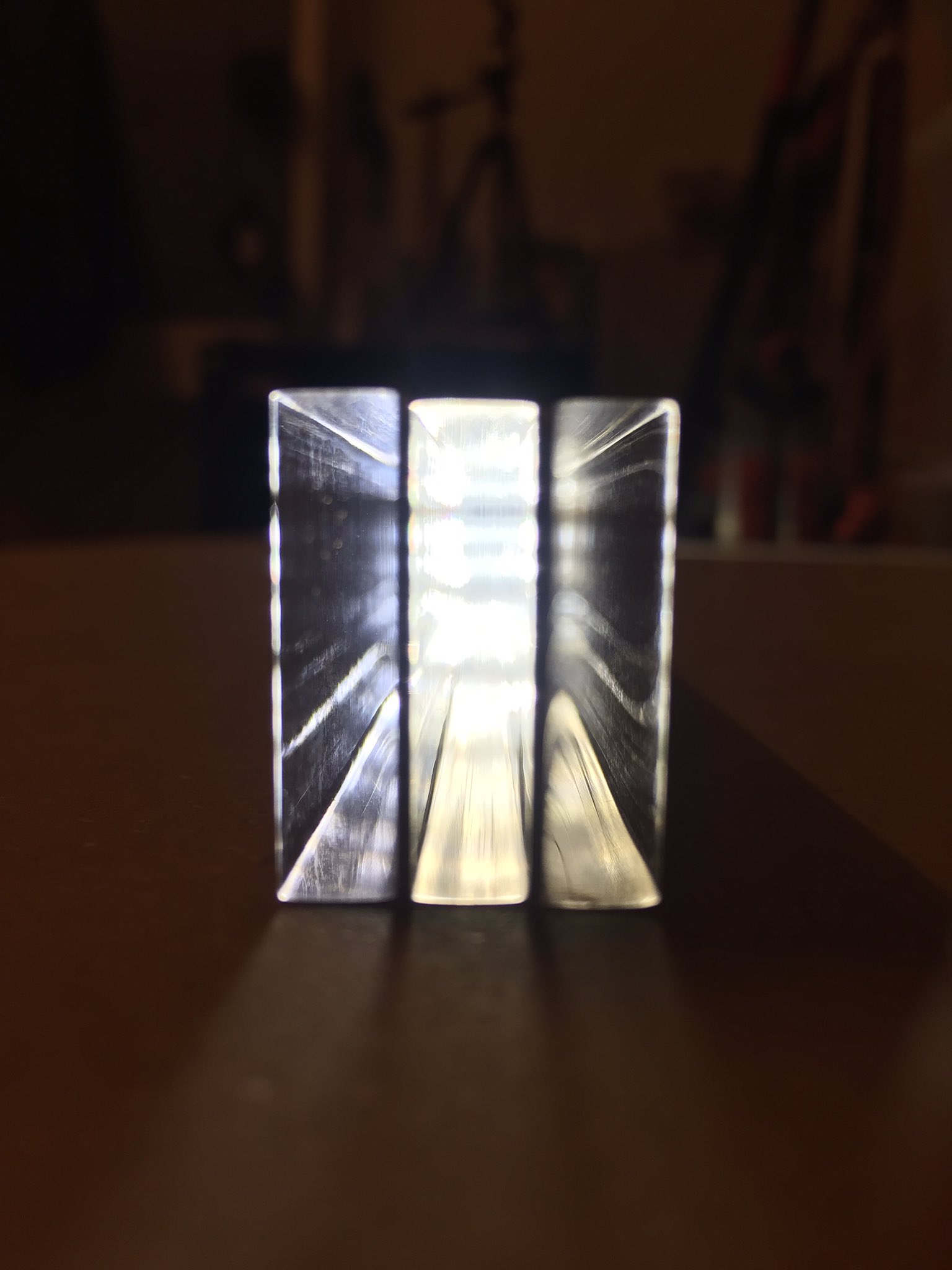 If I pull the camera back just a little, you can see the pieces in all their glory: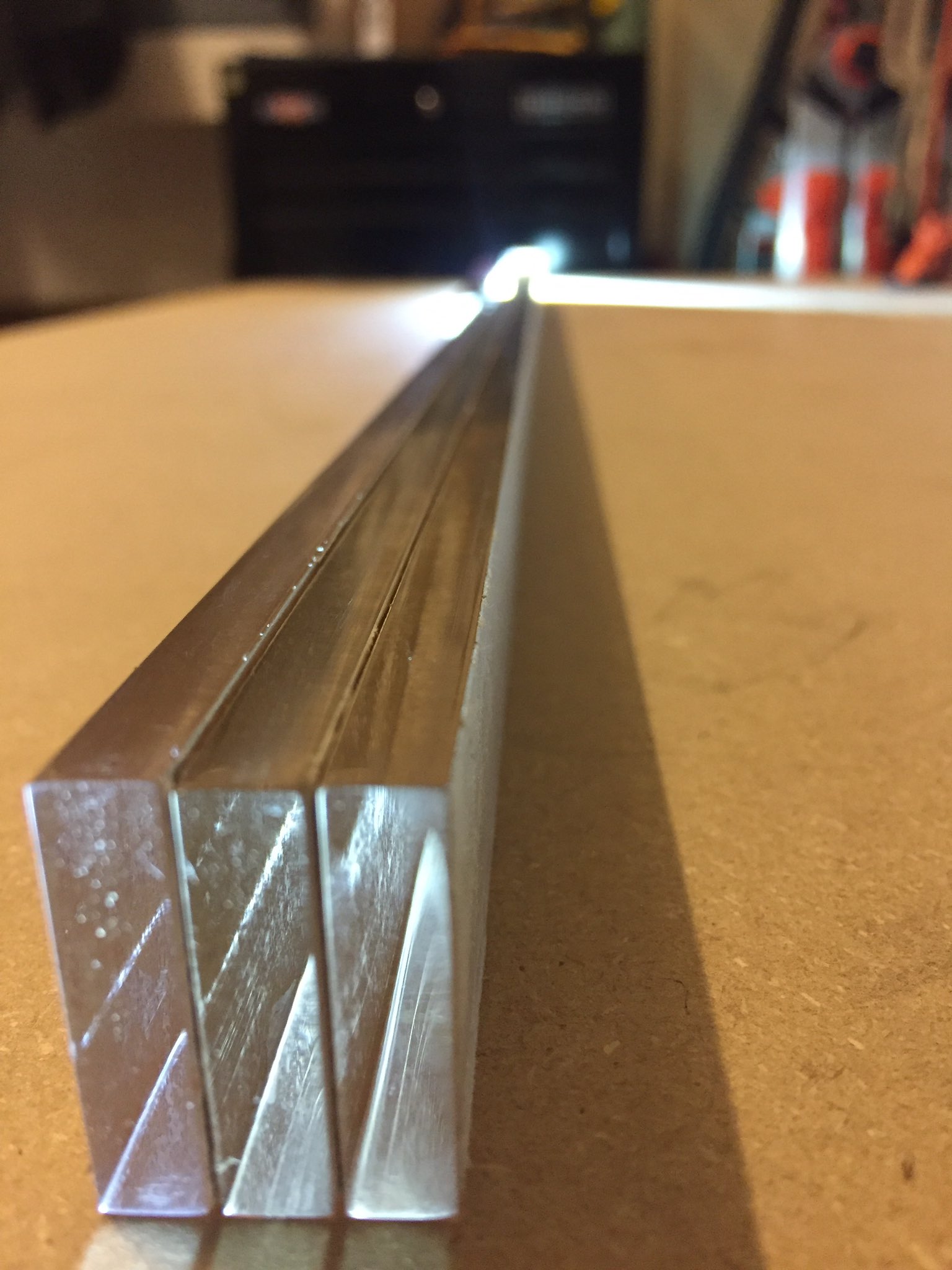 There are actually 5 pieces total; 3 long ones and 2 shorter struts to connect the long bars to create the frame for the HVAC hood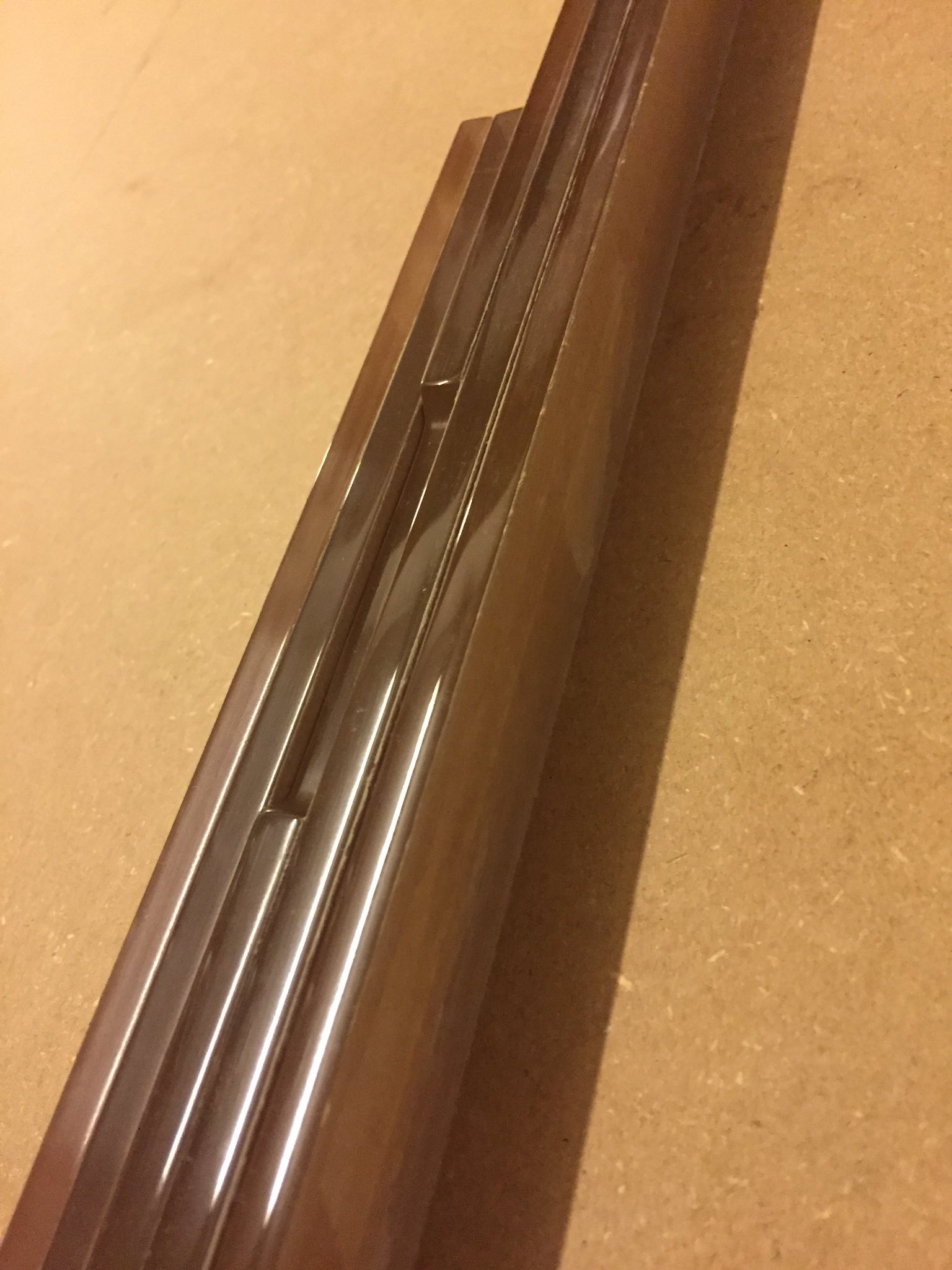 Here I have taken the protective paper off the pieces and chemically welded them together using a makeshift clamping setup (not pictured)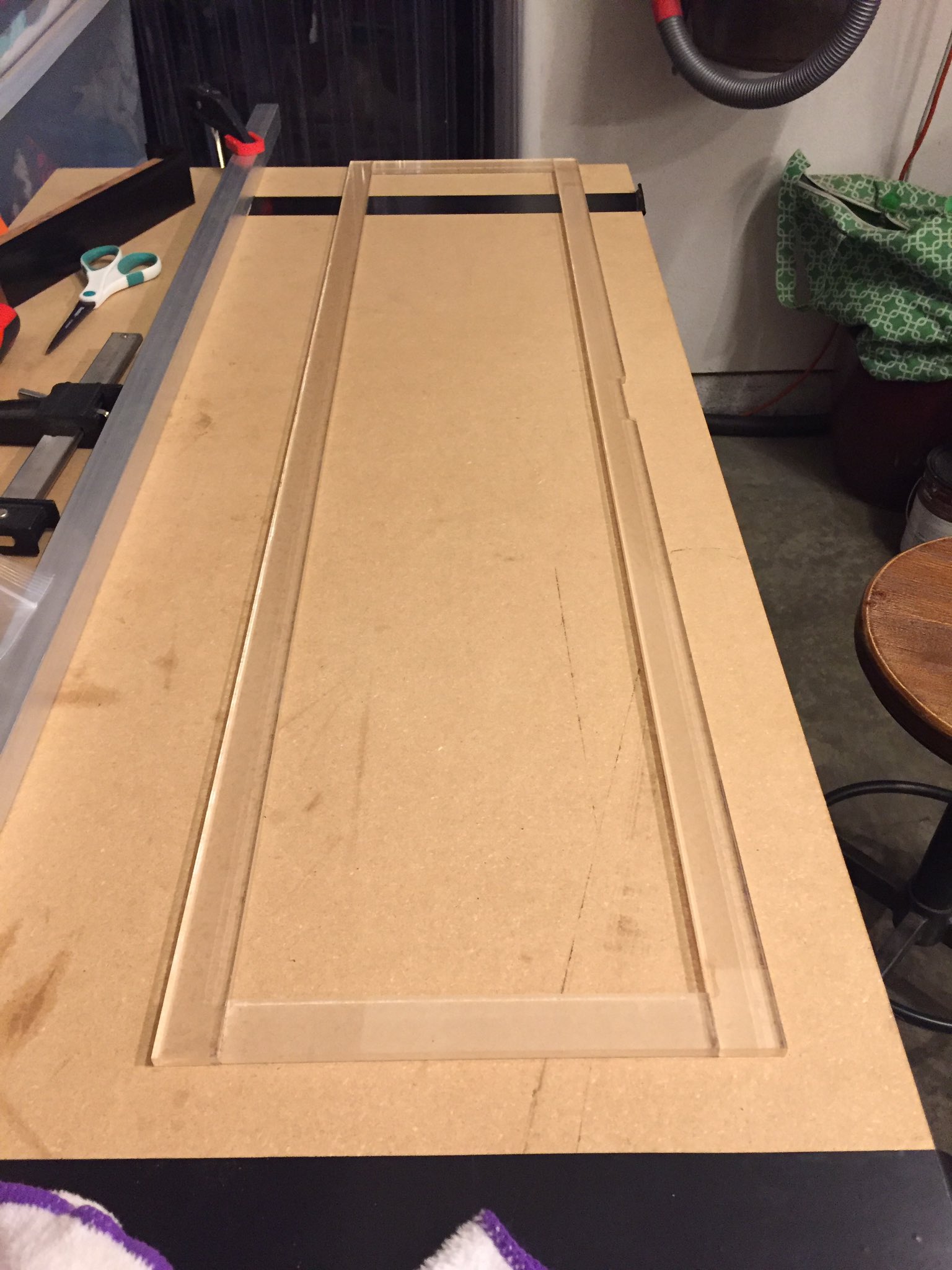 I then put 1" wide 1/16" thick foam insulation on the bottom of the frame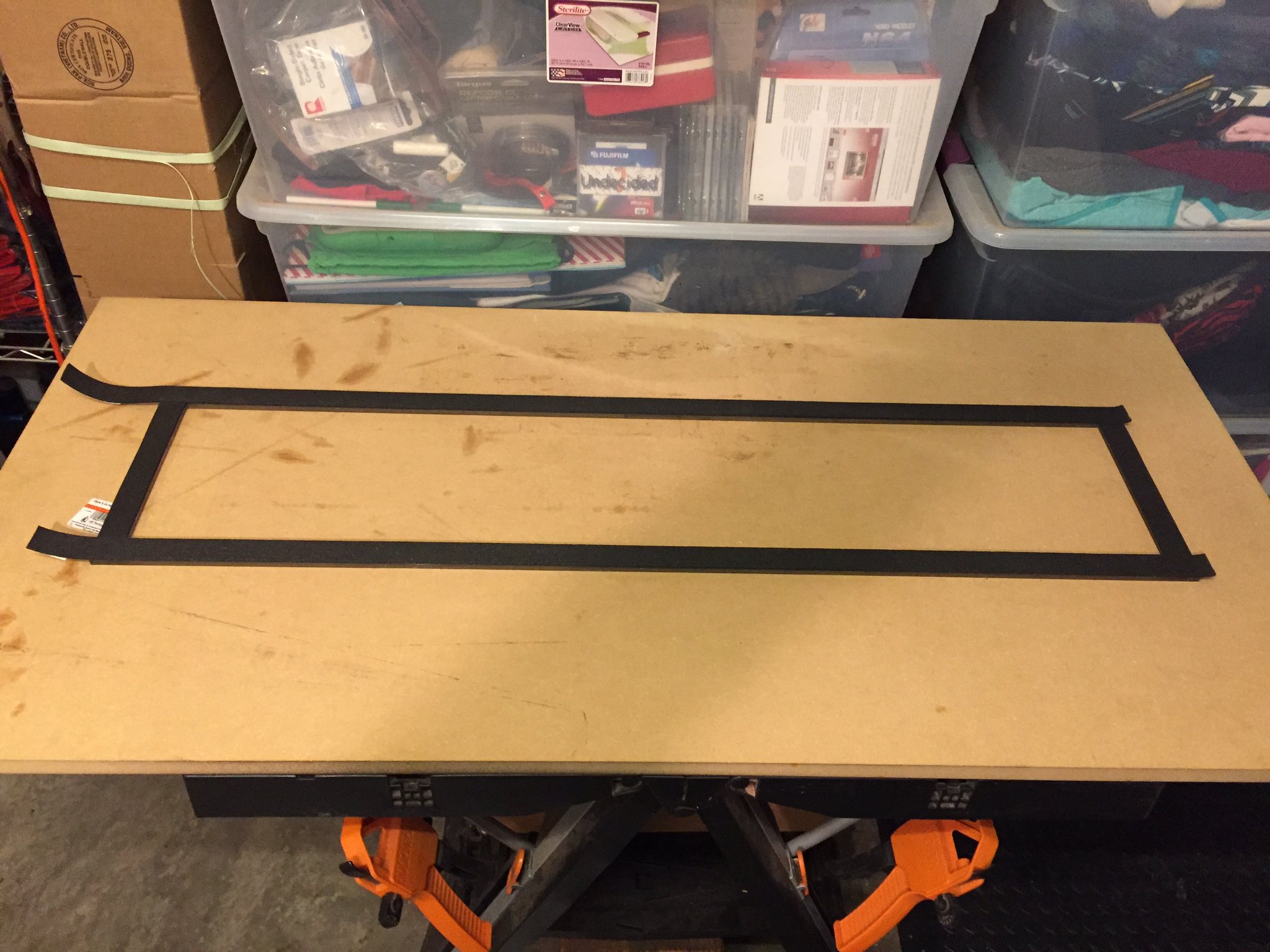 That will prevent the plexiglass from getting scratched up as it sits (or slides) atop the shelf I made (which has the A/C supply and return vents in the center, with the A/C sitting just below the shelf running hoses to the vent cutouts in the shelf).
Sitting atop the shelf, we can see now how the base of this HVAC hood will encompass the supply/return vents: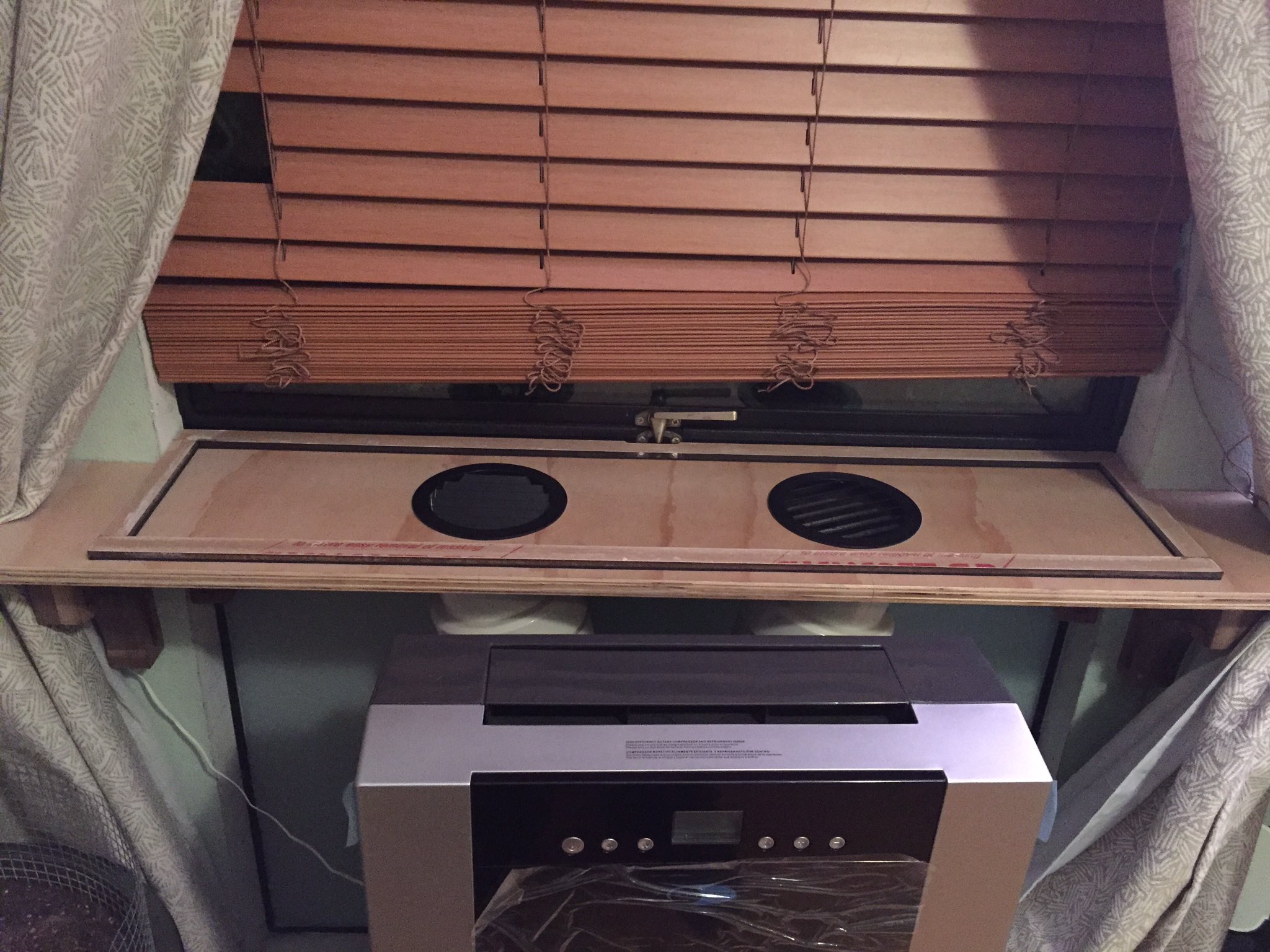 Here is an angled shot so you can see the supply/return hoses attached to the vents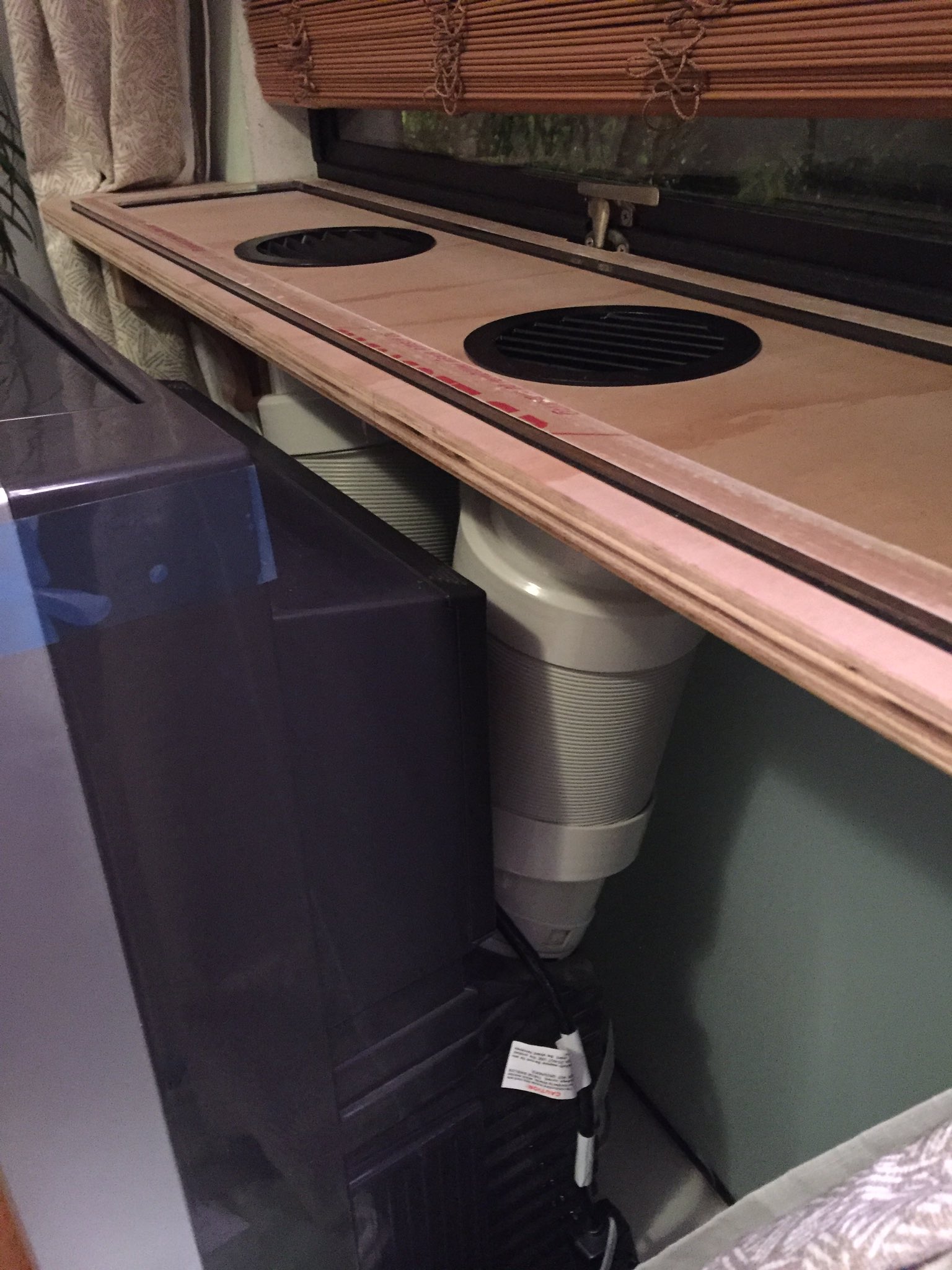 The next steps are to cut the triangle pieces that will connect to the sides and create a support for the top.
-- Devin, SF, CA
---