I knew before my Stanley No 8 Type 11 arrived in the mail that it would need a new blade and though not-needed, I wanted to put new Bubinga handles on it.
I picked up a Type 11 blade that was 7" long on eBay: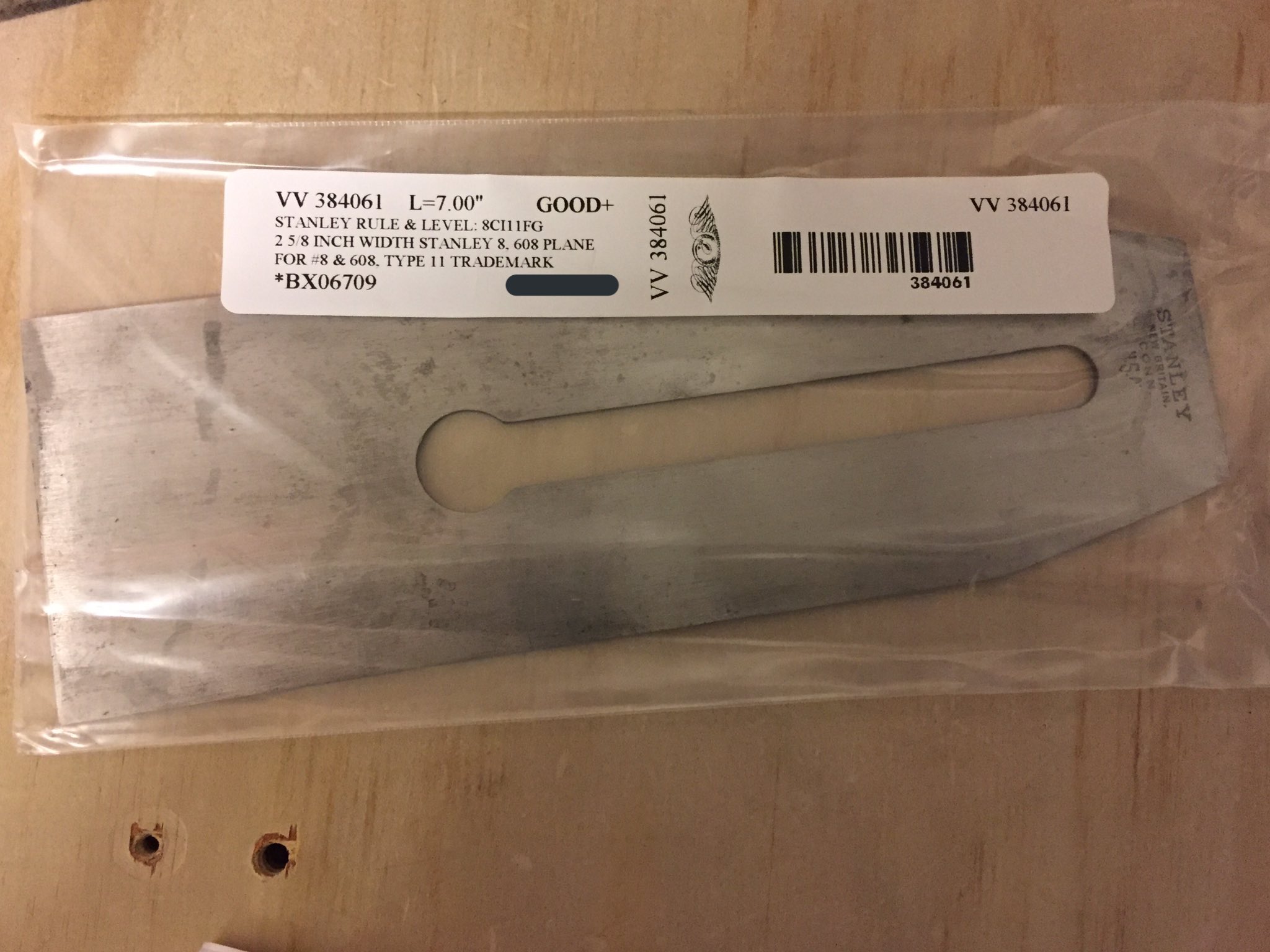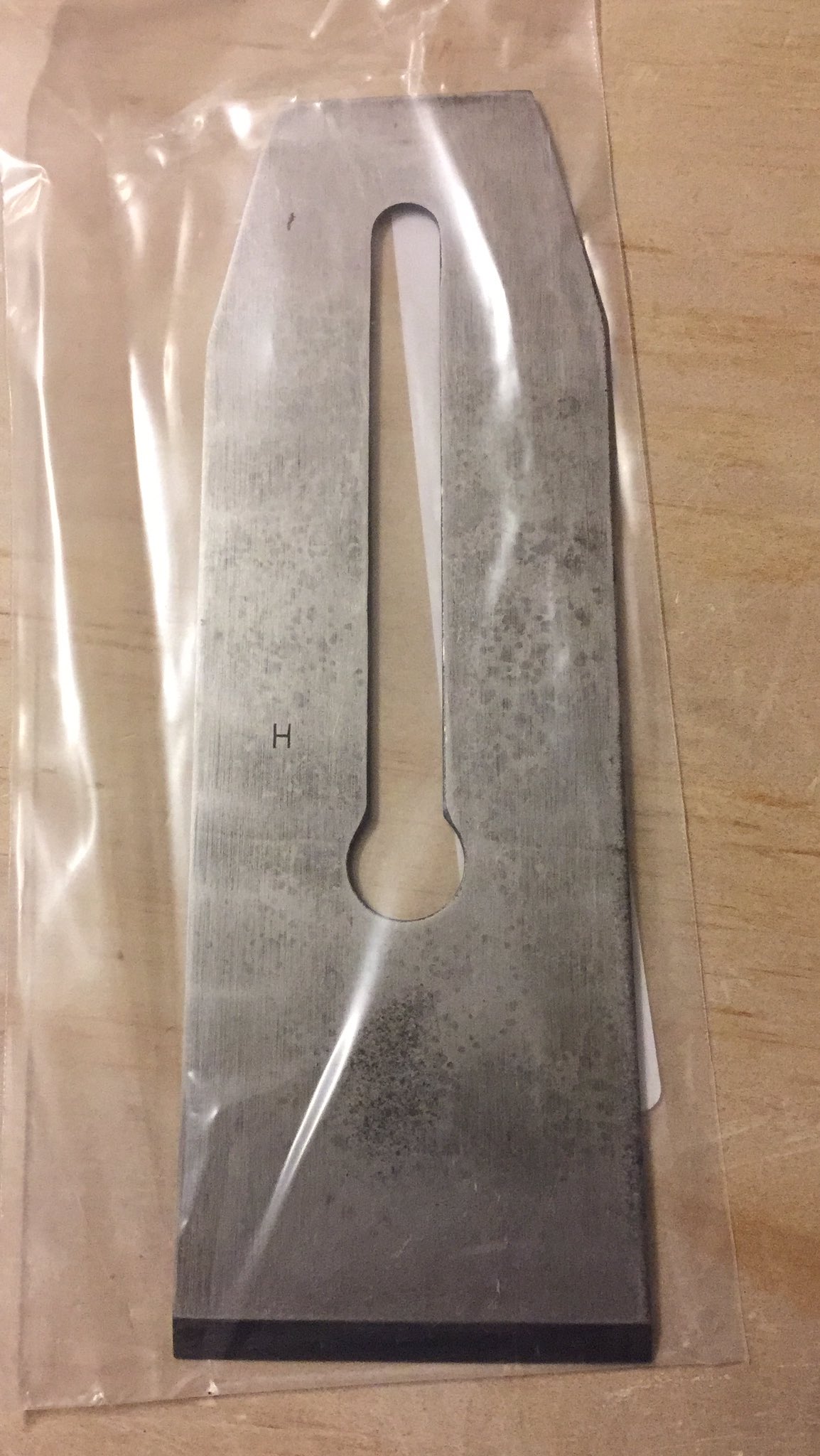 But there appeared to be something unique about it that I was not prepared to see. There is an "H" on the back of the blade.
I have been able to find surprisingly little about that "H" on the blade. While quite uncommon in my searches, I have occasionally come across "H" versions of entire planes. Like this rare Stanley Bailey No 4 1/2 H smoothing plane: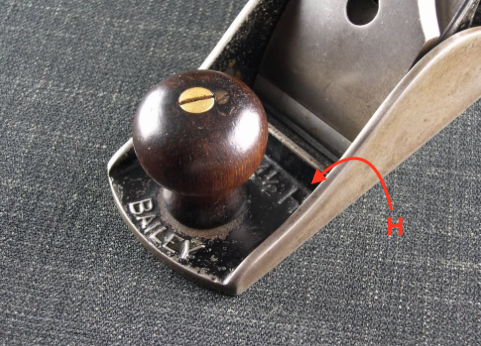 Tell-tale is that while they were manufactured in the US, they were never sold in the US. You'll also never find them in any catalogue. Yet, there was a 4H, 4 1/2H, 6H, and while I have never seen nor heard of an 8H, I have to suppose that there was an 8H blade, because: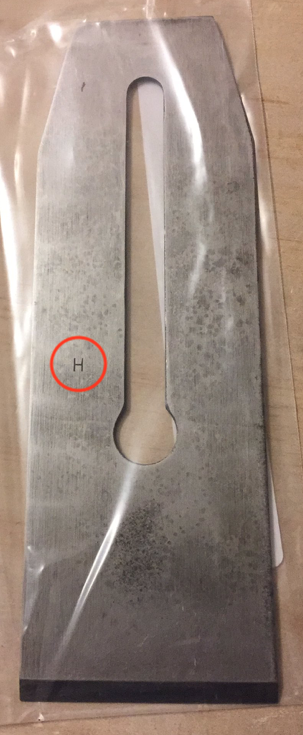 So the question begs, did I just receive a ~111 year old blade that was never sold in the United States? When my Stanley No 8 arrives, I will do a thorough comparison between this blade and the one that it came with (which is pretty worn-down from the photos and the very reason I bought this blade in the first place).
So, on to the handles. Bubinga is my father's favorite wood (or at least I think so, he's always saying "I like Bubinga"), and so I like putting it on all my hand tools (since we talk about hand tools a fair bit, including video chat where we share stories and play show-and-tell with our latest tools and knives).
I was ecstatic when I found Michael K Woodworks offering Bubinga tote/knob for Stanley hand planes that would fit the No 8 I (at the time) planned to win at auction (spoiler if you didn't read the previous blog chapter, I won the auction). However, when they arrived in the mail, I was dissatisfied with the finish. I don't have anything against shellac, and I couldn't tell it was shellac at the time, but I have just grown accustom to the properties of Bubinga. I was missing the chatoyancy that I love about the wood and the color seemed to be all wrong.
(below 4 images) Here are the handles as I received them and how they appear next to the Bubinga handles on my Veritas plane. Notice how the Veritas is a much richer color.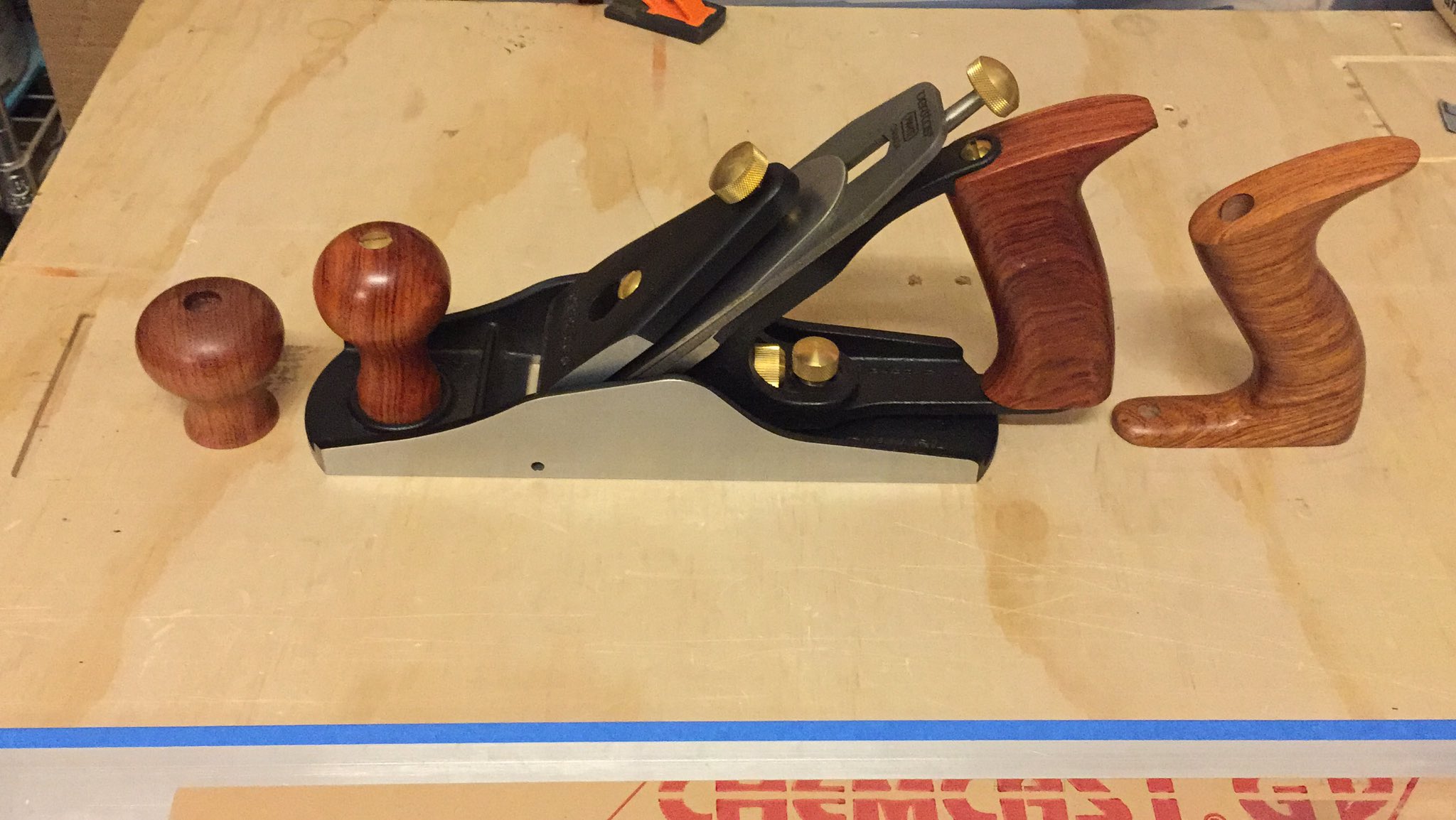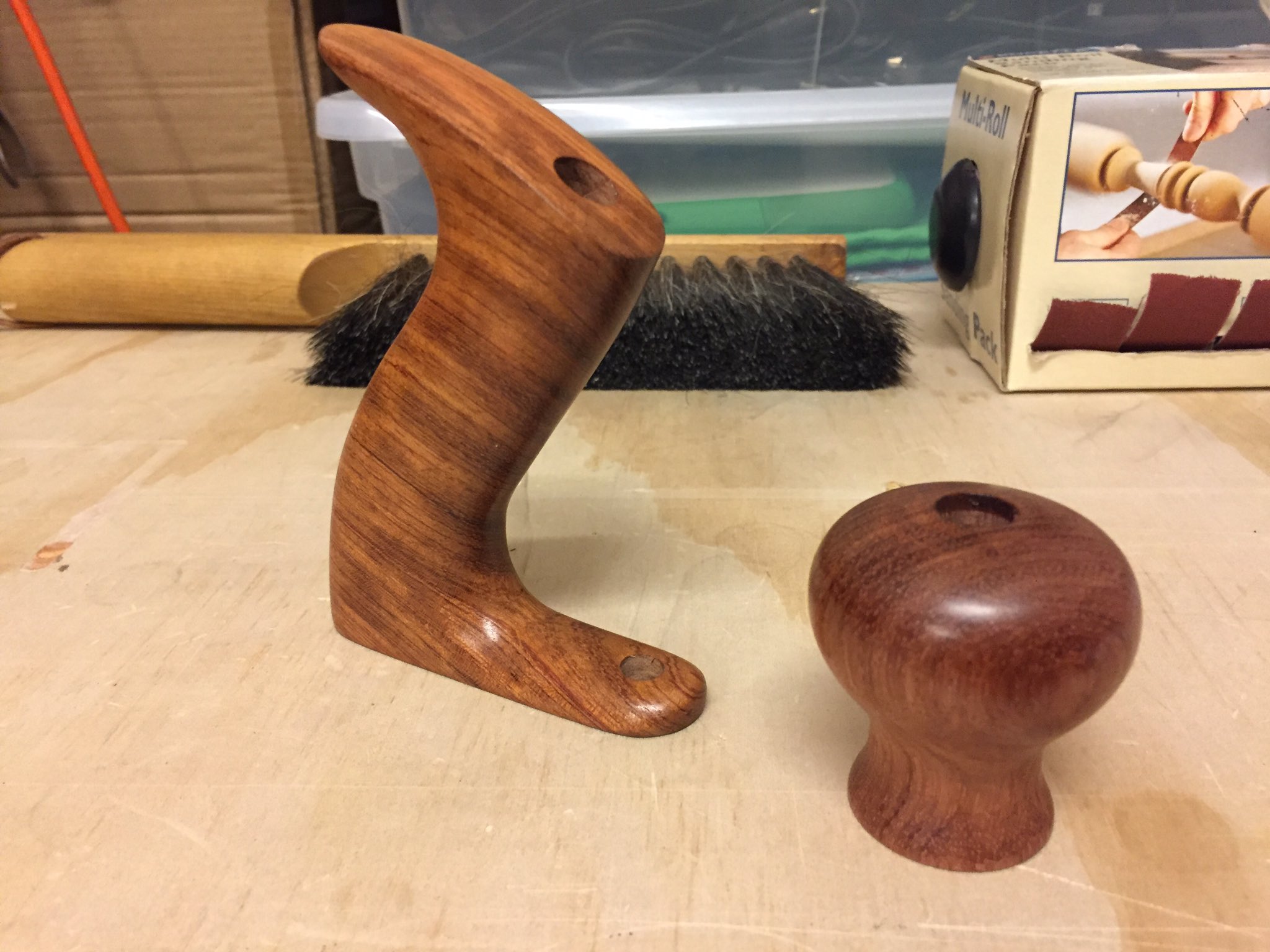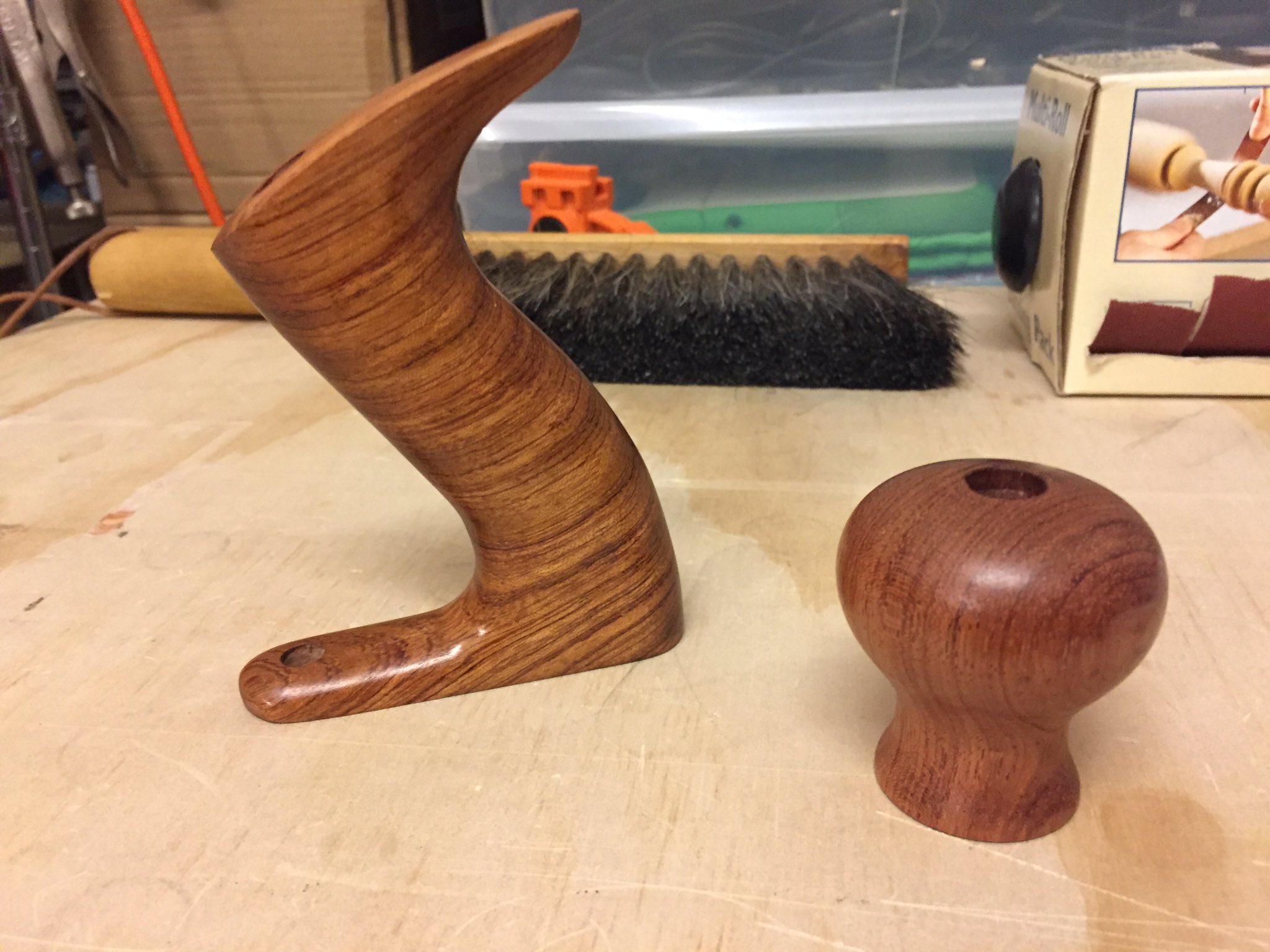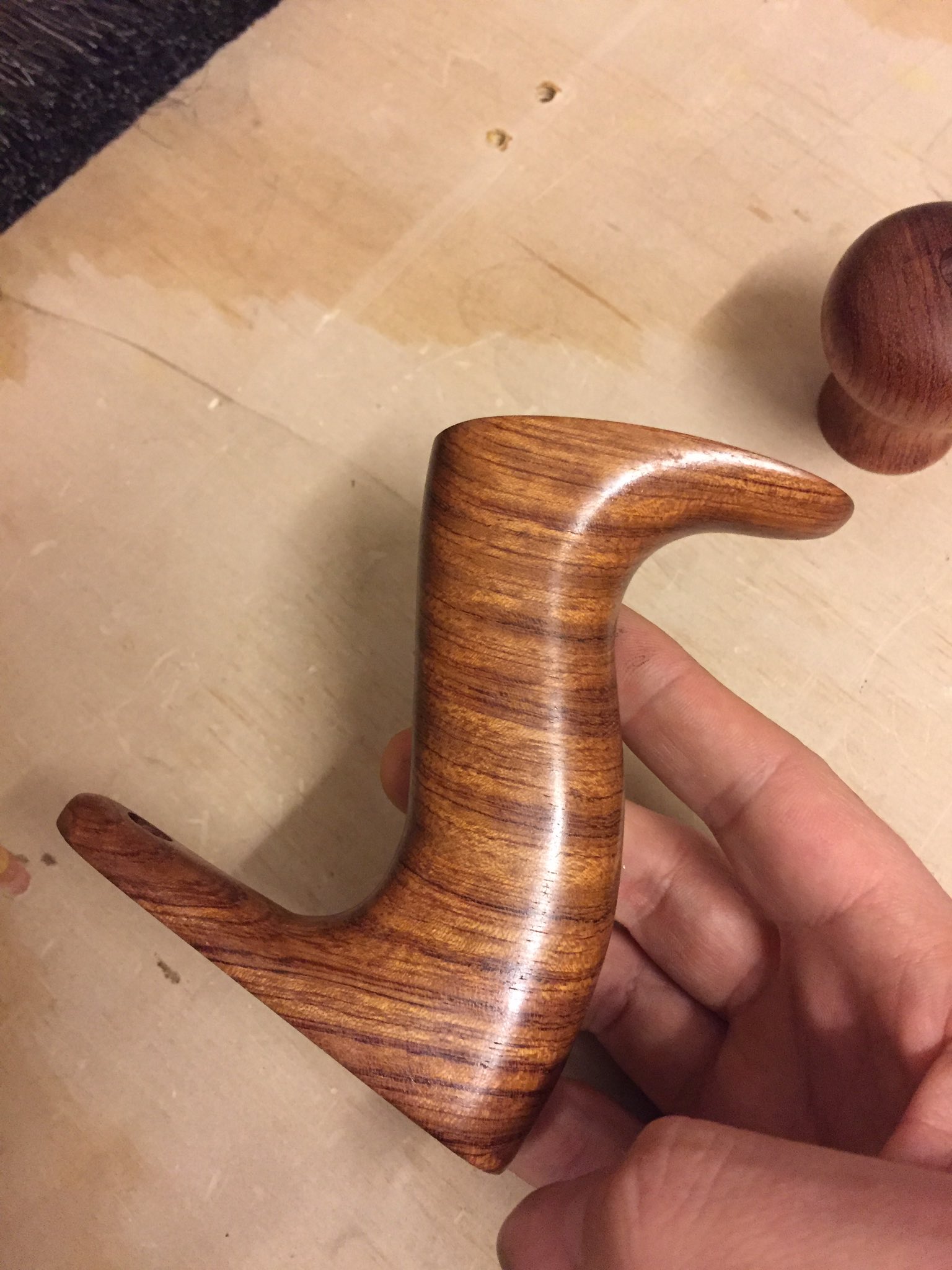 I mean, sure they look great, but they can look way better than they do in the above photos. So, I got to work.
(below image) I would not be using sandpaper to refinish these. Instead, I went straight for the chemicals.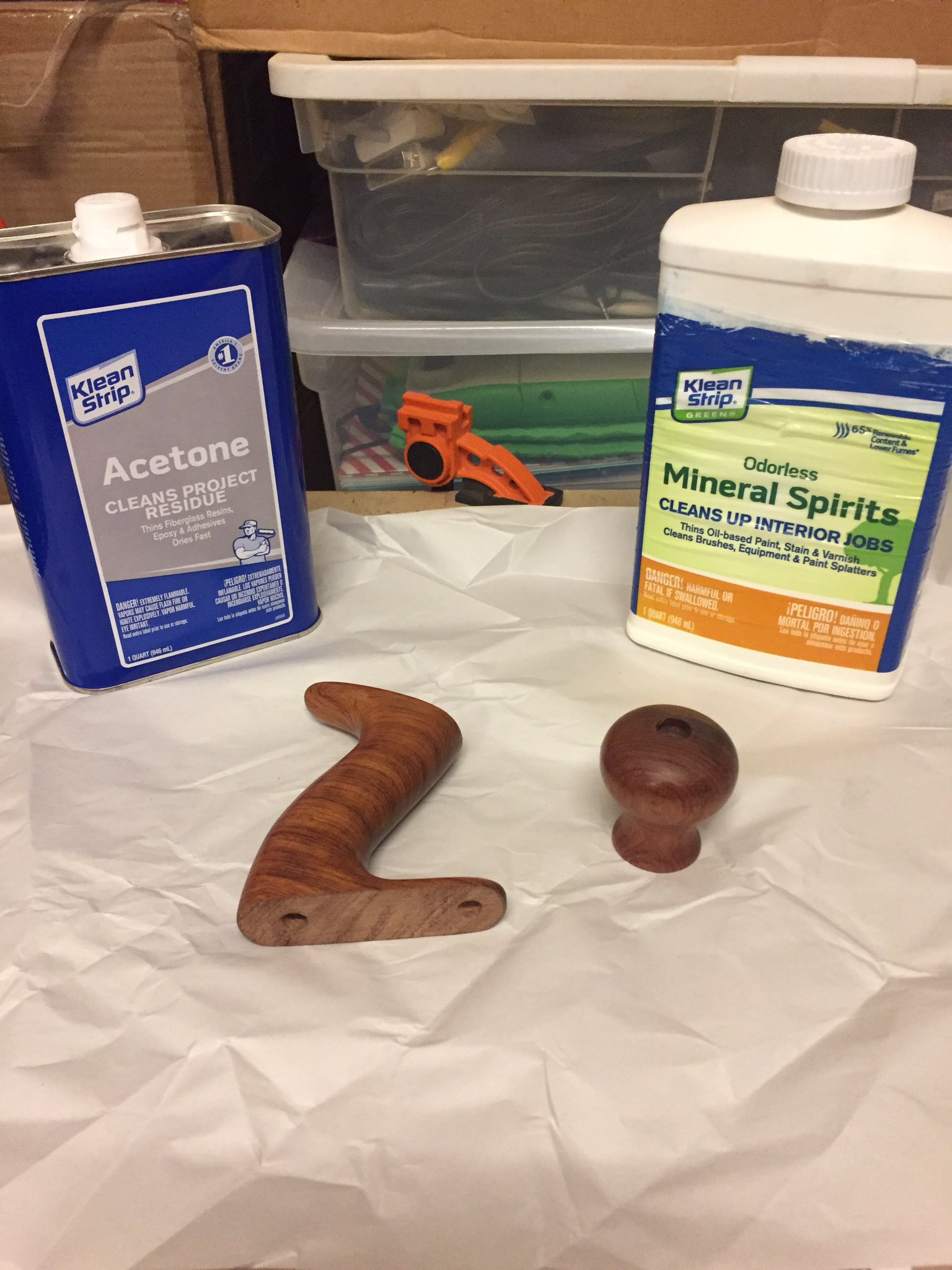 I knew that these were the chemicals to use because I contacted Michael K and he told me that he used shellac and paste wax. It wasn't immediately obvious to me that there was shellac on there because the paste wax was obscuring the shine. Once I took the mineral spirits to it and removed all the dried paste wax it was definitely obvious there was a healthy coat of shellac on there:
(video) https://twitter.com/freebsdfrau/status/1372018148610732036
I then used acetone to start removing the shellac. In this video, you can see where I removed the shellac from the top-half of the tote but left it on the bottom half:
(video) https://twitter.com/freebsdfrau/status/1372022524129595396
In this video, you can see that I have removed 95% of the shellac, leaving only a small portion for contrast:
(video) https://twitter.com/freebsdfrau/status/1372277811285696514
When I was finished removing all the shellac from the tote, I went to inspect the knob. There were striations circumnavigating the cyma reversa curve at the base of the knob. I was not happy about those. I don't know if that was from the paste wax being applied while it was turning or the shellac, but we'll find out:
(video) https://twitter.com/freebsdfrau/status/1372288470249398272
I removed the paste wax and it appears that most of the striations were due to what I thought was the issue, the paste wax was slapped on while it was still on the lathe instead of more lovingly by hand after it was removed from the lathe. However there was still a large ring around the cyma reversa. I would have to remove the shellac to see if that was in the wood or not:
(video) https://twitter.com/freebsdfrau/status/1372291116486205440
Once the shellac was removed, I could see quite clearly that the ring on the cyma was in the wood. This meant that too low of a grit was used to blend the cyma while it was still turning. If you graduate your grits up to, say, 600, this won't happen. I was going to have to fix that defect.
(video) https://twitter.com/freebsdfrau/status/1372295579993141250
Here is some time-lapse video of me fixing the curve using various degrees of sand paper. First 800, then 2000, some 3000 grit, and finally some tack cloth and more acetone.
(video) https://twitter.com/freebsdfrau/status/1372303052514881540
The results spoke for themselves. No more ring around the curve. One totally seamless cyma reverse blending the base of the tote with the girdle, on up to the crown. Beautiful and ready for finish.
(video) https://twitter.com/freebsdfrau/status/1372304466947416064
My finish of choice for Bubinga on these handles is going to be Danish Oil, and lots of it—9 coats to be exact. After about 9 coats there really isn't a noticeable change in applying more coats.
(video) https://twitter.com/freebsdfrau/status/1372345177503793153
Let's take a look at the before and after.
BEFORE (below)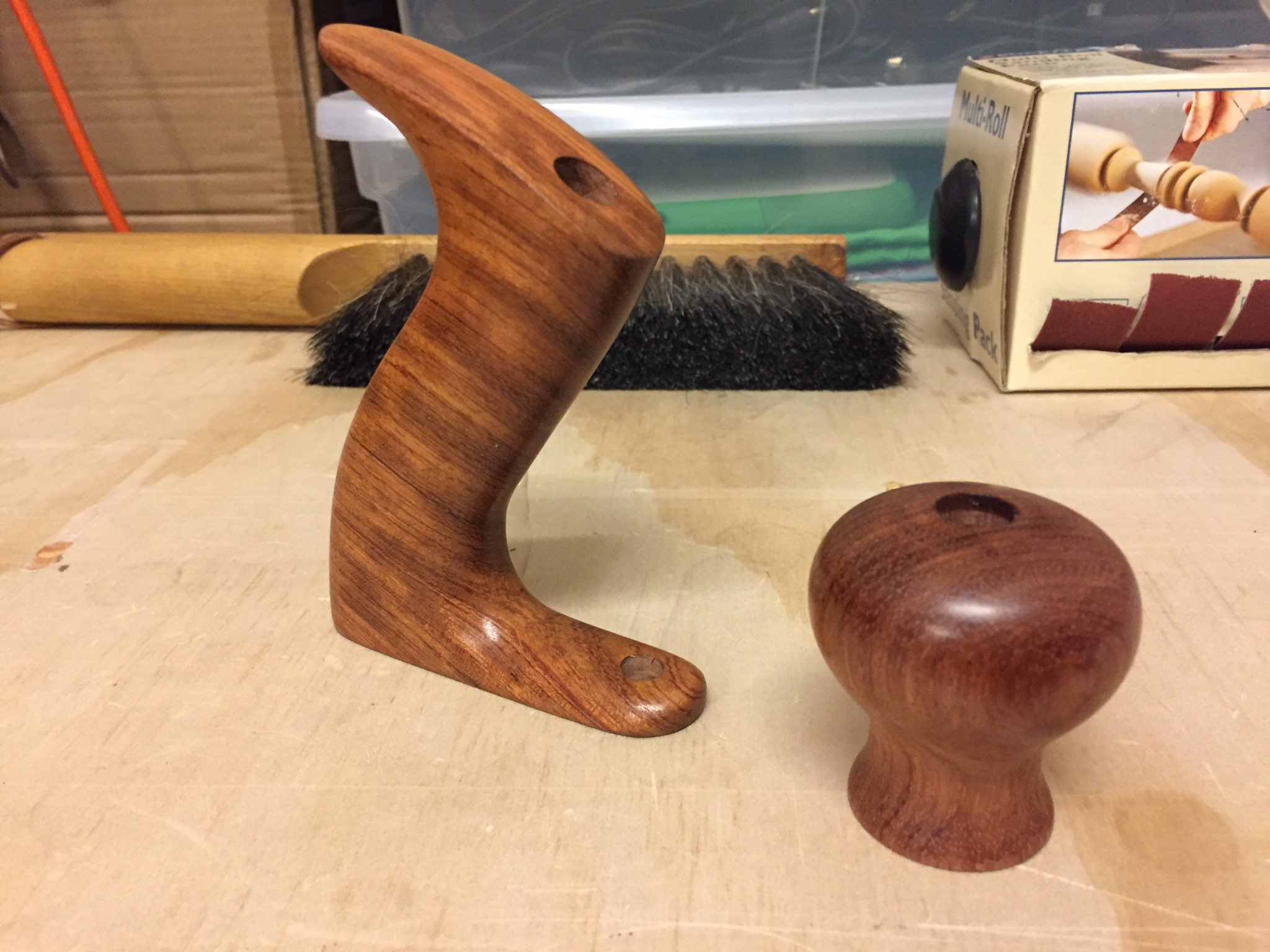 vs AFTER (below)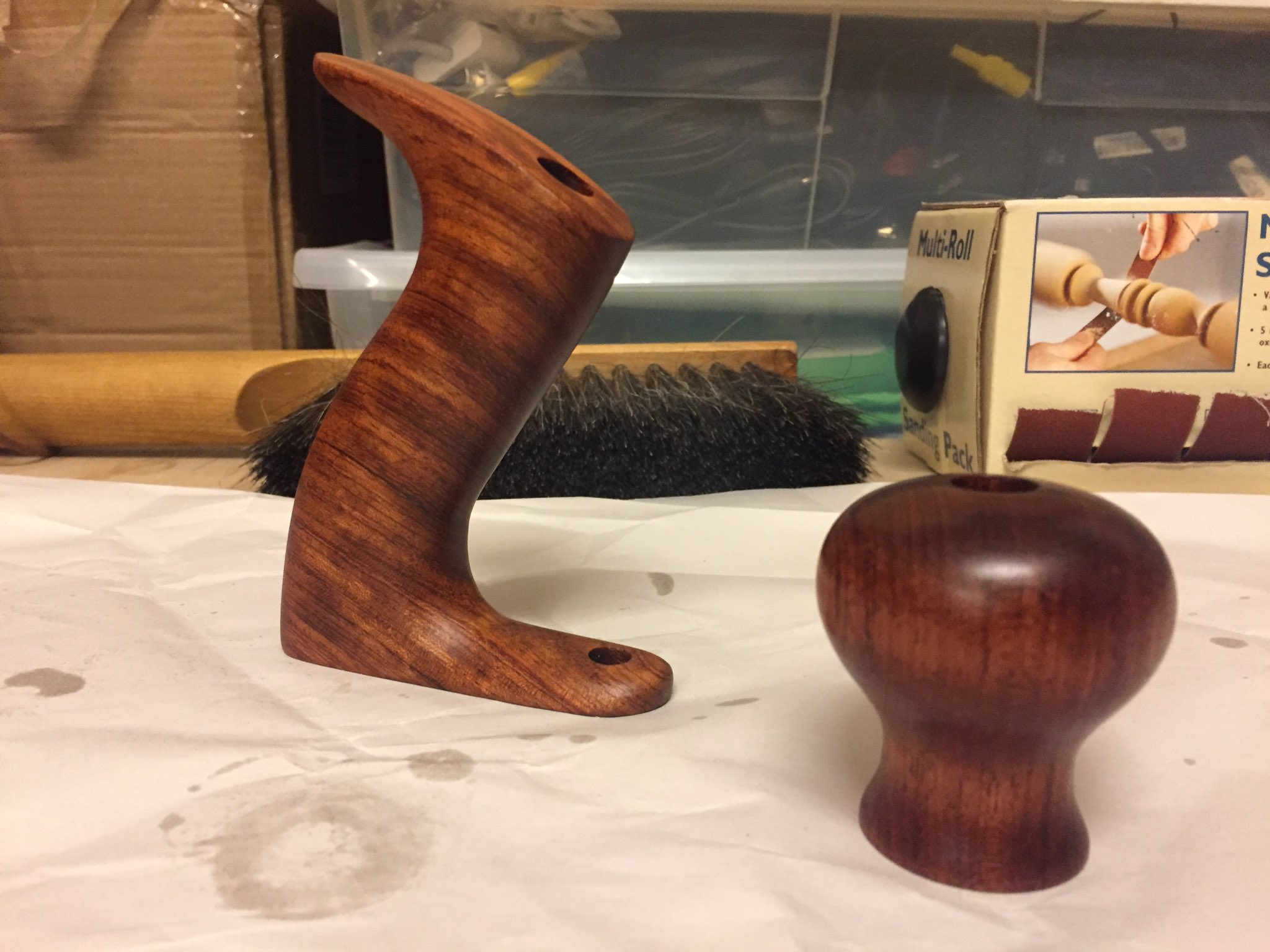 Again from a different angle, ...
BEFORE (below)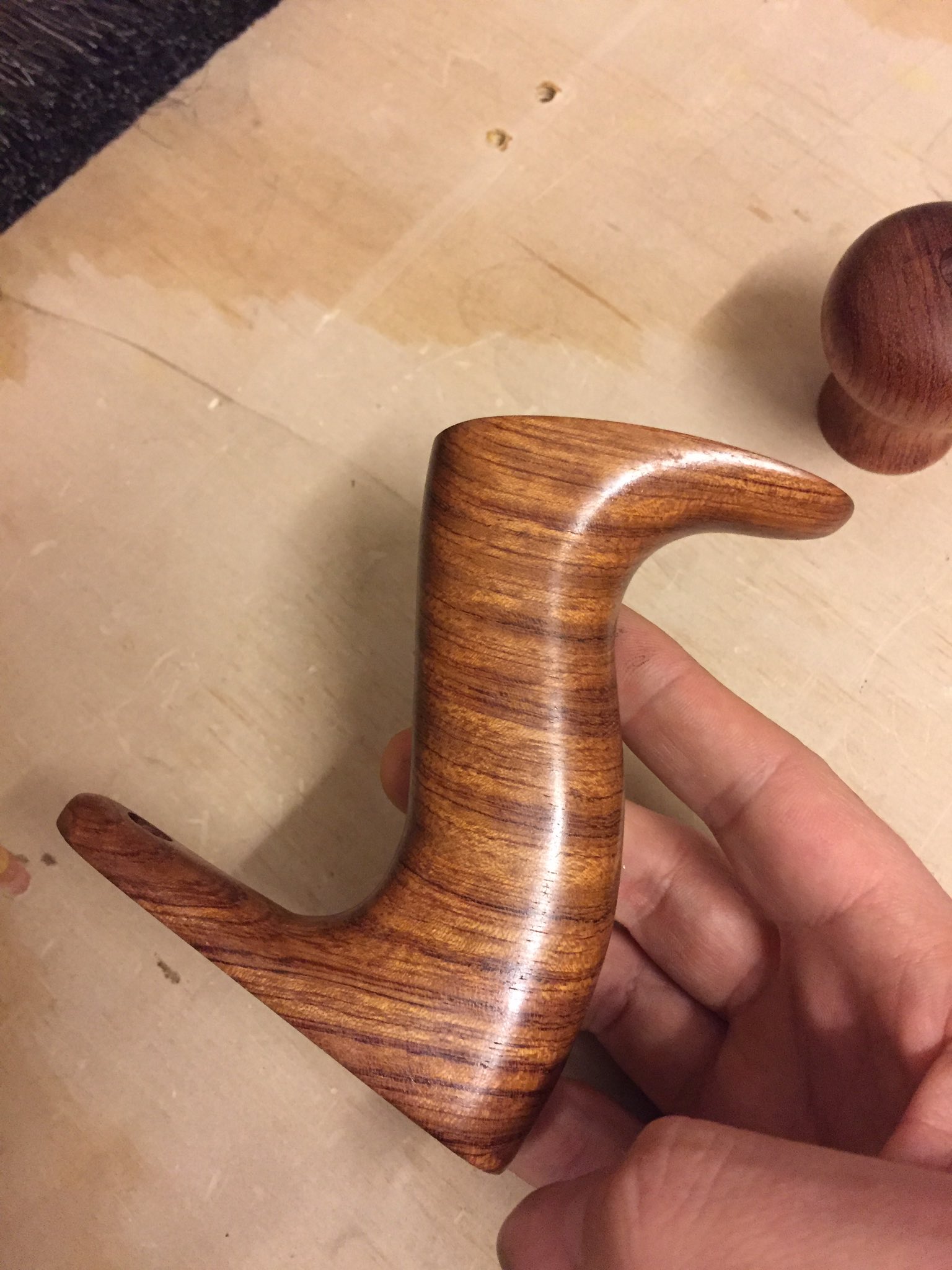 vs AFTER (below)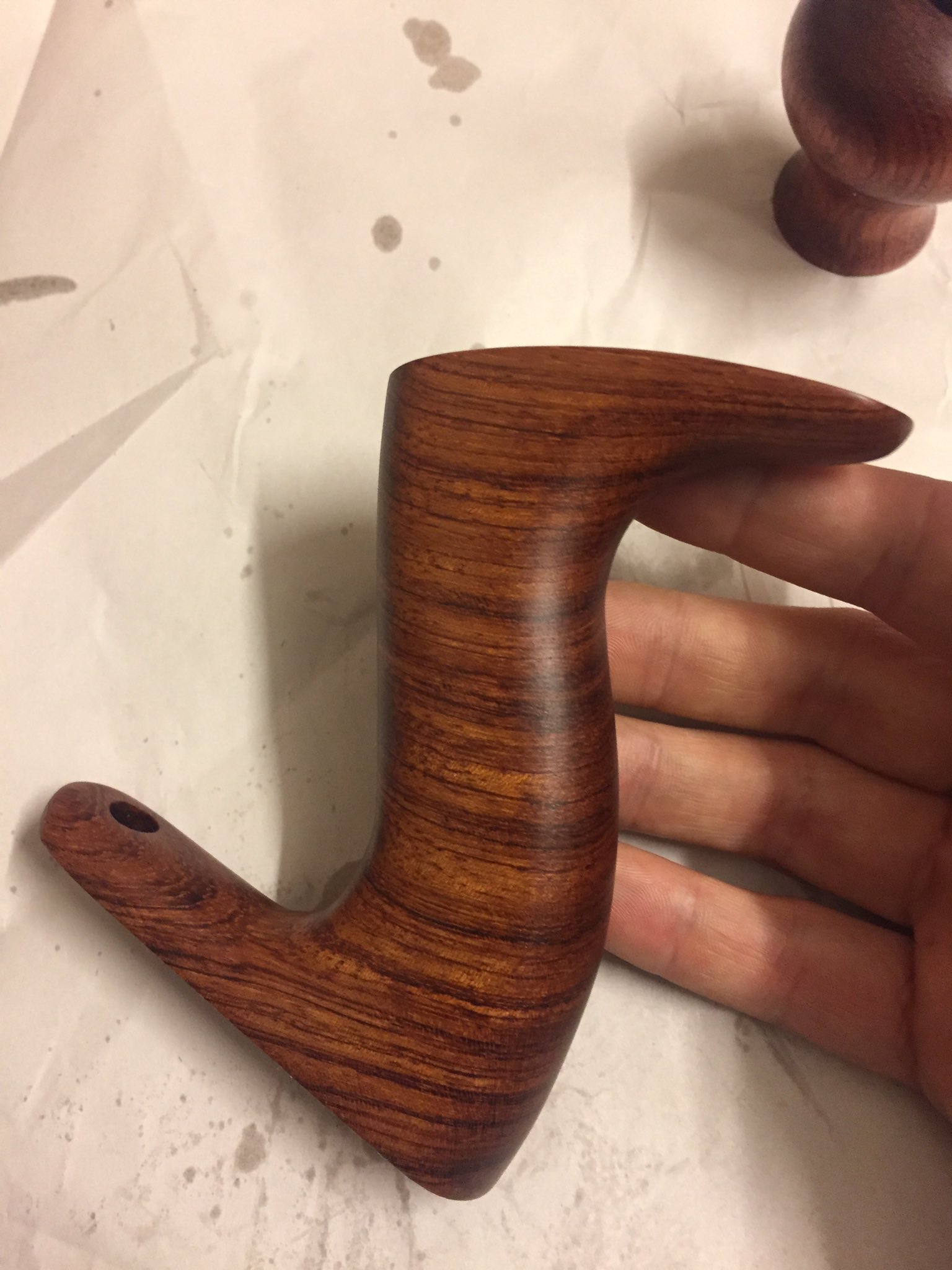 Again from a different angle and including the Veritas for comparison in each photo.
BEFORE (below)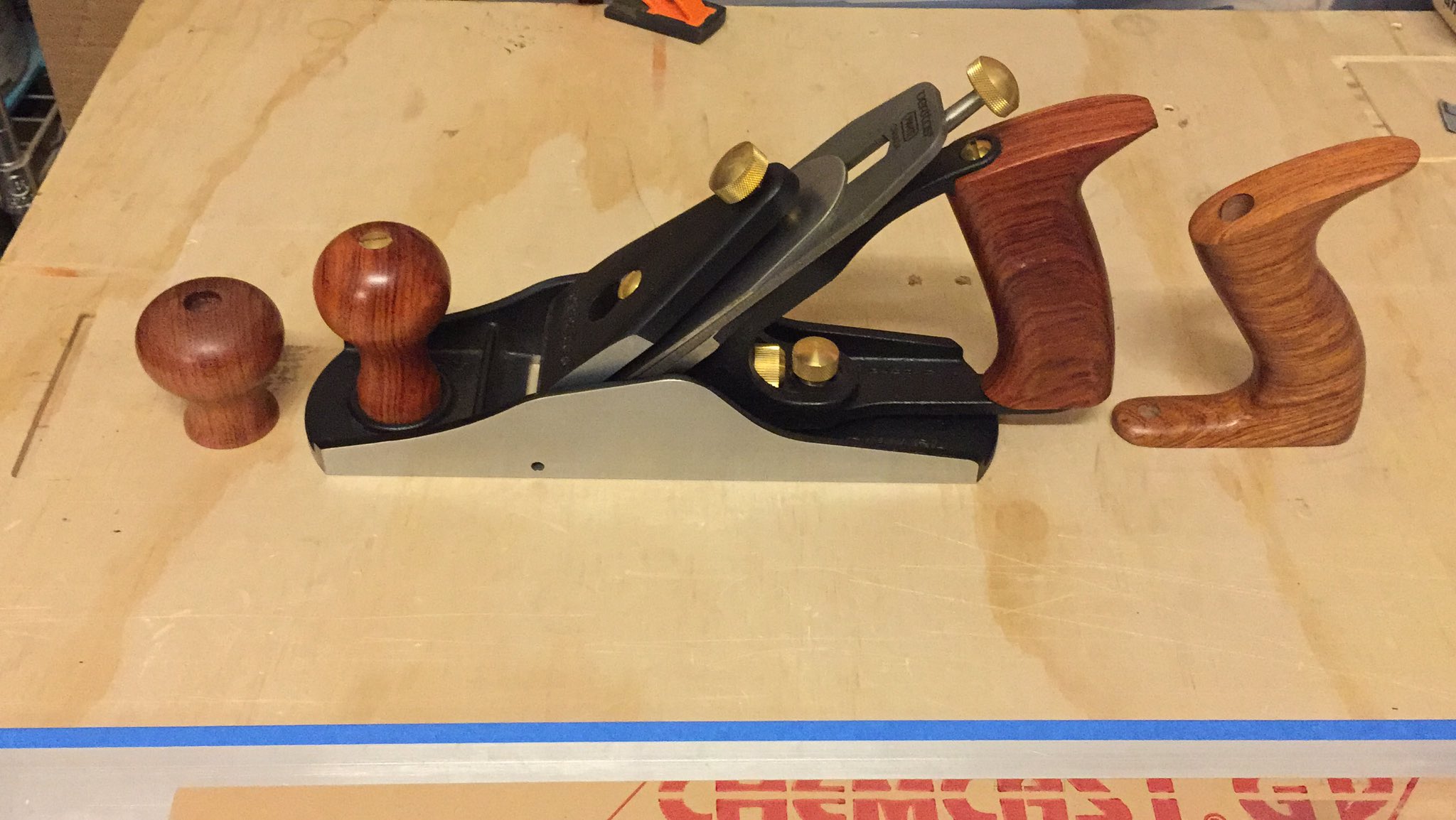 vs AFTER (below)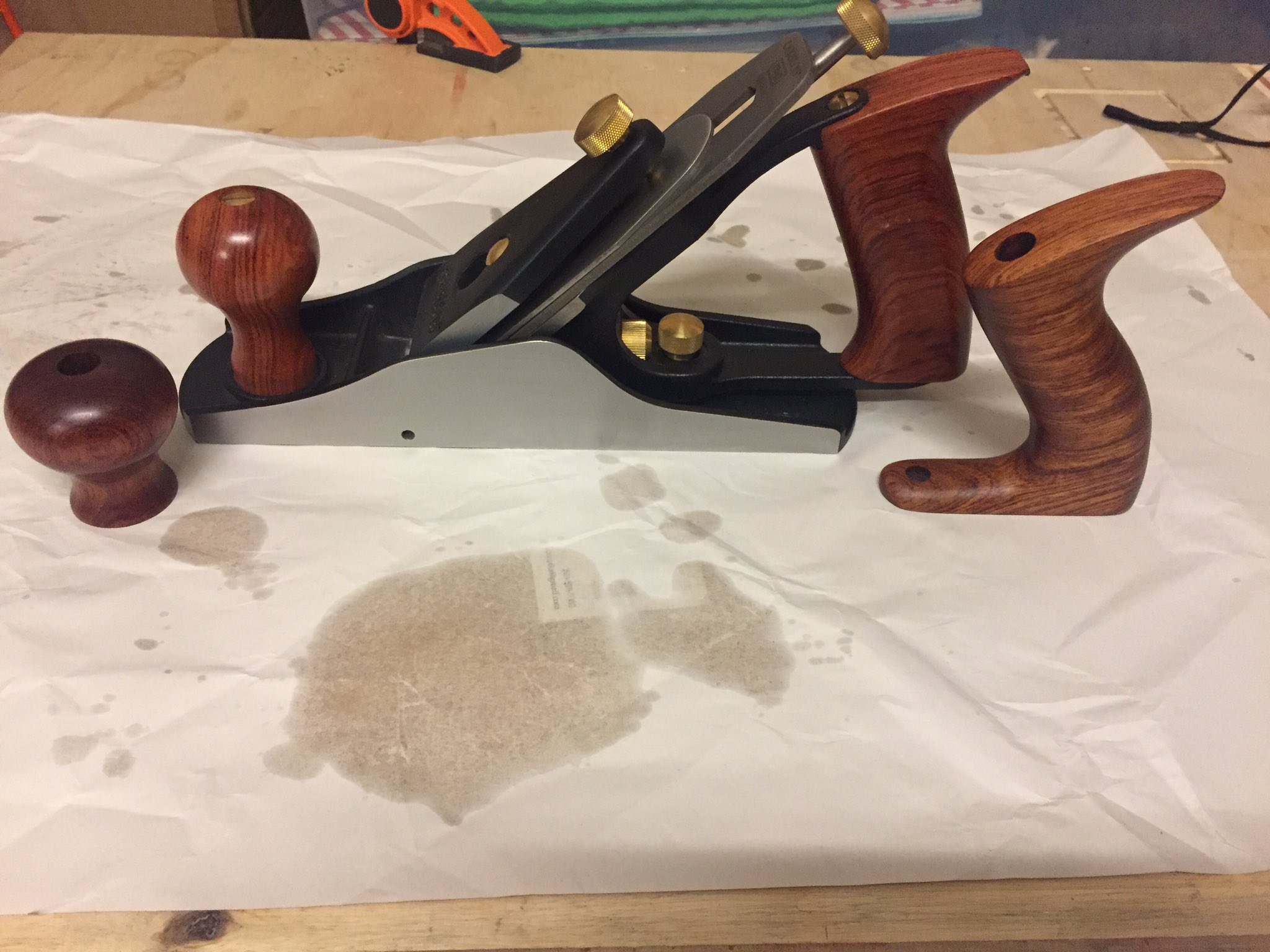 Let's get in there for some close-ups of the after …
Tote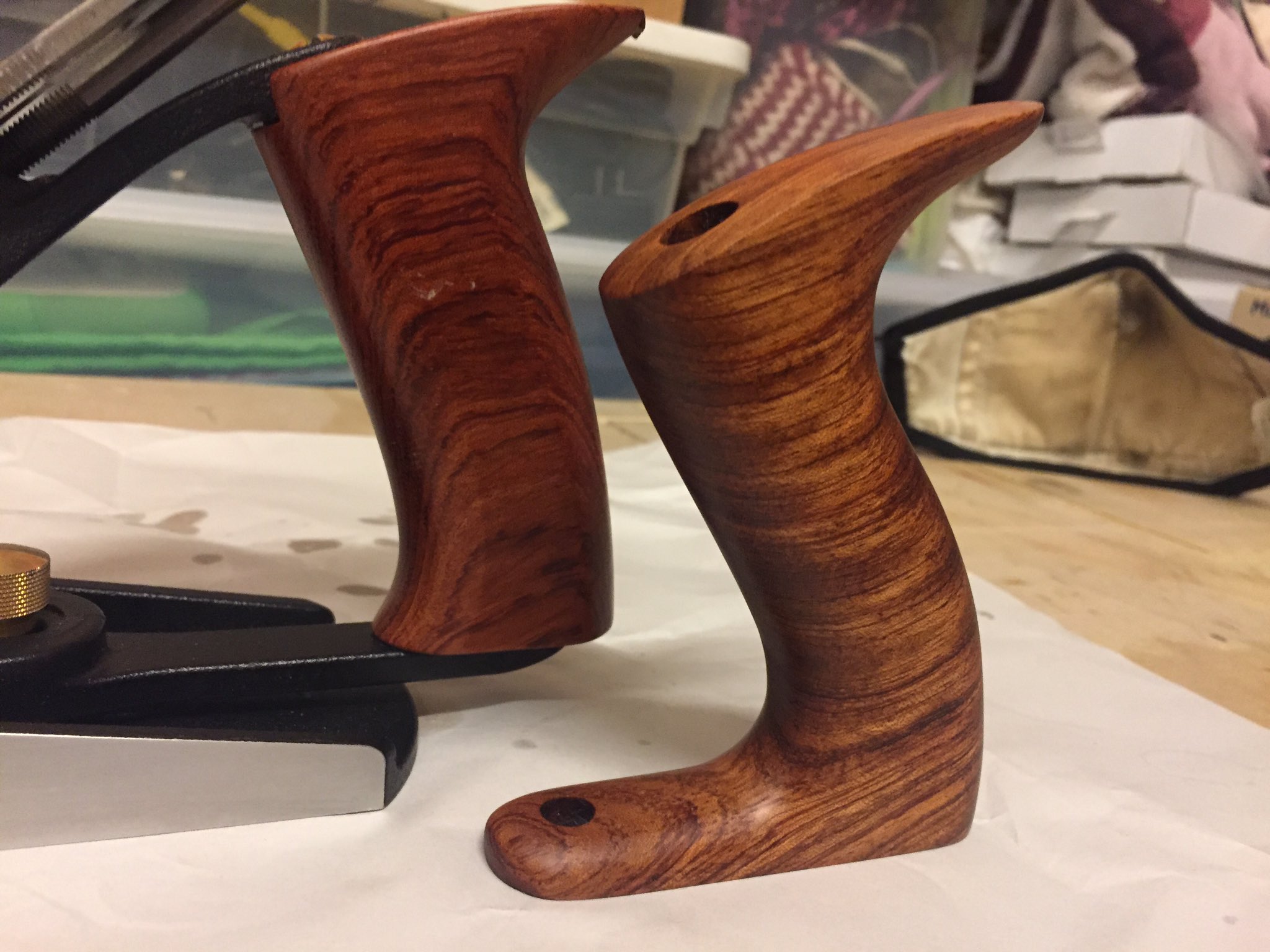 Knob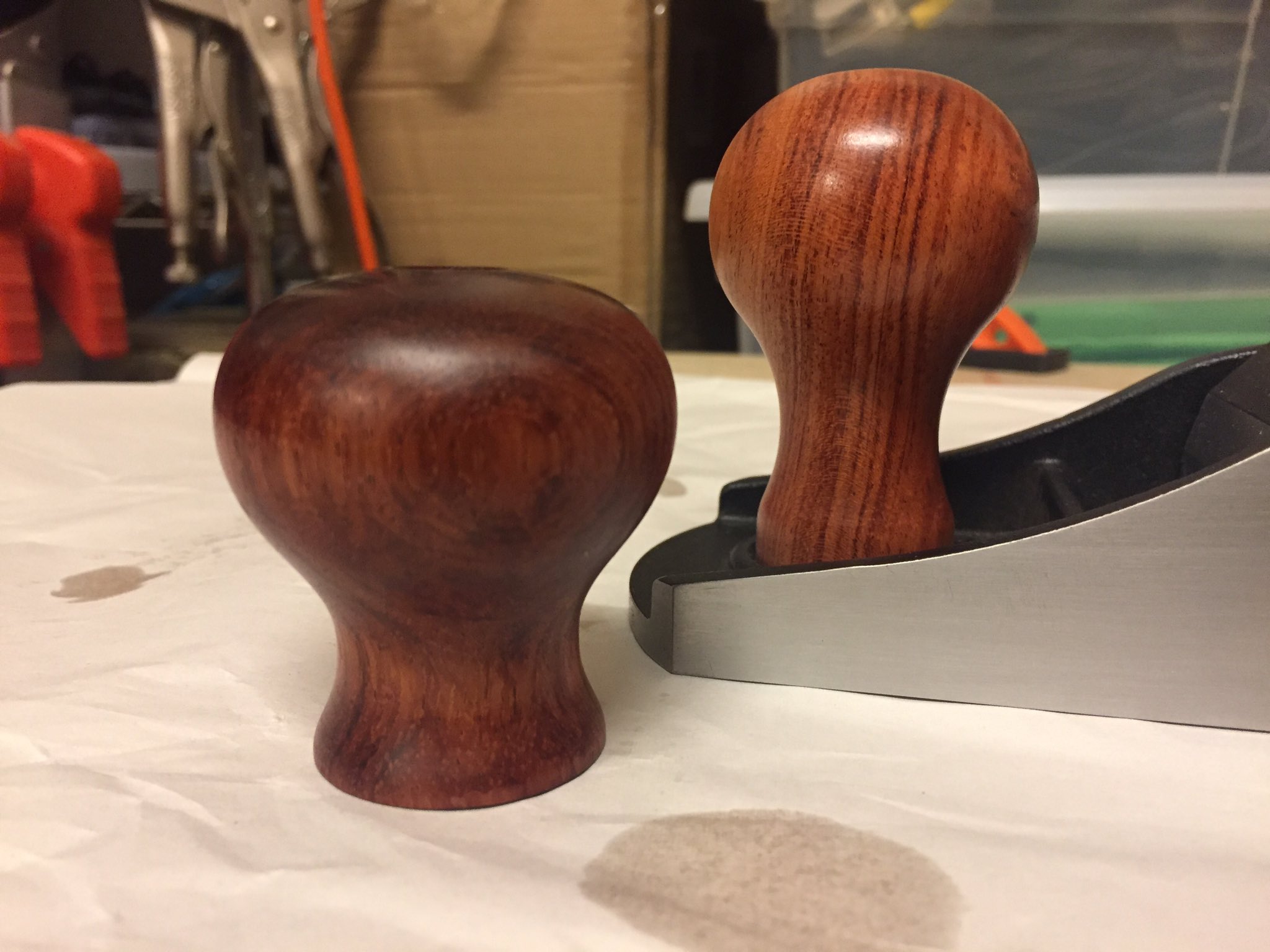 And for the pièce de résistance … showing off the bucket loads of chatoyancy brought out by the oil:
(video) https://twitter.com/freebsdfrau/status/1372722702943805441
-- Devin, SF, CA
---