After 10 years of living without air conditioning and being asked at an increasing rate by the spouse to do something about it, we finally reached a tipping point. In August of 2020, I was given an unlimited budget by the spouse to solve our summer HVAC issues (or lack thereof, I should say). Needless to say, that removing the monetary constraints allowed my mind to soar.
While many people told me I should skirt the HOA rules in our condominium association by simply doing a mini-split Air Conditioning unit with the condenser hidden on a 3rd-story balcony, I ultimately wanted to play nice AND prove that I could comply with the rules and regulations while still adding cool air to our condo in the summer.
No modifications to the outside of the building.
No breaching the exterior stucco for a through-wall mini-split conversion
No condenser on the roof (a note on that below; see ASIDE)
No window shaker units
No visible exhaust conduit from the exterior
ASIDE: One possible route would have been to have plans drafted for roof access to a condenser, present them to the board for approval, and literally pay a monthly fee to the association to rent the space on the roof (where monies would go into a fund to maintain roof access and pay insurance if any damage is caused by your condenser unit). However, you're almost certainly looking at a long drawn-out expense that will be less than desirable.
... and if those restrictions were not enough, I also wanted to design something that any of the other 91 units could deploy should they also want air conditioning.
Basically, a tall-order to come up with "the solution" for our entire association that anyone could retrofit into one of the 6 different floor-plans.
FULL DISCLOSURE: I sat on the board for 2.5 years and got a first-hand glimpse of the operation of condominium associations, and that is a big factor in my reasoning to not-only play nice with the CC&R's but also develop something that can be used in pretty much any condominium (or apartment for that matter).
But, why would this be a "tall order" when several manufacturers mass-produce plastic adapters to exhaust portable air conditioning units out of windows?
Awning/casement windows! That's why this is a challenge.
I did months of research, unbridled by cost, on how to vent a portable air conditioning unit out of an awning window.
(below image) Let me take you on a visual journey of what is available on the market now to solve this problem. First, however, let's take a look at an awning window: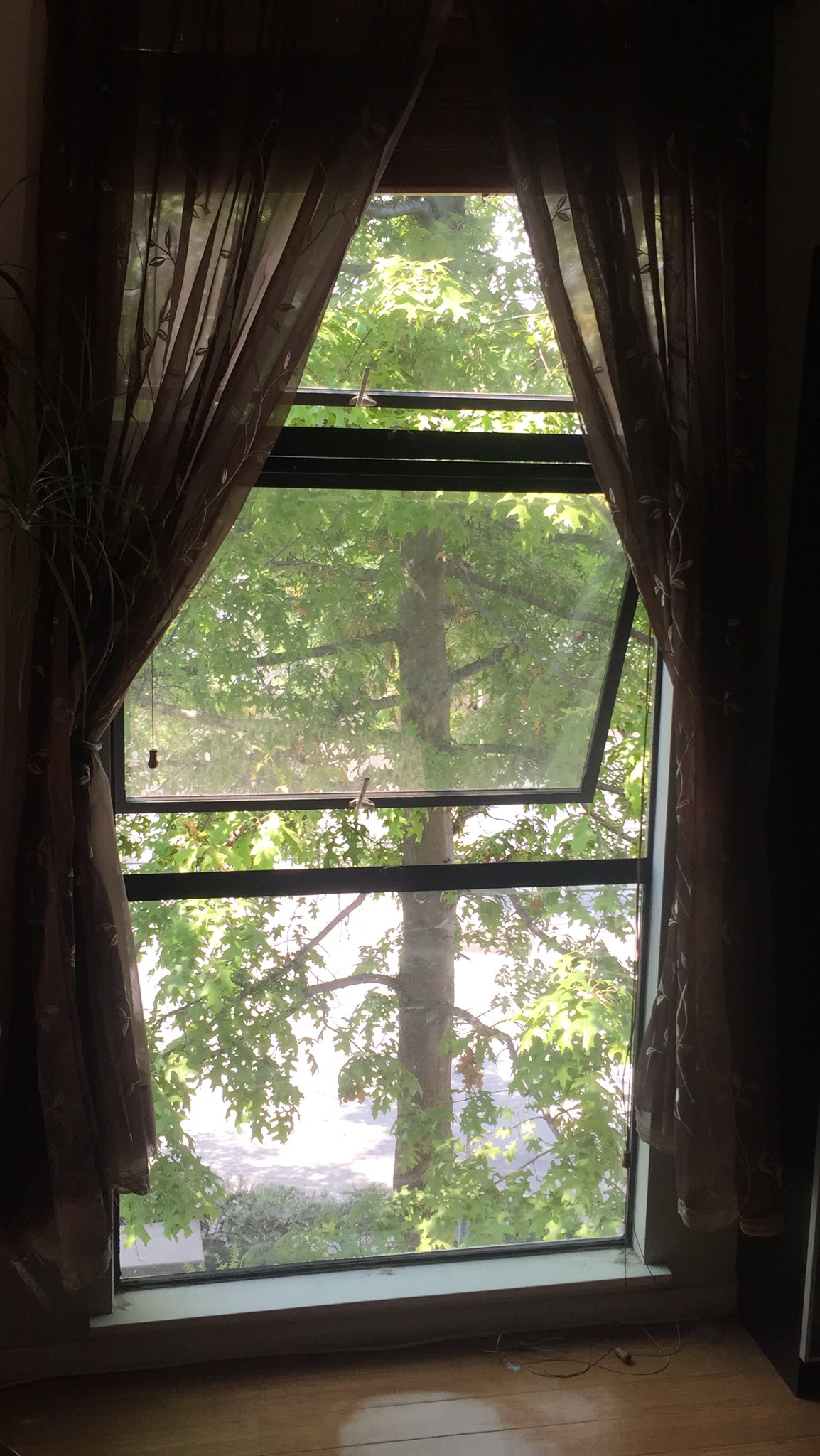 (below image) Here is perhaps the least expensive solution—just shove the hose in the window and shut it as far as you can):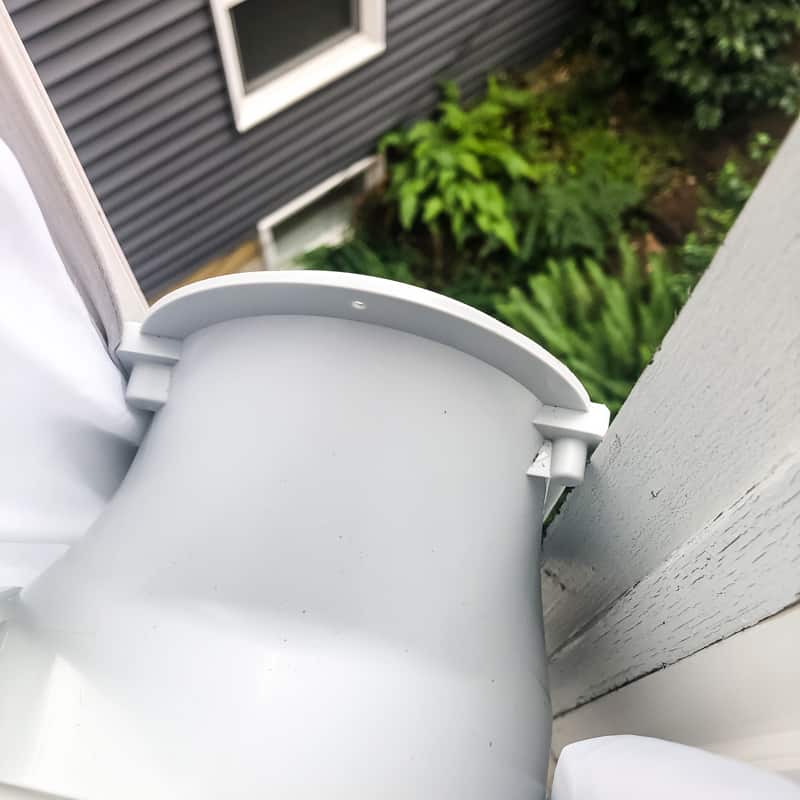 (below image) Like some worm from Dune rising from the sand ready to devour you whole before you can collect its spice, this person thought it would be pinnacle of design to just attach the hose to a sheet of acrylic and drop it in the window sill. Creative, but I'm not trying to scare children and this would rub up against CC&R's: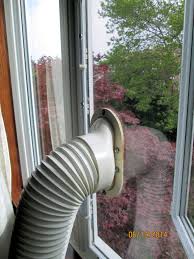 (below image) Not quite as frightening to small children (perhaps) is this person's approach. Points for creating a tight seal at least.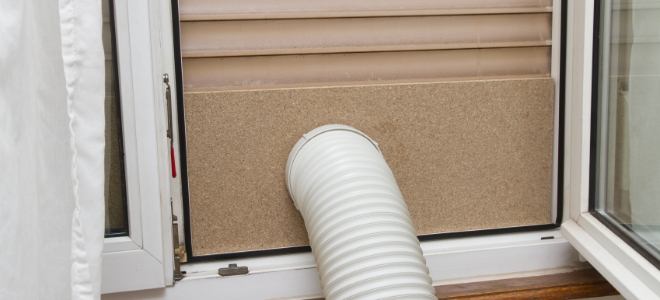 (below 4 images) Oh, but wait until you see this approach: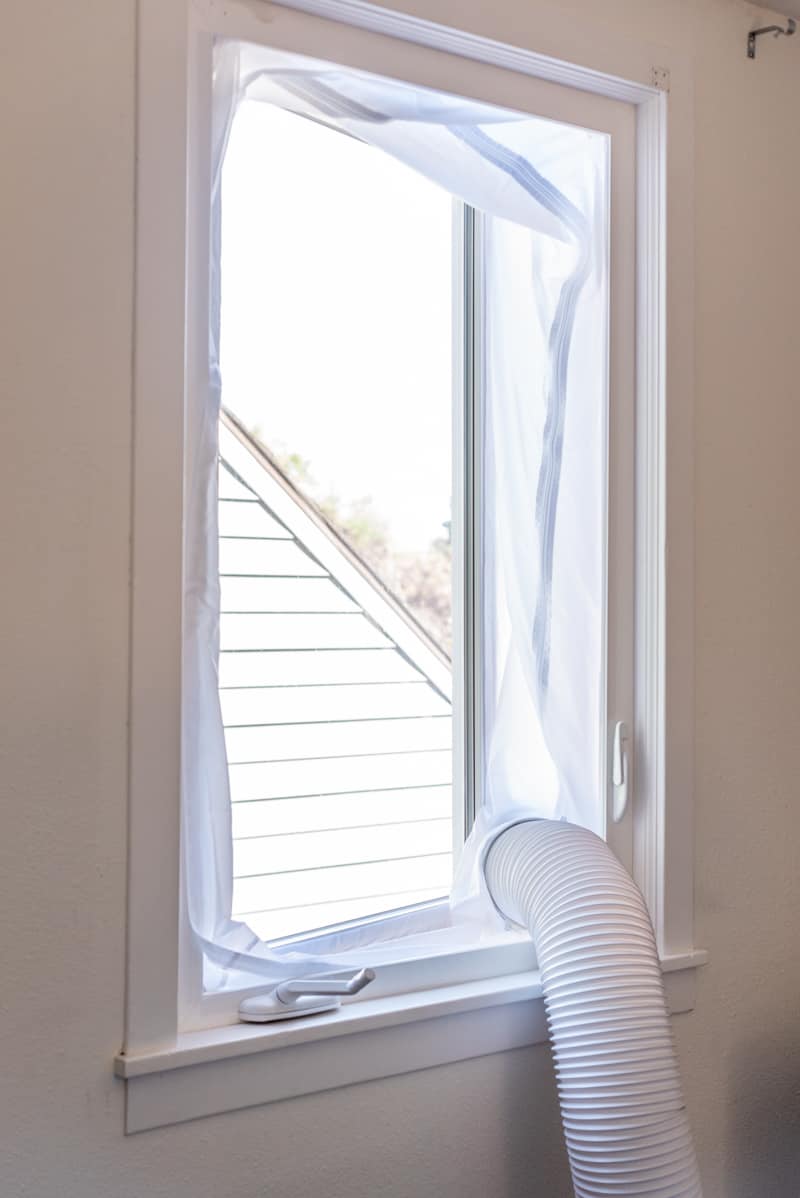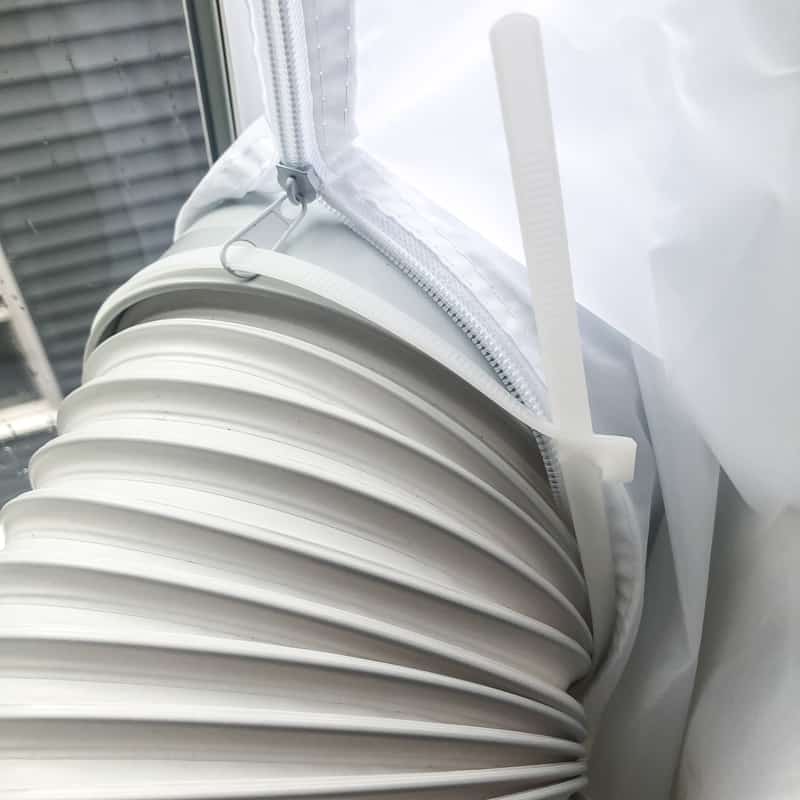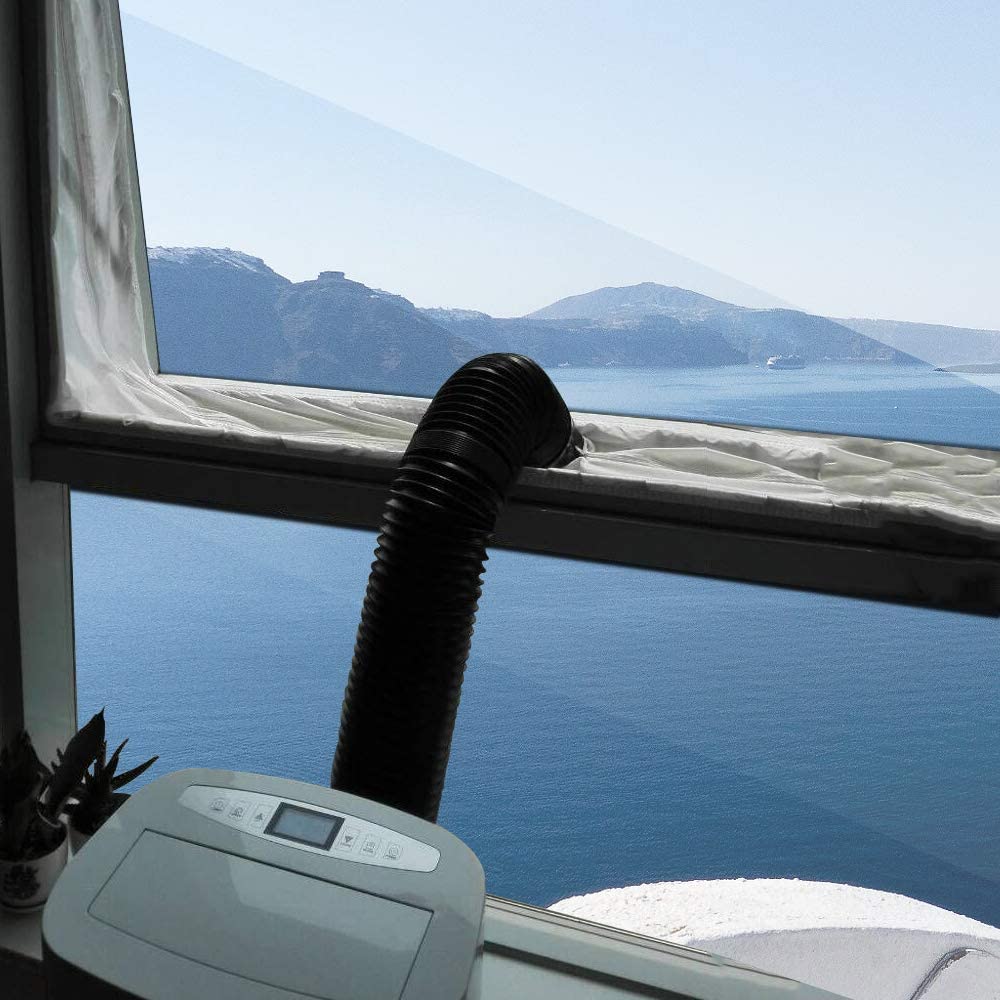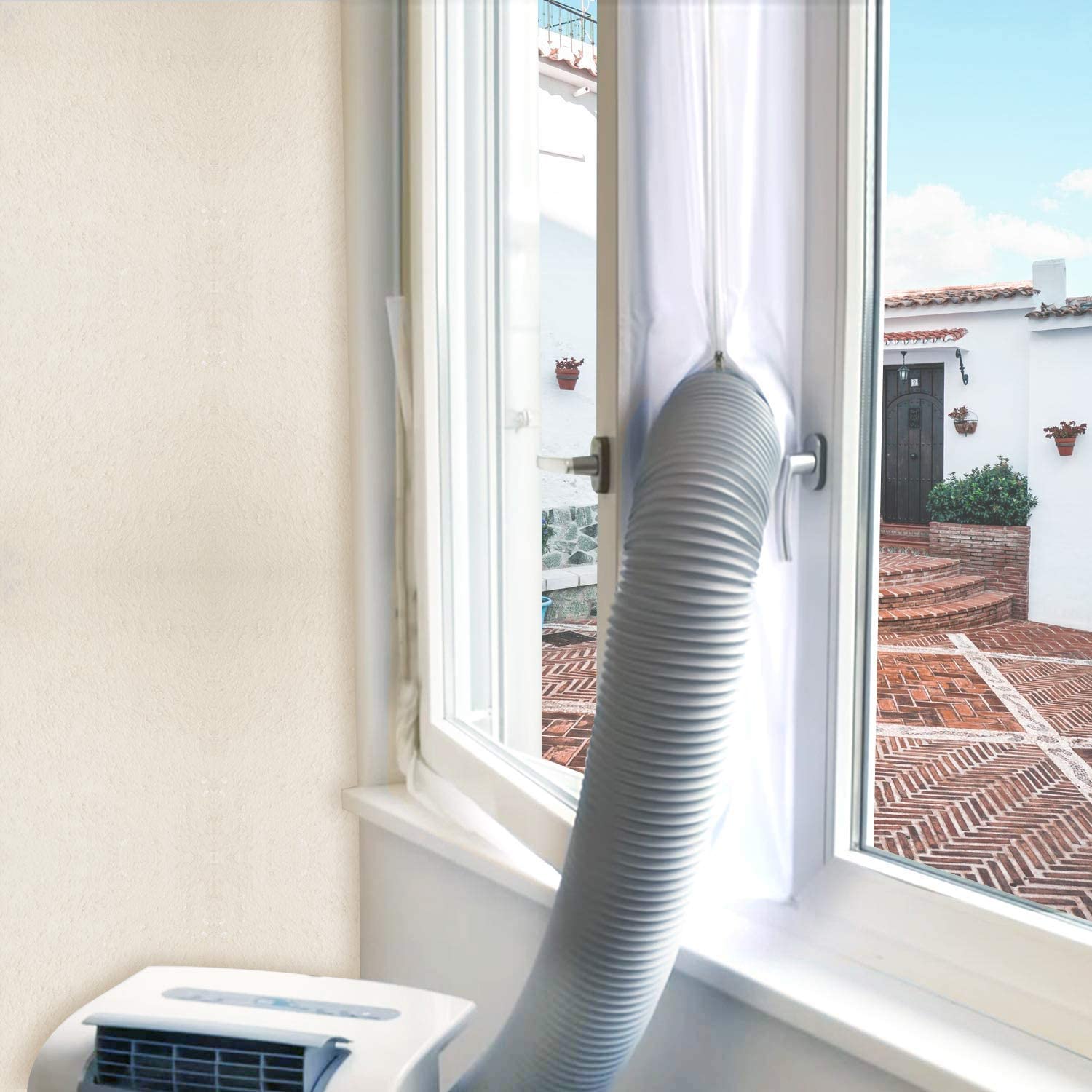 ASIDE: (above 2 images) You've got a [presumably] million-dollar home on the lake or in a villa and … (shakes head).
(below 3 images) Then there is this, which appears somewhat tasteful and classy, but still may not be acceptable—depending on the rules where you live (and I will be avoiding it where I live).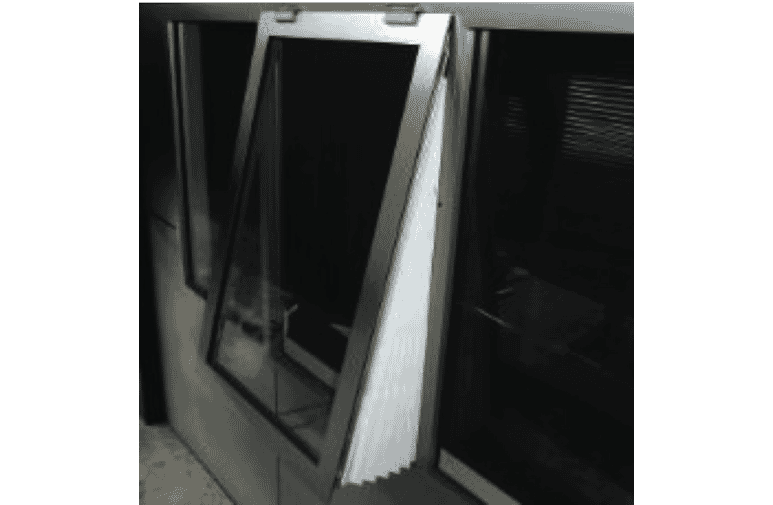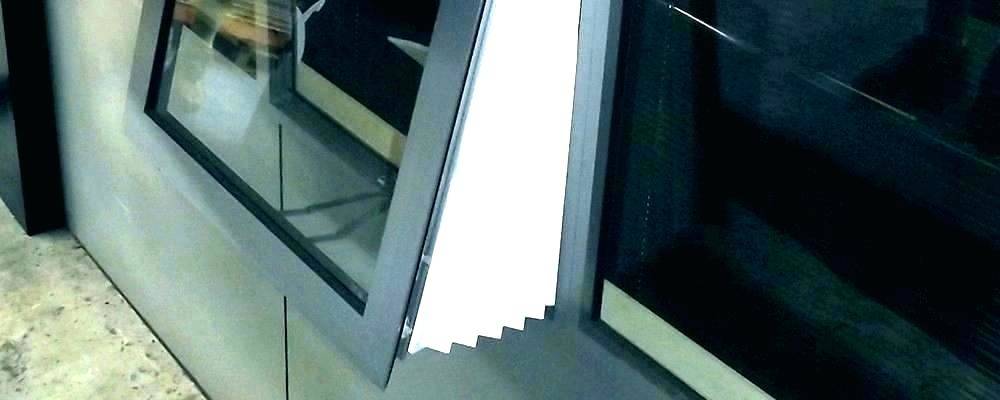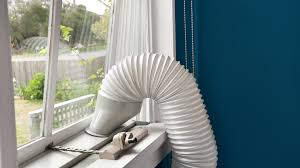 So, what's a gal to do? Well, if your mom was an aerospace engineer, and your father was a 3rd-generation railroad engineer as well as a 3rd-generation woodworker, you start thinking outside the box.
To understand the forthcoming design, I think it might be helpful to read just exactly where my mind went to arrive at such a solution. Get ready for some out-of-the-box thinking here:
1. Regulations prevent me from modifying the outside of the unit
2. With a condominium, also known as a Parcel-Unit Development (or PUD) in construction terms, you are deeded the "Dry-Wall In" (that means you own the dry-wall and everything from that point inward, and nothing else speaking strictly in terms of property, not including responsibilities you own).
3. Therefore, what precludes me from—again, "no monetary cap on this project" type of thinking—building a condo inside my condo?
I checked. Nothing prevents me from building a house within the confines of my own condo so-long as I don't breach the drywall. You could enter from outside and be presented with yet another door that would gain you access to the fully-air-conditioned sub-home built within the inner shell of the condo.
That seems a bit extreme, but it's that type of thinking that broke open the mold on what was possible in my mind and as I started to scale it down, I had a engineered a solution that was actually workable. It required an insane budget but that's only because this would be the first-ever thing of its kind ever created and cheaper methods will probably not reveal themselves to me until after the initial prototype or when amazing folks like the LumberJocks jump in to tell me I'm doing it wrong (which I will take well, because I am not an HVAC specialist, I just happen to be really good at R&D).
ASIDE: I actually spent months studying the HVAC trade, state codes for residential HVAC, and figuring out what I could get away with. If I have missed something where it appears that I might create a danger to myself or loved-ones, please please please, let me know. A few months of research is a poor substitute for becoming bonded for this type of work. However, I think the dangers are pretty low based on my design. Though, ever the cautious one, I did over-purchase and have plenty of materials if I need to grow this out to a full-blown plenum that is up-to-code for California.
In essence, I have designed a window abutment for awning/casement style windows that has been given the tacit approval of other board members and as-such, we are steam-rolling our way to sweet-sweet Air Conditioning.
-- Devin, SF, CA
---