Well….. Having moved to the basement to take another shot at this wood working hobby (it's currently 25 degrees outside!!!) I now need a way to clean up without destroying a shop-vac filter every day…. So I acquired a 58 gallon (Yes, I said 58 GALLON!!!) plastic barrel. I paid $25 and found it on Craigs List. God Bless the internet! If anyone is in the Chicagoland area and needs barrel's let me know, I'll pass on the guys info!
So the Barrel is really nice. It's a food grade barrel with a rubber seal. This one was used to ship peppers from the packing house to the factory that made slices for nacho's….. There were even seeds and pepper juice in the bottom of the barrel!
I found a plan on the inter-web on how to make a dust seperator out of nothing BUT PVC Pipe pieces…. SO…...
It's a hodge podge of pieces, most importantly a 3" closet flange (why do they call a flange to mount a toilet a "closet flange"?) a 3"-2" Y and a 3-4" adapter with a 4" piece running up….. Did it suck? HECK YES IT DID!!!! Did it create a cyclonic effect and keep the dust out of the shop-vac? Not really… The small stuff went right up the tube and into the shop-vac. The Filter was clogged in less than 10 minuets,. No big deal, nothing was glued so I'm only out the one piece of 3" pipe I had to cut up.
Soooo… My next step was to copy a design I found here, using an 8" piece of sheetmetal ducting, some plywood and PVC.
First… You have to make a pattern! After you dance around like an idiot for a while, you have to actually cut the pattern out…. I don't have a pic of THAT (It's not as important as dancing like an idiot, right?)
Then I cut out an 8" round and sanded it down…. You know, its amazing that when you have no idea what you are doing, you can get VERY creative!
So then I had a Round with a piece of 2" angle coming out of it….
Then I have everything together and no epoxy…. Damnit Igor! You can get me brains all day and night, but why cant you get me some 5-minuet epoxy!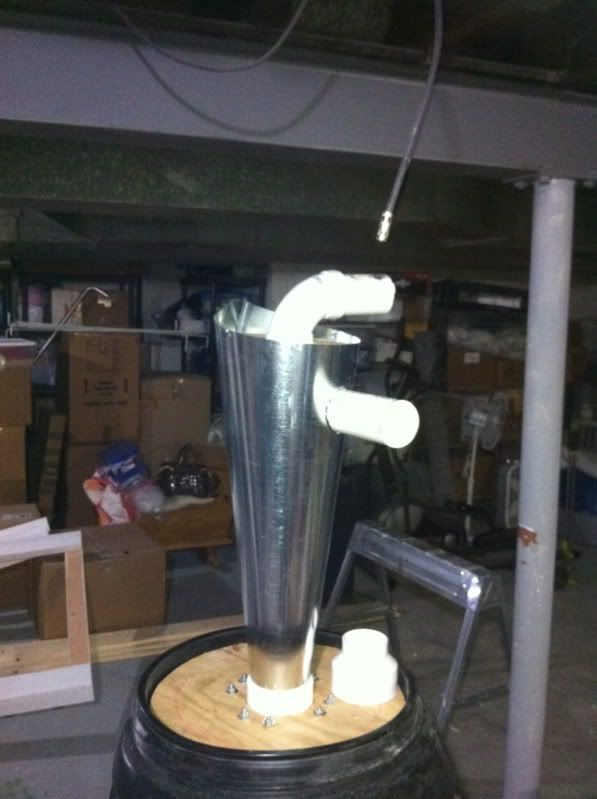 -- Marine, Nurse, Dad.
---