IF YOU ARE READING THIS BOG THERE IS ANOTHER BLOG WHICH IS LARGER THEN THIS ONE AND COVERS EVERYTHING, INCLUDING WHAT YOU ARE GOING TO BE READING ON THIS PAGE. THIS IS A SHORT VERSION, THE OTHER ONE A COMBINE OF ALL BLOGS. IT SHOULD BE AT THE LEFT IN A BOX "COMBINING LAST BLOGS"
IF YOU DECIDE TO EMAIL ME [email protected] remember that hepler is not helper the p and l can be confusing…
Well everyone, this I believe will be the last blog, sorry for all the small blogs. You start out with you Fundamental note which we choose as F# which means that when you cover all your finger holes with your fingers and blow, the note will be F#, this is based upon the size of the bore and its length. You will have 6 finger holes in your flute; they are numbered 1 at the bottom of the flute or closes to the end of the flute and so forth up to the top or closes to the mouth which is the 6th hole. Placing where your finger holes should go can very alot. some choose a center line, meaning that they measure from the TSH to the foot and go off that, and make each hole evenly spaced. Tho this method works, and I have used it several times, I have not always beable to be satisified with it. It doesn't mean that it doesnt work, it just wasen't for me..
The 4th hole has been known to some as the forbidden finger. Some will say that the 4th finger is to be covered at all times. Perhaps the reason is that the forth hole is the hardest to tune, or it can't be tune. But there are those who can tune the forth hole.
Some use drill bits to drill the holes and some burn them in, I have never attempted to burn the holes, tho I do believe that there are some advantages in doing so..
Now that we have a Fundamental Key of F# chosen, what key will the first finger hole number 1 be and 2 etc.
Flute tuning has followed a given pattern, I do not know where this originated from, but the patterns
are taken for your music scale, C C# D D# E F F# G G# A A# B,
The pattern can very from 222222, 221232, 322122, 322222, 322323, and so forth; so what does this mean? we are going to be using pattern 322122, If you look at the scale, and locate your fundamental F#, and following the 322122 pattern; you start by counting from F# and moving to the right of the scale, but you do not count F# as one. From F# you count 3 notes and you will end up with A; A is the number one finger hole. now count 2 which would be B, B is your 2 finger hole the 3 finger hole would be C#
D, your 4th hole and if you continue to count. E, F#. So here is your pattern for your F#
F#) A B C# D E F#. 322122 Pattern 1. 2. 3. 4. 5. 6. all finger holes.
The diagram below has the size of the finger holes already given, however my advise is you start 4 sizes smaller than what is given and as you tune each note you enlarge it as you go, even tho you may end up with the given size .
Your first measurement will start from the back of the TSH and measure down to the foot 15"12/32 (390.525) (39.0525cm) make a mark. If you have tried blowing your flute before this and your in the key of E this is good. Now you need to cut at the foot a little at a time, I have found that 1/2" (12.7mm)
1.27 cm) at a time is good, about , or almost, a 1" cut is about one note. (25.4mm) (2.54cm) this will be good for you to be aware of, with each cut you should blow and look at your tuner; As you cut you will see from your tuner that you are getting closer to F#, 15"12/32 is your last cut and should be F#, After the final cut, you start from the bottom and measure up 4"19/32 (116.6813 mm) to mark where your first finger hole goes which is number 1. The below diagram shows the rest. Some flute makers will drill one at a time, they will drill the first hole and tune that hole before drill another, and with each hole drilled they will tune it at that time. I believe that you should drill all holes before tuning as each hole is effected by other.
As you tune each hole leave each hole in the -cents about 20 persent and when they are all in the 20 cent to the – then retune all the holes to 440-A-. You will find that the 6th will end up being smaller than 11/32 (8.73125 mm) (0.873125 cm) which is ok. Here is how I tune my flutes. Follow the diagram below. so…... cover all holes with each finger. I play with the right hand on the bottom 3 holes. Lift up the bottom or number 1 finger, tune it, then lift up one and 2 fingers and tune your number 2 hole, lift up your 3 finger as well as 1 and 2 and tune your 3 finger. To do the 4th hole, cover 5 and 6 and hole 3 . The 5 hole cover 6 and 4 only and ture your 5 hole then do the 6th hole, cover just 4 hole only, leave 5 and 6 open and the bottom 3. If the holes do not tune to your tuner, and each hole you tune is in the (-) cent, rather than enlarging the hole which you can do! under cut the hole meaning file at the bottom of the hole all around, this will enlarge the hole at the bottom rather than the hole itself as in the diagram below.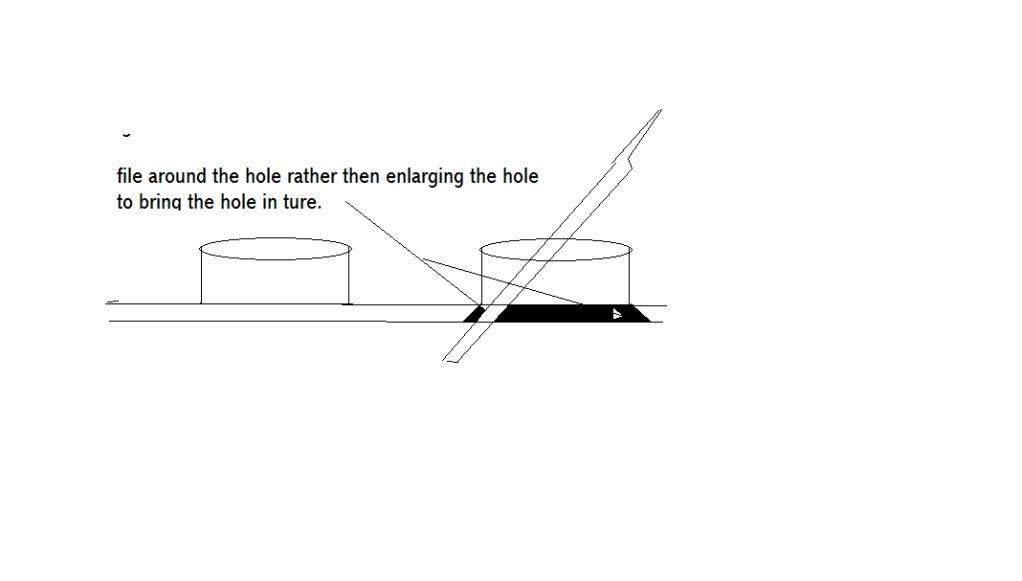 Well everyone hope this helps, take care. Inches and MM diagram below.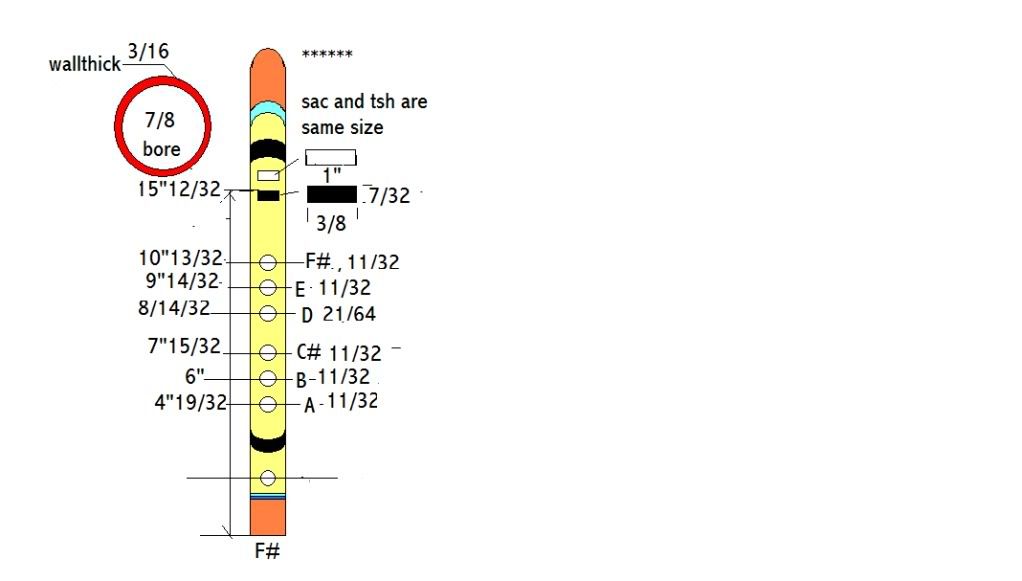 ---