Before you lathe your flute, you will want to measure from the SAC towards the mouth 1"1/4 (31.75 mm)(3.175 cm) you will also want to apply the same measurement to the TSH and measure towards the foot of the flute. you'll need to mark that with a dark line so that when you lathe your flute you do not pass that line,

and when you are done lathing your flute it should look like the diagram above. I usually plane my flutes on the lathe, I use several size planers to plane the sides and under the flute. I will also take it off and sand it.
You will notice in the picture below, that the nest as it is sometimes called, where the TSH and SAC are and where the block which I rather call it, sits, anyway you will notice that its about 1/8" (3.175mm) (0.3175). higher than the flute.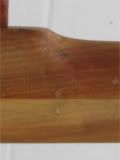 I bring this out because there are several ways to make this nest area.
one is 1/8" (3.175mm)(0.3175cm) above the flute.
two/ is to have it flush with the flute.
three/ is to have it set down 1/8 in the flute or half the thickness of the wall. All will change the sound of your flute. You are making a flute that is 1/8 high.



Your mouth piece can be any shape.

---