I am one of those guys who tends to collect wood, even if its not in the best of shape or size. I find myself taking any wood I can get my hands on, especially if it is free. Whether I burn it for heat or use it for woodworking, I just cant pass up the chance to have more wood.
So a few days ago I get news that a guy I know is tearing his old deck off the house and putting in a new one. After talking to him I learned that his old deck was made all out of redwood. He said he was going to be cutting up the boards and taking them to the dump.. I quickly let him know that I would be more then interested in taking the boards. I couldn't let him cut up an 18 foot redwood deck and haul to the dump. I always like the reaction I get when I show interest in wood that most people think is junk. On the outside it may be ugly and worn but its amazing what a little planing can do. So last night I went and picked up the wood. I filled my trailer with a couple dozen 18ft 2×6 redwood deck planks. Thats not all though. After my trailer was loaded he asked me if I was interested in some scrap wood that has been in boxes for the past 20 or 30 years. I couldn't say no, so I loaded up about a dozen or so large boxes of assorted scraps and cut offs. Why not? its free.
So I get the wood home and realize I have a problem. The lumber racks in my shop are full and I all ready have tubs, bins and boxes full of cut offs. So my next project is to clear some junk from one of my storage sheds and add some lumber racks so I can have more wood storage. Luckily winter is just around the corner and many of the cut offs will get burned for heat.
As for the redwood, I was curious and excited to see how it would look once it was planed down so I couldn't help myself from testing a piece when I got home. I cut off a small piece in between the nail holes and planed the end and face of the board clean and flat. Then I trimmed it down a little by ripping on the table saw. Finally I re-sawed it on the TS to get a nice thin board. Also just for the sake of seeing how a little finish would look, I rubbed some tung oil on one side and let it dry over night. The picture below is what I ended up with. To think he was going to cut this up and bring to the dump… Is he crazy? Or am I crazy taking the time and effort to give this wood life again?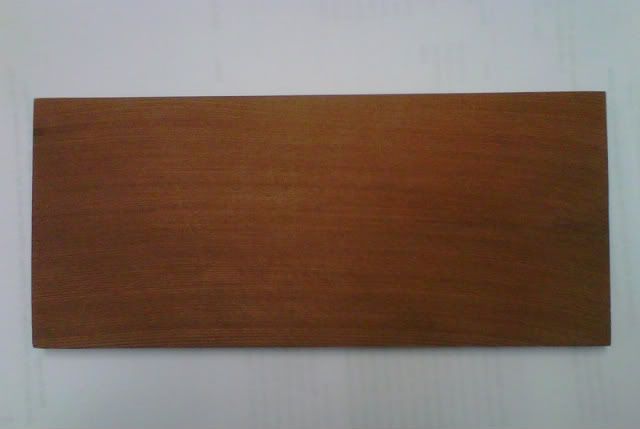 -- Dan - "Collector of Hand Planes"
---