I am one of those people who loves to find good deals on old tools and furniture that needs to be refinished. Restoring and refinishing furniture and homes is what got me interested in wood working to begin with. With that said I was at a re-sale shop a few weeks ago and found an old steel desk/table that they were only asking 6 dollars for. What made it stand out to me was its size. It wasn't to large and it looked like the perfect size for a power tool stand or small work table. It also had two drawers in the front which would work great for tool storage as well as an area under the table where a bottom shelf could easily be added. I have seen steel tables and desk like this before and even in rough shape they still will sell for 30 dollars or more. The 6 dollar price tag on this desk made it impossible for me to walk away from.
The table also had two drawers in the front which were removed when I took this picture.
Now my goal with this desk was to build a small work table that I could use as a 2nd table to help keep my big workbench clean. I also wanted the option of using it as a tool stand should I need one down the road. I also didn't want to buy any additional materials. I have a lot supplies in the shop and wanted to use left over boards and supplies to make over this desk. Besides the table I only spent 3 dollars and some change on this project.
STEP 1- My first step was to give the table a good cleaning. Looked to me like this was a desk used in a factory as it was covered with a film of dirt. I sprayed the whole thing down with degreaser and washed it off with the garden hose. I then went over it with some TSP cleaner and cleaned by hand. I then sanded down all the metal to get rid of any surface rust and paint chipping.
STEP 2- The next step I took was to add a new top to the desk. My biggest issue was the height of the steel desk. As it was the height of the desk was to low to work at a standing level. I had to raise the work top so that it was at a comfortable working height. I also wanted to add some more surface area on the table so I wanted to extend the top a little. I had some 3/4 MDF sheets in the shop that I used for the top. I drilled some holes in the steel table top and attached the first layer of MDF with construction adhesive and bolts. I then added a layer of 2×4's and then a 2nd layer of 3/4 MDF which ended up raising the height a little over 3 inches.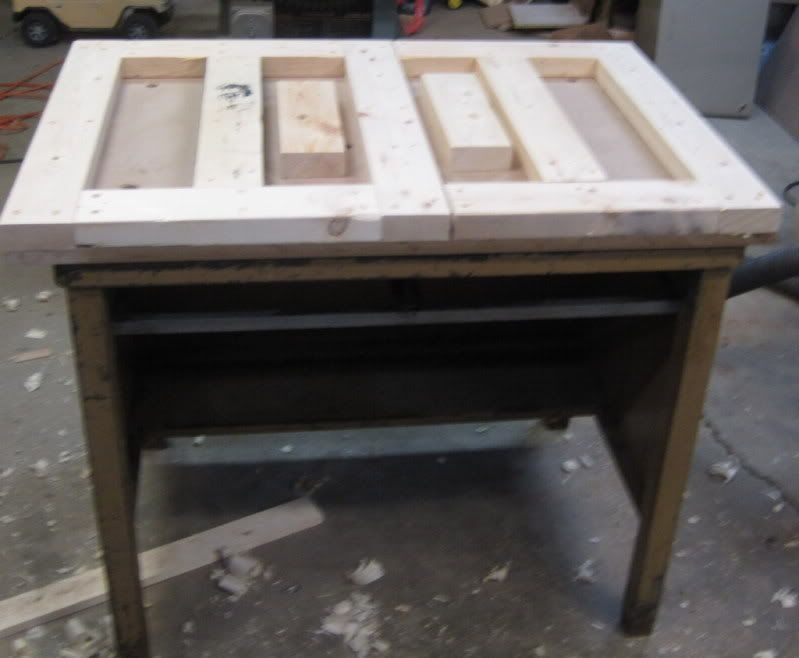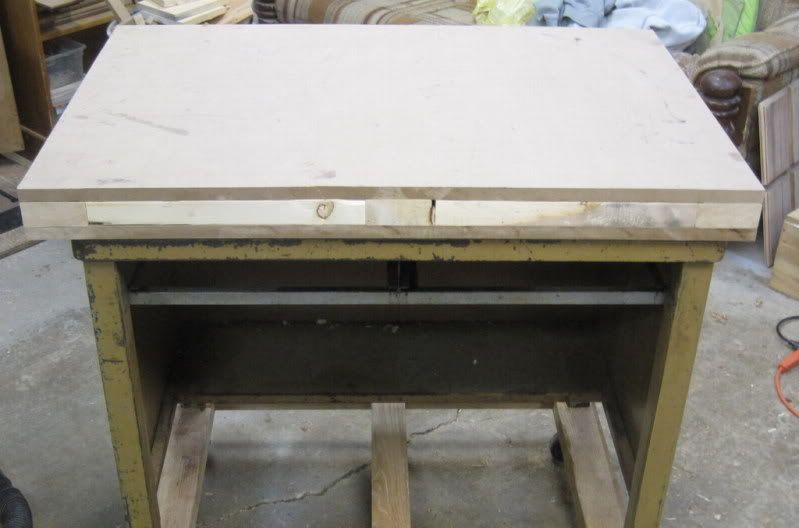 STEP 3- Next I put two coats of primer on all the metal. Other then the steel desk this was my only other expense. I bought one can of Rust Oleum spray primer that was 3 dollars and some change. I was not to worried about the quality of the paint job because I planned on covering a lot of the metal as you will see later.
STEP 4- On one side of the desk I added a wood frame with some screws and attached a peg board that had left over in the shop.
STEP 5- I wanted to add a hardwood trim around the table top to cover the MDF and 2×4's. I had some Cherry boards that were the right size and I had just enough to do the trim. I cut dovetails in the cherry and attached them to the table ends. Dovetails were cut with router and Leigh jig.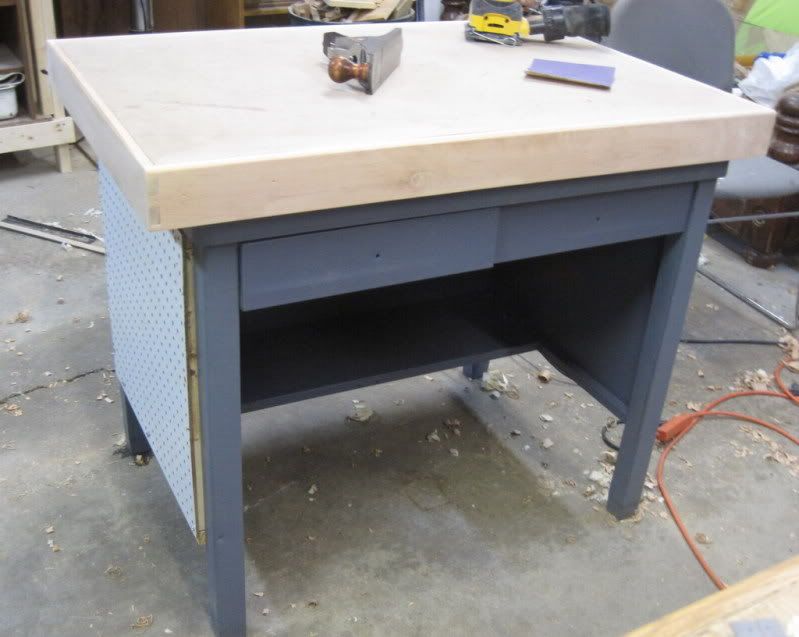 PART TWO- In my next blog I will talk about the final steps and show the completed table. This will include more storage add ons, final finish on the steel and wood and also some neat cherry wood drawer fronts I made to cover the original steel drawers. I hope to post this tomorrow. I have to finish a few small details tonight if I get the chance.
-- Dan - "Collector of Hand Planes"
---