I thought I would share the progess of a couple of cherry display shelves being built for some close friends in Central Oregon. This will be used to display works of art in thier gallery. I am using steamed cherry and pocket screw construction. This a follow up from a previous post on using the Kreg Pocket Hole Jig system. I am taking a break from work and the shop spending Mothers Day weekend in Sisters, Oregon. Final sanding and finish await me at home.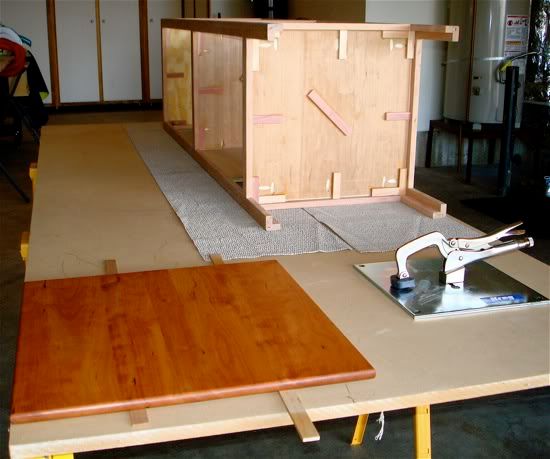 Cherry top with first coat of tung oil awaiting to be mounted to the shelving system. I finished the top before mounting it permanently so that no unfinished wood will show with seasonal movement.

Getting ready to glue plywood inserts to the bottom of the shelves. The plywood inserts will conceal the pocket screw joinery.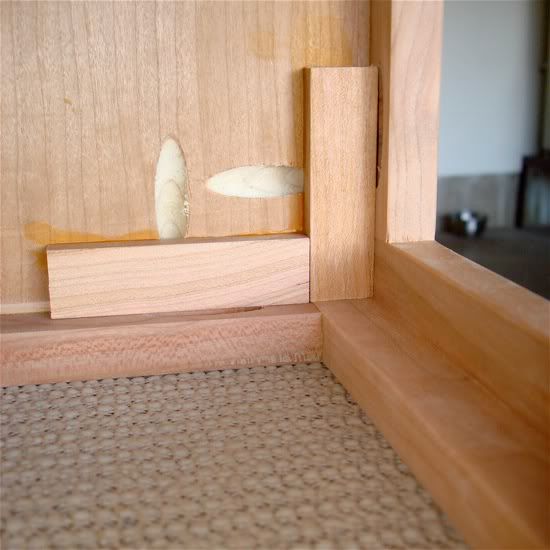 Close-up of the glue blocks which will support the plywood inserts. These are sized to (1) conceal the pocket screws and to have the insert sit just below the edge of the rails.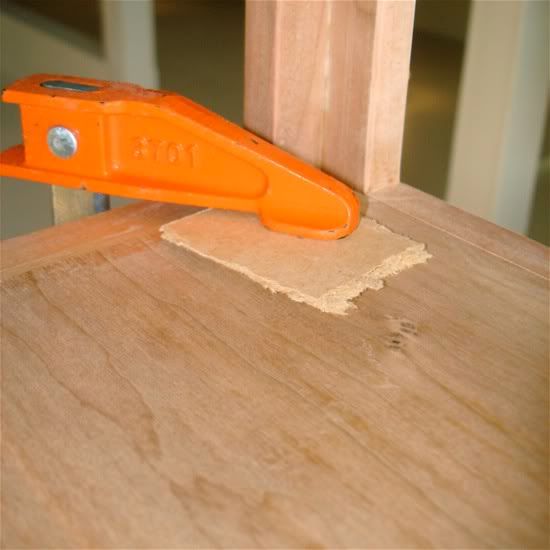 Close-up of clamp holding the plywood insert tight against the glue blocks.

View of the plywood insert fitted and glued to the bottom of the shelf. Again, the plywood insert conceals the pocket screw joinery and makes for a more finished piece. For details of how I sized the plywood insert, check out my post about Fitting / Measuring Gauge in the skills forum. The wood block, shop rag and hammer are for gently pressing the plywood insert into the rail frame.

Close-up of the fitted plywood insert.

Waiting for me to return home for final sanding and finish. I also have to drill shelf pin holes for two glass shelves that will be set in the mid-span between the top and middle, and the middle and bottom wood shelves.
-- http://foldingrule.blogspot.com
---