Additional Hide Glue Links
Make Your Own Hide Glue Brush!
Repairing an Old Drawer with Animal Hide Glue
Last night I was startled awake from a woodworking daydream by a loud crashing sound from our home office. The side and bottom fell out of drawer of our antique oak desk when Beth was trying to get a box of staples from the rear of the long drawer. Sounds like a repair brewing! Well this desk is an older "antique" oak English library desk. Beth and I bought it 25 years ago from Square Nail Antiques in Santa Cruz, California. It is a great desk, but honestly it is nothing super special . . . just a good sturdy desk that has served us well.
Now there are many ways to approach this repair. Given my interest in "blended methods", I chose a traditional method using animal hide glue. It was very interesting to examine the (machine cut) dovetails, drawer bottom groove and the 3-ply drawer bottom. To get things going, I gently scraped away the old glue and brittle shellac from the dovetails and drawer side.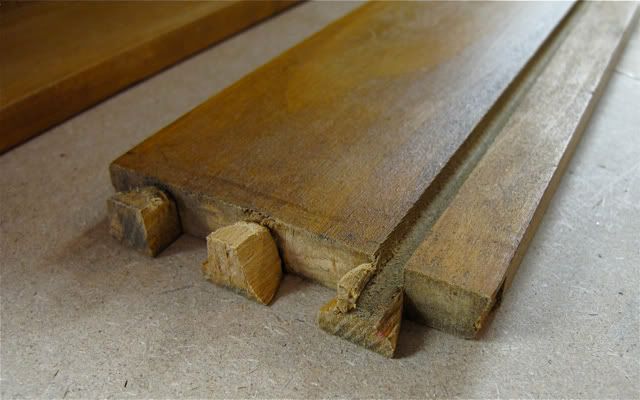 I was met by a surprise when I retrieved my hide glue jar from the refrigerator. A small patch of mold had begun to grow along one edge of the glue. Serves me right! It had been awhile since I had fired up the glue pot.
I quickly mixed up a fresh batch and got to work repairing the drawer.
In no time at all the drawer was in the clamps and I had a fresh batch of hide glue for up coming projects.
-- http://foldingrule.blogspot.com
---