How to Make Custom Waterslide Decals
This Waterlide Decal Tutorial is available as a PDF download on my website
Materials List
• Clear or White 8.5×11 waterslide paper
• Deft Gloss Clear Lacquer
• Brayer Roller
• Paper Towels
• Bowl with clean water
SOURCES FOR DECAL PAPER WATERSLIDE PAPER
1. Make decal design on your favorite graphic application.
I use a Mac based system so I will share the details of how I do things, however, you can do this on any computer with whatever application you feel most comfortable. For most of my decal work I use Microsoft Word and Adobe Photoshop Elements. I have also used my digital scanner and camera to import a particular image or graphical element. In this example I made a decal commemorating the artist that would be painting the front of my cherry blanket chest. I usually print a draft copy on white paper and trim to size to test the fit on the finished piece.
This is a photo showing the basic suppiles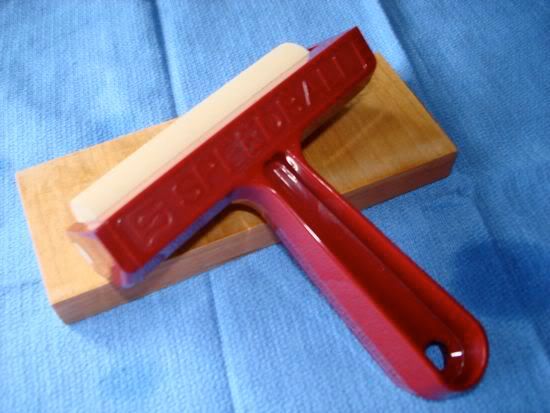 Speedball Rubber Brayer – I used to use a small pastry roller until my wife thought I should have my own roller!
QUICK TIP The decal sheets are 8.5×11. I try to make more than one decal during each run to minimize waste of the decal sheets. I just use the computer application to layout a number of images the sheet allowing room for final trimming. Mistakes do happen, so often I will make a duplicate image on the sheet or make two final prints so I have an extra if needed.
2. Print Deca Design on Photo Paperl
When I am happy with the layout I make a final print on glossy photo paper or bright white heavy bond paper.
This is the layout I used on my last project
3. Copy Decal Design On Decal Paper
Take this print and a small supply of decal paper to your favorite print shop. I use Kinkos for all my printing needs. If your intended decal is color you will need to use a color copier, otherwise use the black and white copy machine. Pay attention to orientation of the original and the print side of the decal sheet. This varies from machine to machine. I always use the "bypass tray" because the decal sheet is heavy and there is a risk of jamming the feed rollers.
QUICK TIP The decal sheet supplier I use provides a thin tissue protection sheet on each decal sheet. Be sure to remove this sheet before printing your decal.
4. Seal the Decal
Spray 2 or 3 thin coats of Deft Gloss Clear Lacquer on the printed decal sheet. This protects the image, and more importantly, provides a bit of extra stiffness to the finished decal, making the waterslide application easier.
5. Soak the decal in clean water for a few minutes.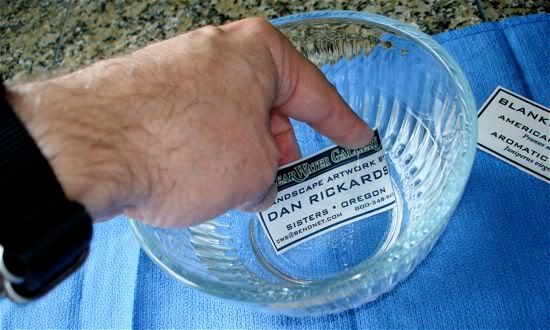 QUICK TIP I usually try to hold the decal to prevent curling when placing it in water
6. Lightly wet the surface where you intend to apply the decal.
Wetting the surface makes it easier to gently adjust the position of the decal. For wood projects, I apply decals after the first coat of clear finish. The idea is that subsequent layers of finish will protect the applied decal. The decal ends up being buried in the layers of finish. The edges are barely perceptible after the last coat of finish.
You can see water beading up on this piece of scrap cherry plywood with sanding sealer and one coat of lacquer
7. Slide the Decal on to the Project
Gently slide approximately 1/3 of the decal off the edge of the paper backing and position on your work piece. Gently hold that edge while slowly sliding the backing paper from the decal.
Here I have just begun to slide the decal off the backing paper
Decal being postioned on the work piece
Sliding the backing paper out from under the decal – it helps to steady the opposite edge.
I applied this decal crooked on purpose to show how easy it is to reposition – just be gentle!
8. Check Final Position of Decal
At this point your decal is on your work piece floating on a thin film of water. Make any last minute position adjustments before using a brayer roller to squeeze water from under the decal.
Be gentle – decals are fragile!
9. Use paper towel to gently blot any remaining water from the decal surface and your work piece.
Gently blot excess water with a paper towel
10. Allow the decal to thoroughly dry overnight before applying the remaining coats of finish.
Decal application complete – just let it dry before finishing – made with White Decal Paper – this is shown as a contrast to using Clear Decal Paper (examples of clear decals below).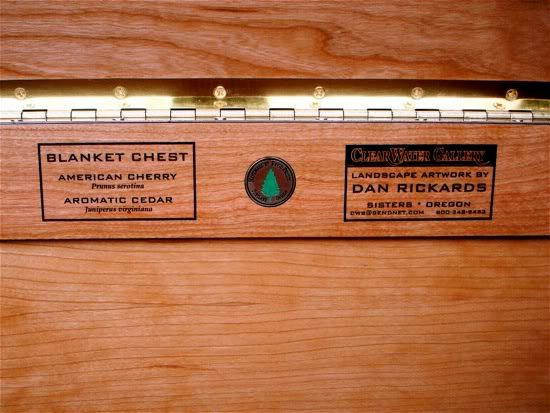 Larger decals on my last cherry blanket chest – these are made with Clear Decal Paper
Smaller decals on my son's Boy Scout Neckerchief slide
A lorger decal on a blanket chest sold at my children's school auction
Hope this is helpful. I have used this technique many times with great success. Finishes I have used include shellac, lacquer, acrylic, and polyurethane.
-- http://foldingrule.blogspot.com
---