I just posted this on my woodworking blog and felt it was something important to share with my fellow Lumberjocks. I am sure many of us can remember middle school and high school woodshop. It is a sad state of affairs that industrial arts are being dropped due to budget constraints. It is up to each of us to help pass on the joy and traditions of woodworking.
Those of you that have followed any of my entries on Lumberjocks.com, The Folding Rule Podcast or The Folding Rule Show Blog know that my son Matthew is a burgeoning woodworker. We have had a lot of fun in the shop. His first project was a birdhouse that we built 10 years ago in Paulsbo, Washington. That birdhouse hung with pride from the limb of a large pine tree in the front of our first home. More on Matt's woodworking projects to be posted in the future . . .
Since that time Matt has continued to learn about woodworking while pursuing scouting. When he was a Cub Scout we built toolboxes as a den project. Later in Boy Scouts he completed his Woodworking Merit Badge when we hosted some scouts from Troop 728 in my shop. I posted the experiences of Matt and his fellow scouts as a blog series on Lumberjocks.com, as well as, an episode on The Folding Rule Podcast.
Matt is also a very serious history buff with a special interest in The Revolutionary War and The Civil War. I recently had the privilege to strike up an email conversation with Master Woodworker, Charles Neil. I complimented him on his Unplug The Kids YouTube episode where he hosted a number of kids for an afternoon of woodworking in his shop. I also shared our experiences with Matt and his fellow scouts in my shop. Getting young people into our shops and passing on the joy and traditions of woodworking is vital in these days where industrial arts have been dropped from many school curricula.
Relating my regret for not knowing Charles sooner, as we had recently made several trips to Virginia for "history vacations", I shared Matt's passion for history and The Civil War. Charles very kindly responded with an offer to send Matt some left over material from a recent commission. Some very special material as this was timber from a limb pruned from The Stonewall Jackson Prayer Tree! Well, Charles made the day for a 12 year-old boy that day. We will not travel through New Market, Virginia again with out taking the time to stop by to visit Charles and shake his hand.
Matt was quite excited about a package soon to arrive in the mail. Luckily we went away for the Thanksgiving holiday providing for some distraction. Upon arriving home we found a package on the doorstep from New Market, Virginia. Matt was very excited as he opened the box and pulled out two pieces of some very remarkable wood. What will become of this timber? For now it is safely tucked away. We anticipate taking advice from Charles and will likely turn a pen or two and hopefully a small presentation box.
The Stonewall Jackson Prayer Tree is estimated to be anywhere from 275 to 300 years old. It is considered one of 36 most historic trees in the United States, according to the US Forestry Department.
Please checkout Charles on YouTube at In The Workshop, as well as, his homepage The Workshop of Charles Neil - Maker of Fine Handcrafted Furniture.
Below is an excerpt from Charles' November 2007 Newsletter.
I had the opportunity to do a historically significant piece too. A client who is on the Board of Directors for the Shenandoah Valley Battlefield Foundation asked me to make a gavel and a dovetail box from a limb pruned from the Stonewall Jackson Prayer Tree.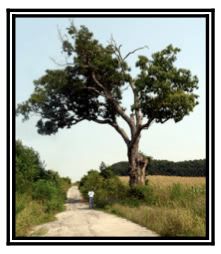 OK…the story goes that after the close of Stonewall Jackson's Valley Campaign…and his victories at the Battle of Cross Keys (June 8, 1862) and Port Republic (June 9, 1862), Jackson and his men camped near Mt. Meridian (between the Middle and South Rivers)... to let his men rest for about a week or so (his 'foot cavalry' had marched over 350 miles in about 30 days…and were able to defeat the Union Army, who were twice their size, in five battles).
Legend has it that Jackson would ride to a nearby brick home (still standing today) every morning for breakfast, but would stop at this tree on the way, get off his horse, and pray. A small project, but a very meaningful one.

- Charles Neil, November 2007
-- http://foldingrule.blogspot.com
---