STANLEY BENCH PLANE RESTORATION
Click here for large format version
PDF ELECTROLYTIC RUST REMOVAL INSTRUCTION SHEET
More information available on my woodworking blog & podcast The Folding Rule Show
Step #1 – Cleaning & Rust Removal
I have been inspired by a number of resources to start using my hand planes and start on the slippery slope of a hand plane collection. Not the least of whom has been Wayne, our own Lumberjocks plane guru. Of course I have also explored a number of websites including our good friend Phil on the other side of the pond and Matt from Matt's Basement Workshop.
Another great resource is Patrick's Blood and Gore
Most importantly I have come to realize I need these planes to achieve a higher degree of fit and finish. Plus I like the quite sounds of hand tools and the feel of a thin shaving of wood peeling out of the plane mouth. So the focus of this entry will be an old, but not so valuable, Stanley bench plane that has lived in my carpenter's box for perhaps 25 years. I used and abused this plane for coarse fitting work on decks and fences. I also used it to hand plane a bunch of clear vertical grain construction redwood for a bed that I made for my wife and I almost 25 years ago.
I am hoping I can revive this fellow to take a place on my bench for future work building furniture and cabinets. Along with my small Stanley block plane, these will be the nucleus of my plane collection.
Today I disassembled the plane and started to experiment with electrolytic rust removal on the plane iron and chip breaker. I plan on replacing these with a Hock set in the near future. The reason I am spending time cleaning these is because I am going to use them in a multi-sized dowel-cutting jig. Also, I want to see how well this process works before dunking my plane body in the bucket!
UPDATE: Thanks to Wayne here is a great link to check out for HOCK BLADES
UPDATE: Thanks to Scopemonkey for noticing I got the polarity reversed on the first posting. Below is an updated diagram with the correct polarity. Thanks Scopemonkey!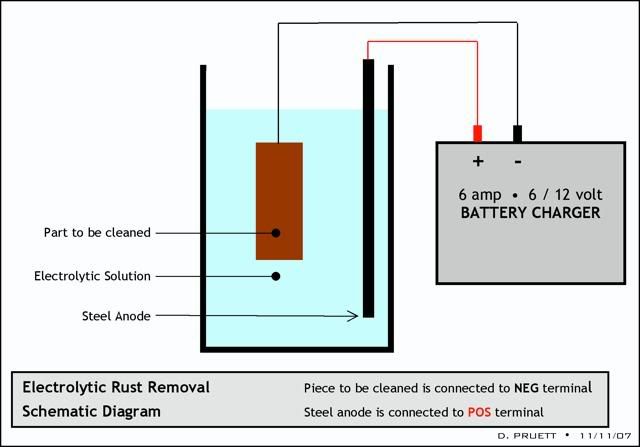 The cool thing about this project is that I already had everything in the shop!
Use a brass brush and a 3M grey abrasive pad for final cleaning.
Some residual stubborn stains were removed with a bath in glycolic acid. I used Kaboom Shower, Tub & Tile Cleaner. After the acid bath I rinsed the parts in fresh water and ran them in the electrolytic solution for 15 minutes to neutralize the acid followed by a second rinse in plain water.
After completing the de-rusting and cleaning process all parts were treated immediately with BoeShield T-9 which is available at the Lumberjock Store. WD-40 would be a good alternative to BoeShield T-9.
Plane iron & chipper free of rust after electrolytic cleaning
Cap screw before cleaning
Cap screw after cleaning
UDATE: Thanks to Wayne, our own Lumberjocks plane guru, make sure you will not alter the intrinsic value of your plane or other tools by this type of cleaning process, i.e. some planes have igh collector vaule and should be left as is with age patina.
MATERIALS LIST
• 5 gal plastic bucket
• rebar pins for anode grid
• copper wire
• wire nuts
• alligator clips
• Arm & Hammer Washing Soda (sodium carbonate)
• 6/12 volt battery charger
• Kaboom Tile, Tub & Shower Cleaner
• brass brush
• 3M grey abrasive pad
• WD-40
• BoeShield T-9
BUCKET PREPARATION
• Drill holes near edge for twisted wire loops
• Secure rebar with twisted wire
• Connect rebar anode grid with copper wire & wire nuts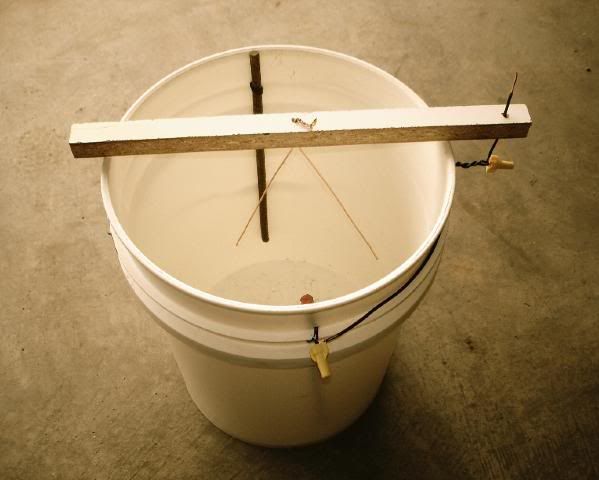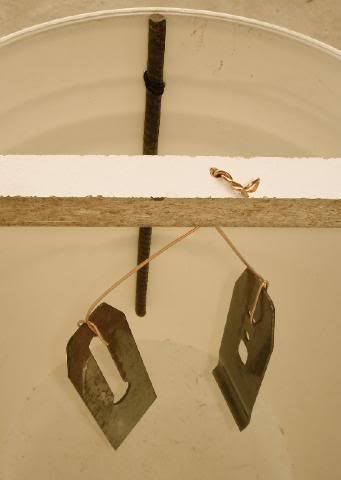 POLARITY IS CRITICAL!
The BLACK (negative) lead is connected to the part being cleaned
The RED (positive) lead is connected to the rebar anode grid
ONLINE RESOURCES
Barry's Woodworking – Rust Removal
Geoff's Science Garage on YouTube
SAFETY CONSIDERATIONS
Before starting, review the Material Data Safety Sheets (MSDS) for the recommended products
Use common sense – if it doesn't feel right don't do it
The gases generated are oxygen & hydrogen
Do this process in a well-ventilated area away from sparks or open flame
Wear gloves and safety goggles / glasses
The electrolyte solution is mildly alkaline and could irritate your skin and eyes
Wash any splayed solution off your skin with plenty of fresh water
Despite some recommendations, DO NOT use stainless steel for the electrodes as the results produce a toxic solution containing hexavalent chromate. Hexavalent chromate is a poisonous and hazardous material that requires special handling and disposal.
Click here for a good discussion of why NOT to use stainless steel
MATERIAL SAFETY DATA SHEETS
-- http://foldingrule.blogspot.com
---