After sharing my micro-adjustment mechanism with my dad and discussing its shortcomings, he suggested epoxying the two threaded rods together to achieve better alignment. So I gave it a try.
I began by creating an alignment jig using two V-blocks and some rubber bands.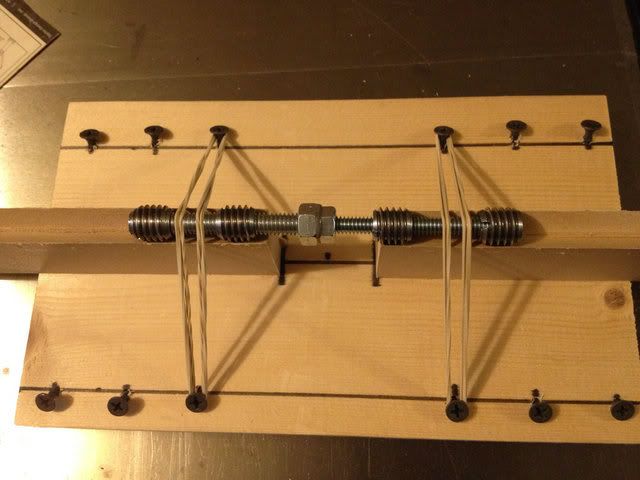 I notched out the V shape in the end of a piece of scrap MDF on the table saw. Next I drew a few lines on a scrap piece of pine and predrilled some holes in the bottom. To ensure the two V-blocks are lined up, I clamped a solid piece of threaded rod using rubber bands and screwed the blocks to the pine.
Because the threaded rods are different diameters and the V-blocks are the same height, I needed to hold the threaded rods at the same height. Because the threaded inserts are the same diameter, I put two on each threaded rod and clamped them in the jig.
I used JB Weld because it was the best value at my hardware store. It gave a strong bond and seemed to have the most glue for the money. The only down side is the long set time. I don't have much patience, so waiting overnight to see if it worked was torturous.
I put a dab of epoxy on the ends of the threaded rods and then on the nuts. I added some locktite to the threaded rods for good measure.

The end result: almost perfect alignment.
Other issues:
1. backlash is apparent, a preloading setup is needed for the fences to maintain the accuracy
2. the thumbwheel is not an integral part of the mechanism any more.
More to come!
---