I mentioned in one of my project post where I pictured a small hand plane that I made in my shop that I also make the irons and sharpening stones. I of course make the wood too, since I have a sawmill. Others showed interest in more details, so here they are. I did not know where to start. I am starting with a honing stone I "made".
It did not work out exactly as planned. It is a very good stone and I will use it for honing razors personally and in my business (I run a small sharpening shop too). I underestimated the hardness of the raw material and the smooth finish it would take. It is extremely fine grit, not my plan exactly, but it still will find plenty of use.
Ok, here is the raw material. I literally found this stone. It was a big chunk that interested me. I could tell it would cleave well and make a flat (ish) surface to start with. I did not think to take a picture of the whole thing, just the sliver I chose for this project.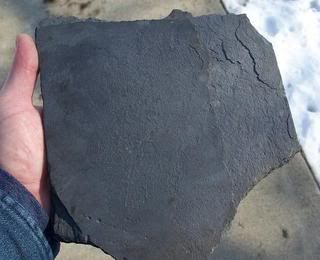 I inspected the piece well and looked for any flaws that may cause a problem in the future. Rocks are kinda like wood, they have "knots" and separated grain issues that make for poor work surfaces. This piece looked "tight & straight grained"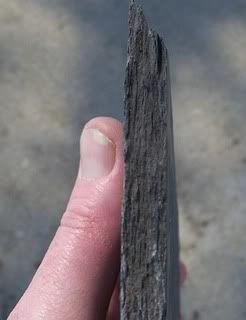 This rock I found is not native to central Illinois I do not believe. But The last ice age brought some glaciers down and I find odd things near the river that erosion has exposed. It is a form of slate. From my study of sharpening stones I saw a resemblance to novaclite http://www.state.ar.us/agc/novaculi.htm . The very sought after material they make "Arkansas" and "Washita" stones from. It is a sedimentary rock with high amounts of tiny quartz crystals . There is a little more info on natural sharpening stones here http://en.wikipedia.org/wiki/Whetstone_(tool). And Japanese water stones here. http://masamiki.com/mono/tools/waterstones.htm . Not to get off subject here but I have studied Japanese sword polishing some, amazing.
Back to this particular piece of stone. I used cheap eBay silicon carbide (trade name carborundum) to hone the raw material. I think I paid $7 for a pair of 2 sided silicon bench stones, a total of 4 grits. Pretty basic, I just had some water and elbow grease. I started with the coarsest grit and worked the stone down.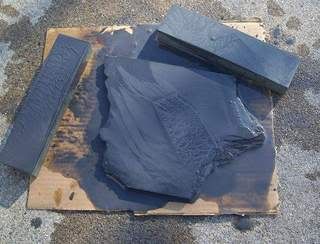 After I flattened/honed the stone I inspected it closer for flaws, didn't see any, cool. I was aiming for a large square or rectangle stone for final polishing of plane irons and chisels. I freehand sharpen and like to go in a tight circular motion, moving around the stone. The narrow "store bought" stones did not give me the work surface I liked.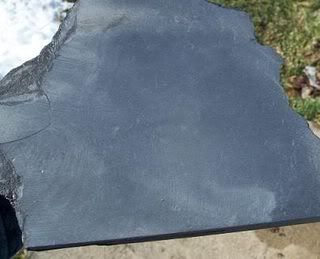 I laid out and cut the stone with my crude technique, a diamond wheel on a grinder. If I were making more of these (which I have thought about, sell them ?) I would spring for a proper stone/tile cutter. Anyway, it worked.
I wish I could post a bigger picture…this is very pretty. In the sunlight you can see all the millions of little crystals twinkling. I used the "sacrificial" carbide stones again to round the edges/corners a little to avoid accidental damage in the future.
I then just hot glued the stone to a small piece of cedar to make it a bench hone. I did hone some chisels with it. I found the stone was too hard and smooth for doing it with any speed. Virtually no slurry is worked up from the stone. I was able to put a mirror polish on the one in the picture. But I decided this particular stone was better suited for honing razors, exacto-knives, pocket and carving knives. I have an almost worthless stainless steel straight razor I have always had problems getting a perfect edge on (SS is not good sharpening, high carbon steel is good steel) I was able to make a "shaver" out of it.
This blog is sort of about making planes, but really there are plans out there everywhere for that. Some also showed interest in tempering steel, a simple Google search will teach you all you need to know. I thought I would share some of my knowledge of sharpening stones, I think they are an important tool.
I will blog more about making planes and irons from scratch. If anyone has any interest in more detail about sharpening stones, feel free to ask, I may just know the answer ;)
I am calling this stone in the "Surgical black" class. It is hard, fine and blueish black.
---