No, I haven't fallen off the planet and yes I have been working on the EC but at a more relaxed tempo. In my last blog entry things were not going well and I decided that I was burned out and trying too hard so I backed up and decided to proceed at a slower pace.
I have accomplished the glue up of the carcass, fist the ends and then the rails and floor. All went surprisingly well and I am under a 1/16th of an inch out of square diagonally, very good for me at my level of amateur status! The perfectionist creeps in and I whish it were dead on but it is glued up and we move on – right? I have also cut the back from ¼ inch plywood which sits in groves cut in the top and bottom rail.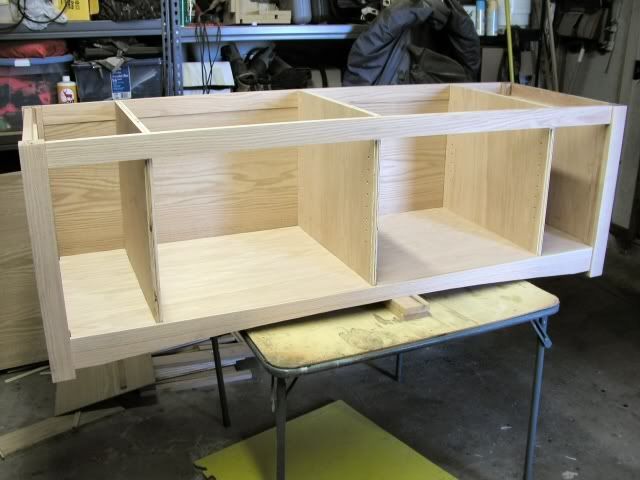 I have finished the 3 partitions and drilled the shelf support holes that will allow for adjustment to accommodate cable boxes and such. The partitions where squared up and glued and screwed in place. Somehow though the right partitions is 1/8th of an inch off (Too narrow). How I don't know as the center divider is right on the money as is the left partition, oh well I can compensate. I cut and glue in 4 blocks of ¾ inch plywood in each corner, these will help strengthen the dividers and give me a place to attach the top. I plan to drill a hole in each front block and slots running front to back for the rear screws to allow the top to move. On the two center sections I cut some small angled blocks (gussets) and glue in the top corners to add strength and be minimally intrusive.
I have redesigned the drawers; there will be 2 on each side. The width will be 7 inches with the bottom drawer being 9 ¼ deep and the top 5 ¼ deep by 19 inches long. The lower drawers are going to be sized to fit DVD boxes and the top drawers will hold X-Box remotes, extra TV remotes, etc. They will be constructed using half-blind dovetails on the front and I am considering trying sliding dovetails on the rear but haven't definitely decided on that one yet.
That brings me to today's exploits, first up was to cut the drawer fronts out and rough cut the sides to approximate dimensions. I am using 4/4 red oak that I buy S2S FAS but it seems to cup quite a bit sitting in my garage so I have to joint it to get it flat and then it is considerably less than ¾ of an inch thick. Today I finished with stock that was 5/8 inch thick which will work but still I think that I'll by rough lumber and plain myself to try to have thicker lumber next time. I decided to use ½ inch Baltic Birch as the sides and ¼ inch oak plywood as the bottoms. A little thick I know but I have it so I might as well use it. I finished the day making test cuts with the Porter Cable 4212 dovetail jig which has gone untried for the couple of months I've had it. So far I am very pleased with it, I made probably a half dozen trial runs and fiddled with some minor adjustments and think I am ready to try the actual drawers later this weekend – that will be my next post.
Oh, one last detail, the lower drawers are to wide for my 6 inch jointer so I made a planner sled as on recent discussions here. 12 inches wide and 24 inches long. It worked great, I can't remember who was discussing it but Thanks!
-- Dan in Central Oklahoma, Able to turn good wood into saw dust in the blink of an eye!
---