Well, I made it back into the shop this weekend, fingers are a bit tender and that slowed me down a tad but I did make some saw dust. I also got a package on Friday from Amazon with my new Kreg (small gloat) miter gauge in it. It went together fast and according to my engineer's square was right on the money.
Building this entertainment center is a true learning experience. I want to get it built but I keep getting side tracked to build other items to aid in the making of the entertainment center itself (from now on called the "EC"), all the diversions manifest into SLE's. What is a SLE you ask, well they are "Significant Learning Events." Cutting the tenons is one such event, others so far have included cutting mortises, learning to use a jointer (my father's day present), and probably realizing the absolute necessity for square dimensionally accurate lumber. Oh there are many other SLEs I have encounters too, such as what a climb cut can really do, and do to you too, but more of those will come out in the future post.
This weekend, the first thing I finished was 2 jigs that I have been working on, the tenon jig and the dado jig. I added a toggle clamp to the tenon jig and it sped up production quite a bit. Below is a picture of it, note the 4 holes on the back left. These holes are used to quickly move the jig from the zero position to 1/4, 3/8, and ½ inch tenon positions. This was the toughest part of constructing the jig, that being, getting the fit of the tenon to match the mortises that the Delta mortising attachment on my drill press produces. They were either to tight or too loose, I never did get them perfect like I thought they should fit. I finally settled on them being just a hair too tight so I could pare them down as needed.
I did a dry fit of the cabinet frame and everything seems to fit pretty well. The joints are tight enough that I have to persuade them to go together with a rubber mallet. Here is a pic of the dry fit.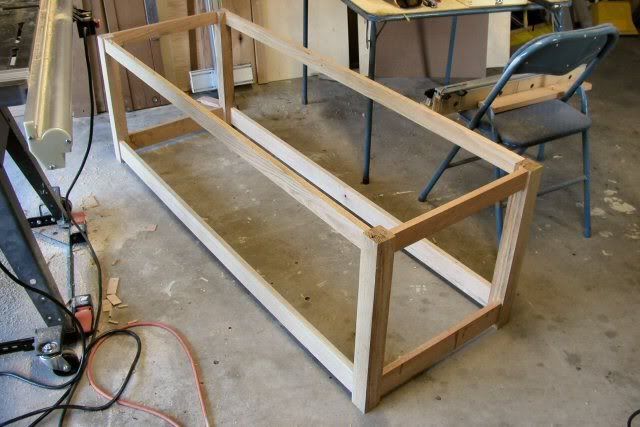 I did start to work on the floor of the cabinet but didn't get much done, that is where I'll pick up next weekend….
-- Dan in Central Oklahoma, Able to turn good wood into saw dust in the blink of an eye!
---