I actually measured very carefully three times; the bottom of the dado would be precisely 3 15/16" from the end of the board. I carefully routed all four dadoes, stopping at the right spot. Then I looked as the spacing, relative to the other grooves. What happened? I measured from the end of the board – exactly 3 15/16". I looked again at my full scale plans and the measurements I had calculated – 3 5/16"! Dooh! Exact comments are deleted to maintain a family friendly environment. What to do. I only have so many scrap pieces. Well, it is on the inside of the box and the drawers will rarely be removed, so….


Using trim ends from the boards I made filler strips, glued them in place, and then cut them flush to the surface and sanded them smooth. Thought I would share the goof in the interest of full disclosure.
The next issue had to do with the desired wooden hinge corner of the doors for the jewelry box. The edges were rounded, the box joint fit very well, and I thought I had a good means of ensuring a true hole into the box joint for the hinge pin.


After drilling both ends of one door and side, this proved not to be the case. The holes drifted out of center as they passed through the fingers and some of the fingers even split. AARGH! More deleted comments. Heavy sigh. Now what? Moment of inspiration – I took both box sides and both doors to the table saw and carefully ripped them; removing all the box joint fingers. I didn't make a mistake – this was a design enhancement. That's my story and I'm sticking to it. I ripped some figured maple and glued a strip on each of the sides. We're back in business.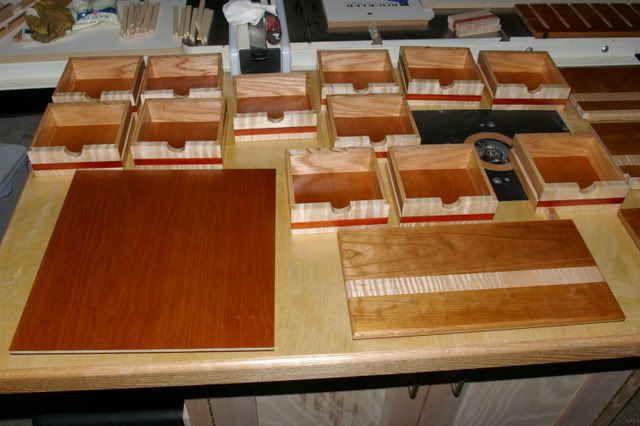 All the parts are coming together. All have been dry fit and two coats of finish applied. Final assembly is pending. Surely I can't mess anything else up – I mean I probably won't have any more design changes now.
-- CutNRun - So much wood, so many trails, so little time
---