Two days before Christmas, my wife casually mentions that she would like a jewelry box. Hmmm, don't think the timing was very good. Having completed the 2×4 project, I decided to try to put together a jewelry box from the small pieces of wood laying around in my shop. I had a decent amount of 1/2" cherry, some figured maple, some oak, and a small amount of paduk. After spending a few days laying out a design and seeing if I had enough wood, I started cutting and gluing.


This picture shows all the drawer parts cut and ready to assemble. The jewelry box will have a total of 12 drawers, all the same size.


So far, I have four of the drawers together. Various other pieces of the box are shown as well.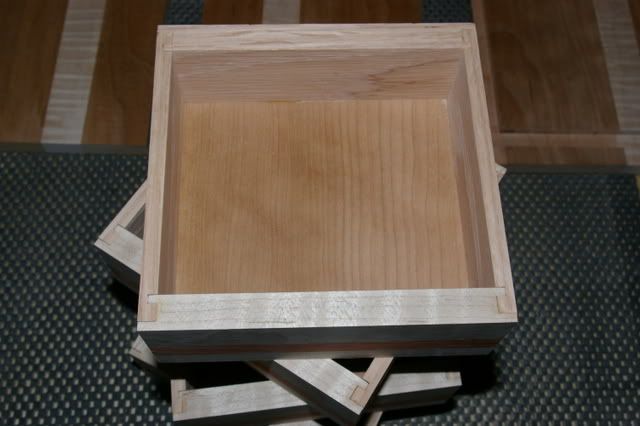 This close-up shows one of the drawers. The fronts are maple and paduk, the sides and back are oak, and the bottom is cherry plywood. The drawer is roughly 5" x 5" (not exactly, but good enough for general size).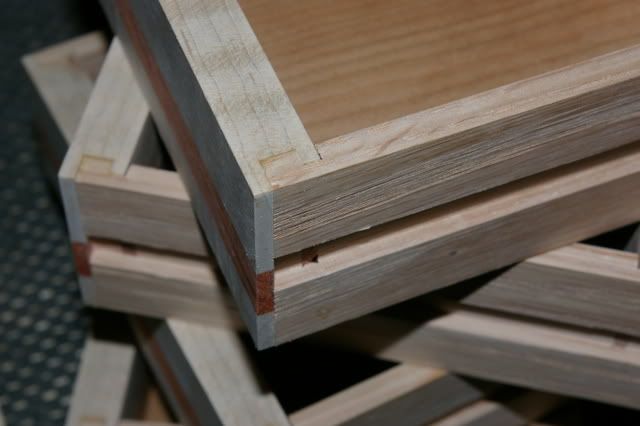 This photo shows the details of the drawer construction. The front is 1/2" thick, with 1/8" front panel, then 1/4" groove, then 1/8" thick pin to lock into the drawer side. The sides are 1/4" thick. The groove for the drawer glide is 1/8" deep by 3/8" wide.
-- CutNRun - So much wood, so many trails, so little time
---