Last weekend, I joined a couple other sawdust junkies on a trip to the Wood Expo (aka the Peachtree tool sale). Among the displays and demonstrations, there were 4 companies selling CNC routers, and one selling a laser engraver. I think these things are totally cool and the work they can do is pretty amazing. One of the guys with me actually owns a Shark machine and I've used it a few times to engrave letters into special projects, but I really don't have any desire to get one for myself.
As I walked by those displays at the show, I never even had the desire to stop and watch them working because I spend a lot of time on a computer in the course of my daily work and even my blogs and YouTube videos. For me, woodworking is an escape from technology, a chance to engage in with something physical. I know there's skill involved in getting the machine set up properly, and a lot of other woodworking involved in building a project because the CNC machine is just one more tool like a sander or router. Personally I need to feel either the tool or the wood in my hands or it just doesn't feel like woodworking.
To satisfy my want to carve and engrave things, I bought a Rockler State Park Font Interlock lettering kit (both 2 1/4" and 3 3/8") and the Milescraft Panotgraph jig. I had thought about building a panto-router anyway, but for $45 including a set of three carbide bits I couldn't go wrong. Those tools still allow me to feel the vibration of the tool in my hand and give me a sense of doing the work myself. I'm not a Luddite purist going back to working with hand saws and hatchets like Roy Underhill, but tell me I'm not the only one who really doesn't want one of these gizmos because it doesn't feel like woodworking.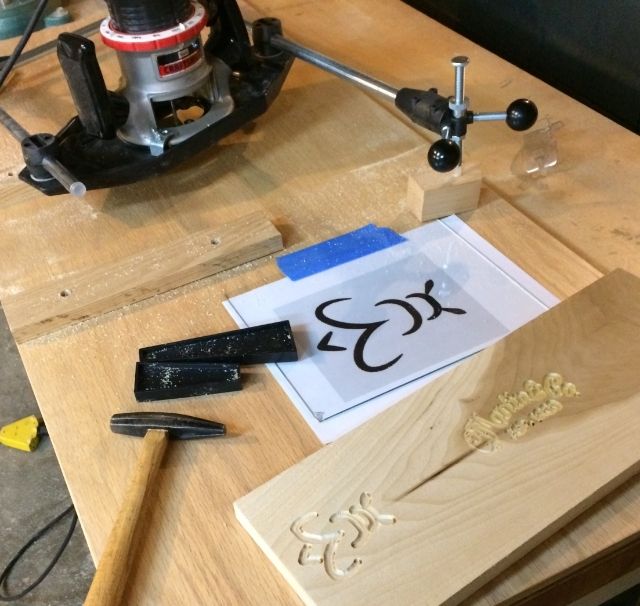 -- Matt CueBall Rosendaul. I don't think I've ever had a cup of coffee that didn't have cat hair or sawdust in it.
---