I finally finished all the wine bottle balancers for the wedding. In plenty of time, the wedding isn't for another month. I'll add it to my projects list with a batch of pictures, but will also put some final pics here.

A few things I learned/would have done different/random thoughts:
Cherry is now officially my favorite wood to work with. I used to prefer oak, and lots of other stuff is neat, but NOTHING machines as easily and comes out looking better than a piece of cherry. The maple was too darn hard, burned at the edges, dulled blades and bits, the walnut was very splintery and hard to keep the fuzz off.
I still love water based poly, especially the stuff I've been using leftover from my floor refinishing project, and especially when thinned and sprayed HVLP style. The stuff used for flooring (Varathane water based satin) is much harder than the typical poly because it has some extra hardeners for flooring. It dries exceptionally fast too. Like less than 10 minutes fast.
I wish I had routed the 1/4" roundover when I had them cut as doubles instead of in the long lengths because I would have routed the ends first, then the sides to avoid the tearout.
The Shark CNC machine is the schizzel. It's a high dollar machine, and was very much like the plastic engravers I used at a sign shop during college. Setup only took about 10 minutes each. As each one was setup, the G code file was saved and it was a simple matter of hitting OK after putting a new piece in the fixture. We had made a sampler board with various fonts to see what looked good and went fast. Some of the fonts with Serifs (like times new roman, fonts that have those little extra lines at the ends of letters like the capital T and such) took a lot longer to cut. For some reason other fonts also took a goofy toolpath and were dreadfully slow. The machine will cut any font in your computer such as TTFs. There is quite a bit of Kerning that needs to be done to get the letters spaced out just right. Kerning is the spacing between letters, and you can make micro adjustments between any letters. In most intelligent programs, it's automatic, but in something like this, it's manual. For example, if you have a capital L and T next to each other, typical spacing looks too far, same with AW, LY and a few others.
Below is a comparison picture of one with stain and one without. As you can see, the stain wasn't very dark on this dark walnut, but since the lettering is essentially end grain, it soaks up a lot of stain and makes them really pop out. Most of the lettering was .375 tall. All were cut with a 60 degree V bit. Each took about 4 minutes to run. The top picture of the light maple piece had some copper colored paint that I experimented with filling the letters. I masked it off, shot a light coat of poly on the area to keep the paint from soaking in, laid a heavy coat of the copper paint on, let it dry, then removed the mask, scraped with cabinet scraper, sanded fine and shot with poly. Nice effect, but not dramatic. Other options would be to fill with epoxy to make it look like an inlay.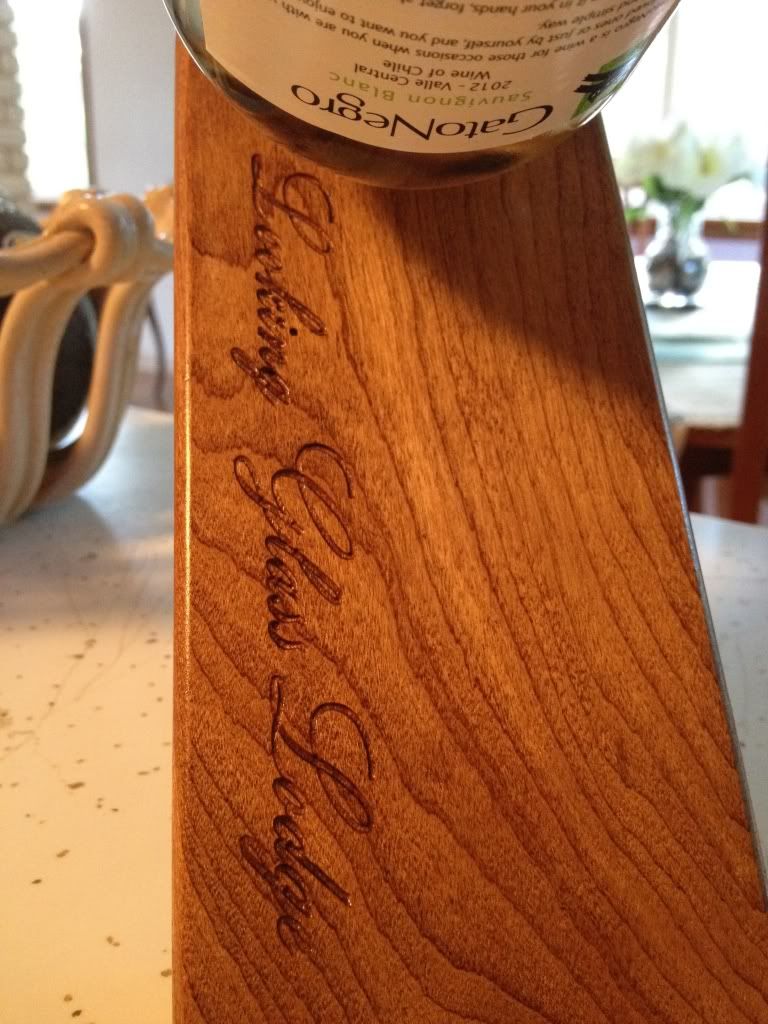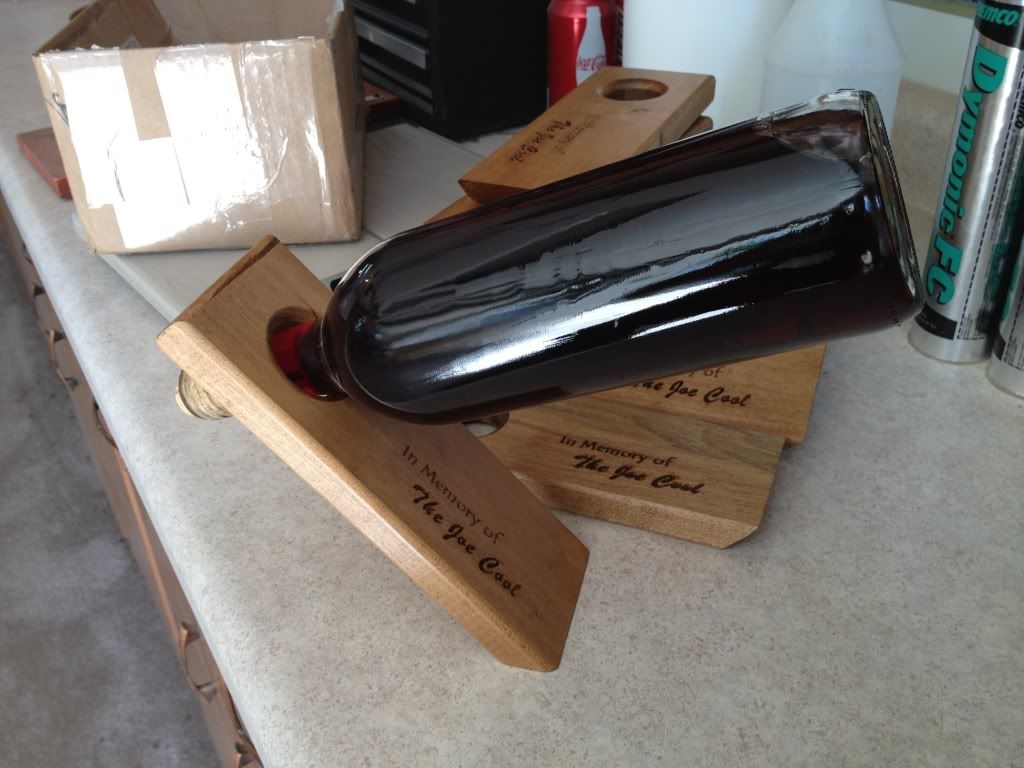 I took a few of the extra pieces and made them to send to some folks in Florida to commemorate a tragedy aboard the boat Joe Cool a few years back when a good friend was killed. I also made one out of cherry with a pretty script lettering with the name of our house The Looking Glass Lodge.
Thanks for reading!
-- Matt CueBall Rosendaul. I don't think I've ever had a cup of coffee that didn't have cat hair or sawdust in it.
---