So this is my first try at a blog, and I figured I'd start with something that is simple and probably had already been done a number of times before. Regardless, I will probably learn more about blog making than you will about pallets.
Pallet Harvesting
First you have to find a pallet that is worth harvesting, craigslist is a good place to look, but I have had much more luck by finding a company in an industrial complex that receives a fair amount of freight. Target places that have heavier freight as this is where you will find hardwood pallets because of their heavier weight rating. I've found, if you actually show up to the business and ask if they have spare pallets, they are much more apt to actually oblige, vice cold calling. Once you establish a relationship with the business, like bringing them a pack of soda or some cookies, as a thank you for the last time they let you take some pallets, you usually can establish a pretty good network of people that are more than happy to keep an eye out for those hardwood pallets you're looking for.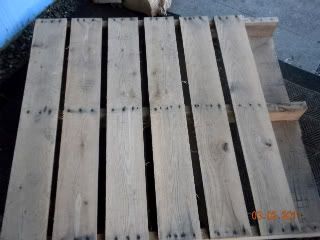 Now that you have the pallet like the solid oak one pictured above, that weighs about 140 pounds. we can start by dissecting it. our first problem is these nasty things.


They design these pallets like they don't want people taking them apart… weird.
You can start by testing the ends with a flat bar, enter from the endgrain (as pictured), as this will help prevent splitting.


As you start prying you may notice the amount of force you are placing on the wood is causing it to split rather than prying up the nails at the ends. You could force it and send a nasty split down a perfectly good piece of wood. The other option is to wiggle or hammer your flat bar between the stringer and the lead board. Work you way down each subsequent top deck board creating just enough room to wiggle your flat bar. Once you've created a little room between the deck boards and the stringers, bust out the sawzall!


place the blade in the small amount of room you've created for your blade to contact, only the nail shafts themselves.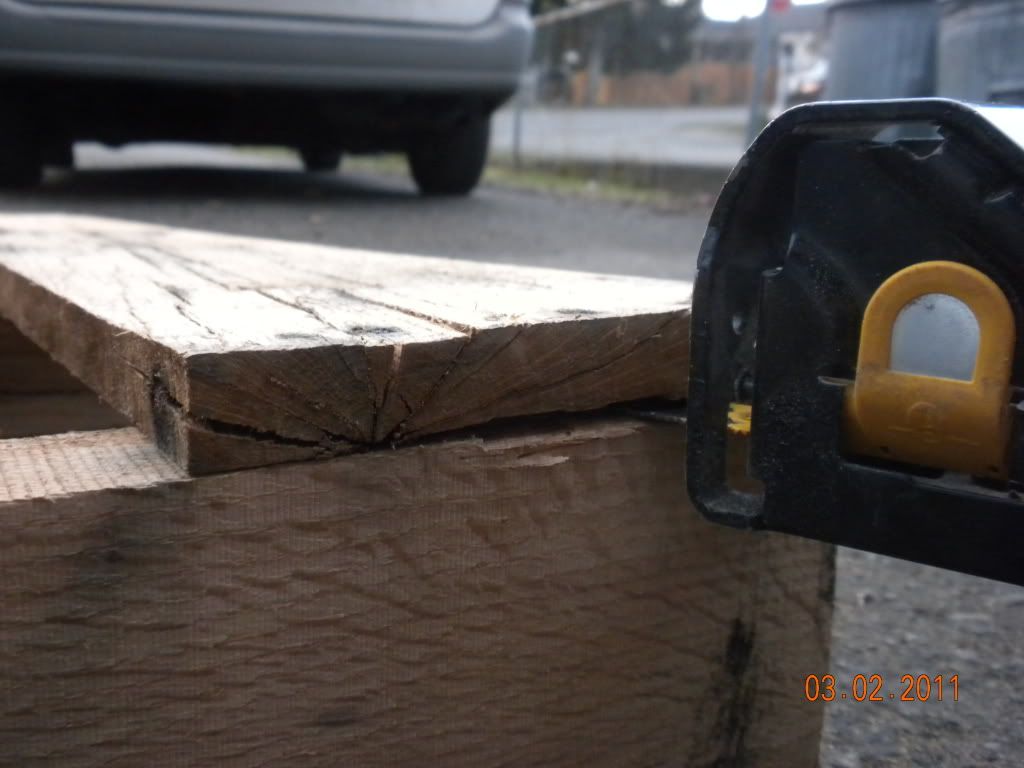 Then proceed to cut the nails off


repeat until both rows of top and bottom deck boards have been released from the stringers.


once they are only attached to the center stringer, it is usually possible to pry the nails off as they aren't so close to the ends. If not, repeat the sawzall move for the center stringer. Now that you have a a bunch of boards with nails in it.


At this point they are very easy to remove with a hammer and a punch. I personally use a punch in a drill press and pop out the nails from the underside. You can also chop off the ends which also helps for any end splitting that has already occurred. As far as the stringers, if you cannot pull the remaining nails out, they are usually only about a 1/2 inch into the stringers. By removing 3/4 of an inch on tablesaw or bandsaw,you can reclaim a nice hefty chunk of in this case oak.


It can be a fair amount of work, but then again out of one pallet I claimed at least $100+ of dimensioned oak.

So with all of the beautiful wood out there that you can claim from going to the dumps, and make into all sorts of things like those featured here
http://webecoist.com/2010/04/07/art-of-upcycling-20-diy-wood-pallet-reuse-project-ideas/
or here
http://www.greenecoservices.com/31-ways-to-reuse-wood-pallets-make-money/
There is one thing to take into account given the way, and with what pallets are sometimes treated with to prolong their lifespan. Here is some more information that explains this in a more detailed way.
http://www.cheaplikemeblog.com/environment/dont-reuse-wood-pallets/
---