I picked up an old Buffalo 18 drill press on Craigslist for $75. This was made by the Buffalo Forge Co. They did not put serial numbers on these machines. There is a User's Guide for this drill on OWWM that was published in 1957, so my drill must be from around that time.
The drill was located in an auto body shop not too far from my house. When I arrived and said I was there to see Paul about a drill press, I heard, "I'm Paul. I will show you the drill press…such as it is." That didn't sound too good, but I was still hoping that Paul was just not a very good salesman. The drill press was in a back room of the shop. Paul said that he had had it for two years but never used it. I imagine that one of the reasons they did not want to use it is that it is definitely a pre-OSHA model. By design, the pulley guard only covers the front pulley.
Paul told me that he got the drill from a body shop that was owned by a family friend and was going out of business. So I believe that this other body shop (owned by Woodrow Wilson – but not that Woodrow) is where the machine spent its youth. We plugged it in and it ran pretty quietly, despite some obvious misalignments. Paul and two other body shop employees unbolted the machine from the floor and got it into the back of my pickup truck.
Here are a few shots of when I first got it home: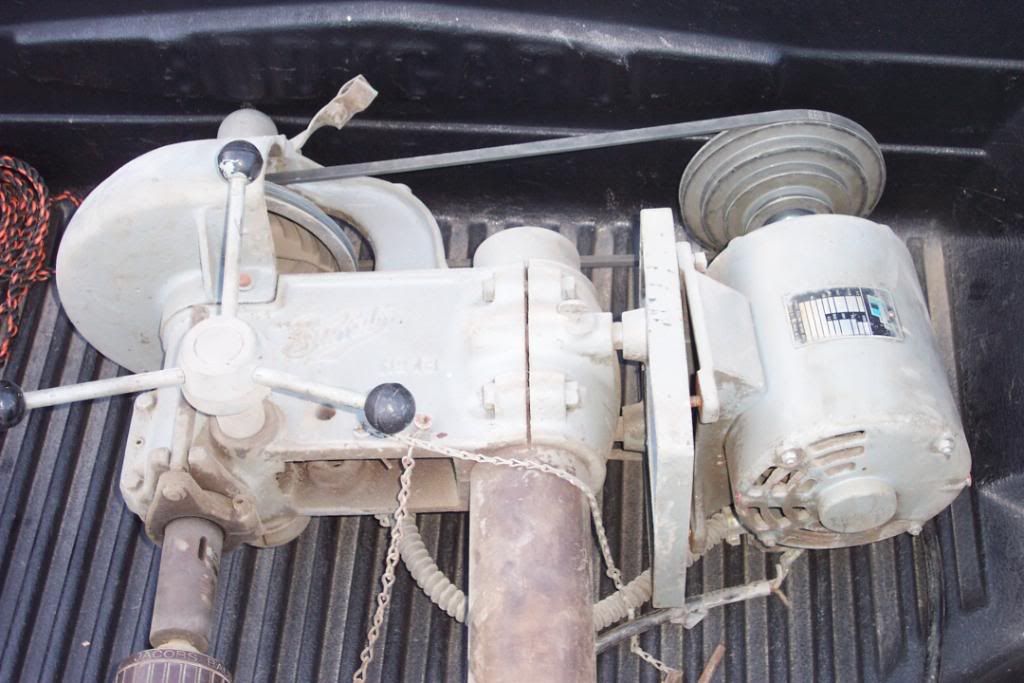 Here is the motor label: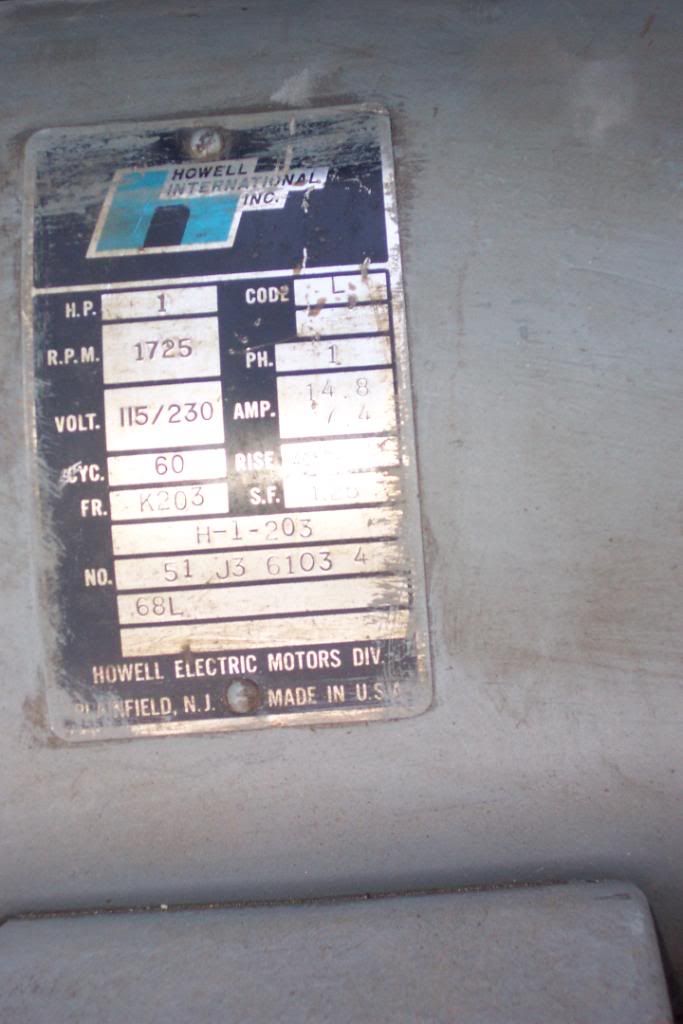 There was some rust, lots of gunk, and gray paint on many surfaces that really should not be painted. But I imagine that having paint on these parts, such as the surface of the table, saved it from more serious corrosion.
From the start of the restoration, I did not intend to end up with a museum piece. Mostly, I wanted to make the machine as safe, accurate and smooth running as I could. I have to admit that as I came to realize what a wonderful piece of machinery I had, I found myself spending more and more time improving its appearance.
The drill and motor weigh about 400 lbs. I took some large parts off while it was in the truck, but the remainder was still very heavy. My neighbor with a tractor, who often helps me with such things, was not available before we got the remnants of a hurricane. With a bit of rearranging, I was able to get the truck into my shop for the stormy night.
The next day, my neighbor came to the rescue:

The removal of unwanted paint and preparing for repainting was a lot of work – but very satisfying as I could see the potential. Here is some of the hardware after removing paint, gunk and rust: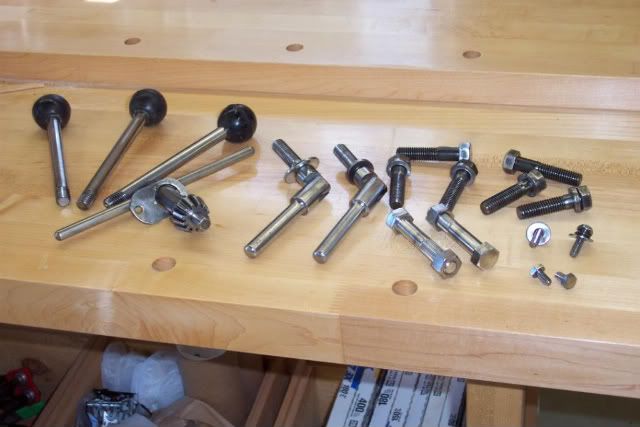 I wanted to use brush-on RustOleum to repaint. It seems that there are far fewer color choices in the liquid than in the aerosol. I choose Royal Blue. It turned out to be a bit brighter that I expected. Well, I will not have to worry about misplacing the drill press! For example, here is the UFO-like pulley guard:

The chuck on the drill press is a monster. It is the Jacobs model 20N "Super Chuck". The capacity is 3/8" – 1". Here it is next to the 1/2" chuck on my cordless drill:

The 1 HP induction motor is wired for 120V. There was some funny wiring involving a light switch attached to the side of the main frame of the drill. Also, the cord was bad and there was no ground attached anywhere. But, the motor ran beautifully from the very start:


Here is is cleaned and repainted:

It was a great feeling to finally put the machine back together and get it running. It runs great. The runout of this drill is half that of my two-year-old Delta.
Here are some pictures of the Blue Buffalo: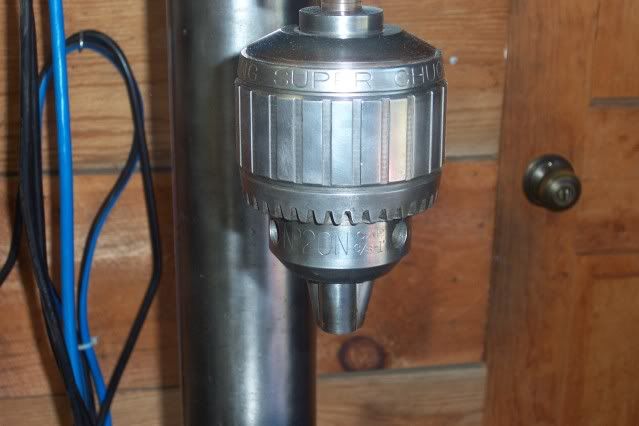 Now I better get back to those Christmas gifts before it gets too cold in my shop!
-- "Big man, pig man, ha ha, charade you are." ― R. Waters
---