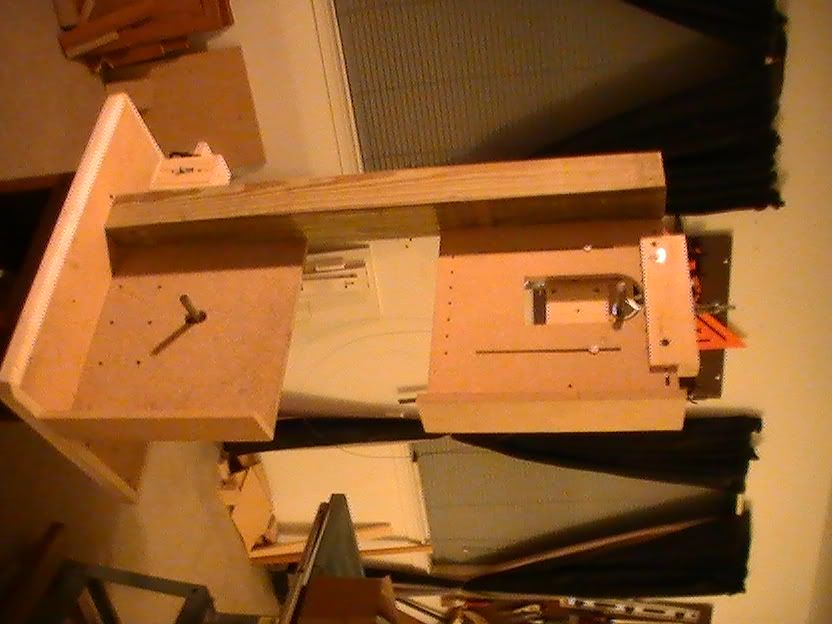 Construction of the bandsaw So far has been going on for about a month.
The main frame consists of a 4×4 treated post and 2 particle board panels (top and bottom). The panels are grooved into the back of the post. I assembled the bottom of it very quickly.
Everything sits on an old end table and wider sub-table to hold the bandsaw. I use a 1/3 hp induction motor, which has a 2 inch v-pulley fixed to its spindle. A v-belt then connects the motor pulley to the bandsaw's bottom assembly, which sits on a plywood box. The box is right behind the bottom panel. The box is made from 3/4 inch pine plywood and the hidden inside features torsion box like re-enforcement. The box is fastened to the bottom panel and table. On top of the box the belt connects to the bandsaw's 6 inch drive pulley. The drive pulley sits on a 5/8 shaft and is fixed to this spinning shaft. The shaft is held by 2 pillow block bearings. A hole is cut in the bottom panel where the shaft protrudes and will hold the bottom bandsaw wheel.
The top features a carriage which slides up and down and holds the upper wheel. It slides to provide tension to the bandsaw blade. A 1 1/2 thick grooved block straddles the top of the panel and holds a crown bolt which connects to the carriage and pulls it up with a spring to provide tension on the blade.The carriage originally (in the photos) slid in slot mortises but I have since (not photoed) changed that to aluminum T-track. Also I had the carriage's shaft bearings slide side to side to align (and the tension straddle block) the top wheel with the bottom, however since I took that photo I did away with that feature. I As I said in the last few sentences photos differ from what I have since done.
The bandsaw wheels are made up of 12 inch v-pulleys with rubber belts cut and glued in the groove. The rubber does not clear the pulley's edge. The pulley's edge guides the blade. The blade tracks on the edge, not the center, my method works just as good as if the wheels were crowned and it tracked in the center.
Recently I have ran the saw with the blade, it runs fine(without trying to cut anything). Now I just have to enclose the panels, build blade guides, and make a table. If anyone has questions feel free to ask. I will post a video next time.
---