This is not a brand new project. I submitted it, because of a request by MsDebbieP for the CS1 Kitchen challenge.
I was out in the shop one day, & thought to myself, what can I make?
I said, how about making a recipe holder easel for Barb's kitchen.
So I dug out some pieces of wood from my scrap bin, & proceeded with the project.
I didn't have a plan, but I knew what I wanted it to look like,
so the first thing I made was the main spindle post.
Then I made the base. I kept at it until I had the finished product.
The material is Pine from my scrap bin.
I used Walnut Watco Danish Oil Finish.
The base is 6 inches, total height is 18 inches, & the easel is 8 inches wide.
Here are some different views of it.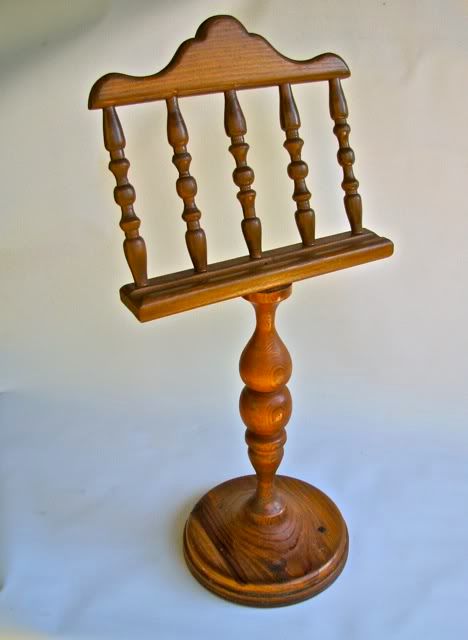 The spindles of the easel are made to match the spindles in the door panel above the kitchen range.
-- -** You are never to old to set another goal or to dream a new dream ****************** Dick, & Barb Cain, Hibbing, MN. http://www.woodcarvingillustrated.com/gallery/member.php?uid=3627&protype=1
---