Welcome to another installment of the Chess Corner! Today's topic is turning rooks or aka castles.
The large looking one on the left was a first try out of some sort of mahogany pallet scrap and after turning it round realized how open-grained it was, not a desirable trait when wanting to work with small details. So I found a more close-grained wood such as maple that I laminated out of offcuts from a local cabinet shop. This one "turned" out pretty good, pun intended! The last one is out of mountain ash, it's much different looking once I apply a finish. Now let's look at the styling between the last two, shall we call them #2 and #3.


I like how #2 turret on top flares outward at a slight angle versus #3 giving it a little more complexity yet not overdone. The problem with #2 is it is a little too top heavy looking. The turret is just as wide as the base. Now #3 has a smaller turret and looks more balanced however I'm not happy with the bases on either yet. Rook #3 is my closest replica and final specs for my set will be a rook that is 2" tall, right now it's 2 1/4 tall so cutting that base down 1/4 inch will help it look more proportional with itself but also with the set.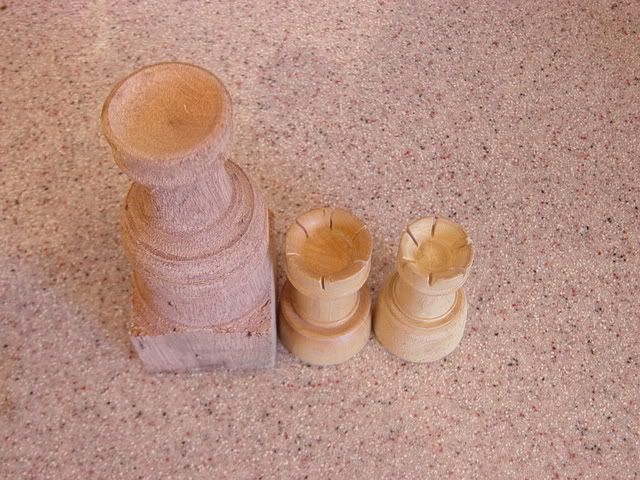 Now from this angle we can see the inside of the turret. I much prefer this type of turret versus most other chess sets for it's elegance and the way it flows. I put six notches versus four in some sets and the way it displays the inside, not just a hole drilled into the top but eases it's way out, almost like a flower with petals. Simple but convincing. Once one has a few pieces turned for practice, you can look at them all and take the best elements of each piece and do up a "masterpiece" pun intended again! I have had no formal training on turning so please feel free to critique.
Until next time for another installment of "The Chess Corner" have fun and happy turning!
-- Mike, Airdrie Alberta
---