We had our family reunion last weekend, so by brother was in town. Long story short, I didn't get much done last week. Last night saw me get back at it. In the last blog entry, I had encountered a nail and ruined my brand new band saw blade. I went to the Woodzone and bought a brand new 1"-3tpi blade LumberLady. I spent most of the evening putting the blade on and fine tuning my band saw.
Last weekend, I went over to my place in Swansea and found some great stock in the old barn on my Great Grandad's old homeplace. I blogged this almost two years ago, and near the end, I posted a picture of the end of a small beam. This is the stock that I chose to finish resawing for the table top. There were two 16' long 5×5's just sitting inside. I don't know where they came from, but they looked very old and weathered. You could see where the termites and pine beetles had taken their toll on them as I had to just cut out the usable parts.
First, I went over them with wire brush to remove most of the dirt and years of crud that had accumilated. I was delighted to learn that these apparently hadn't been used for anything, as they didn't have even one nail between them. I made sure and used my Lumber Wizard this time. Next, I squared two sides on the jointer. I was really impressed with the grain and realized that this stuff was the true essence of "heart pine". Tight grain, full of pine tar and just beautiful.


After installing the new blade, I commenced resawing. About 3/4's of the way through, the saw slowed down, got noisy and the blade started to wander. Crap, another nail I thought! After finishing the cut, I discovered that all that pine tar and pitch had accumulated on the blade and bearing guides. Sooooo, I commenced to cleaning the blade. I ended up putting a liberal amount of mineral spirits on a rag and wiping down the blade after scraping most of it off with a piece of board. After looking at the guide bearings, I decided to re-tune the band saw. The pine tar was everywhere. At this point, I had been at it for a couple of hours and was really aggravated and a little tired. While having the side's of the wheel well on the band saw open and spinning it with my hand, I was greeted with a very painful sensation on the end of my thumb.
Whilst squealing like a little girl, I discovered that I had let the end of my thumb get in between the blade and the bottom wheel. To make a long story short, it had just pinched off a piece of skin about the size of a pea. This is where the "lesson learned" part comes in.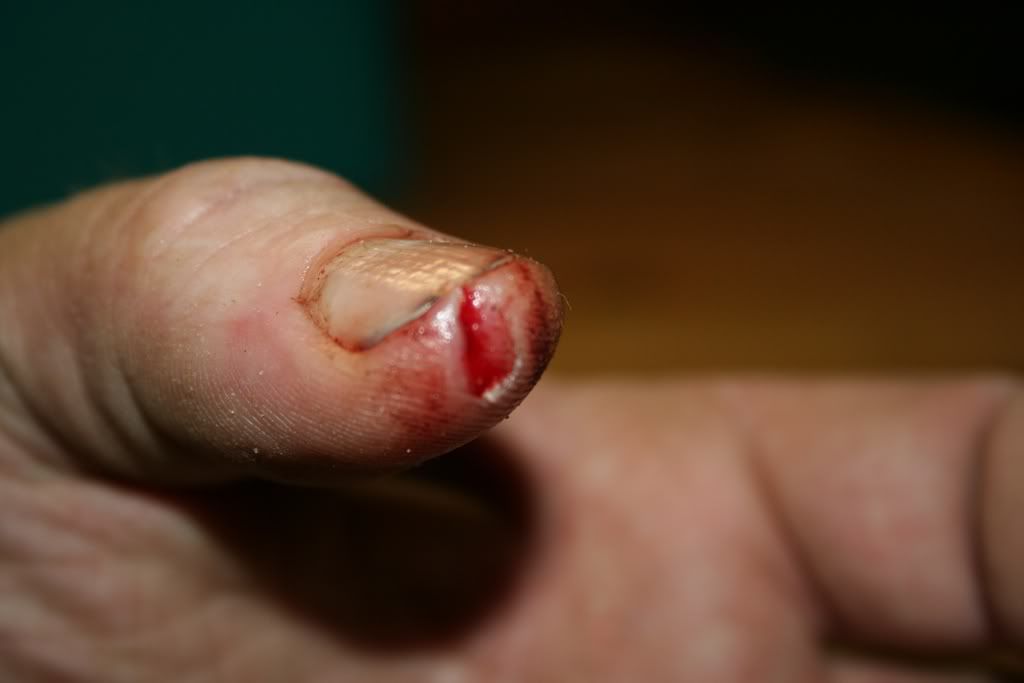 Soooo, upstairs I went and while freaking out my wife and baby, I cleaned up in the sink, applied a bandage and then went back downstairs, determined to make the best of a really crappy situation. It didn't take long to realize it was time to take my not so happy a$$ to bed and continue the fight another day.
Tonight I went back downstairs, finished tuning up my bandsaw and started finishing my resaw of the table top. Things went much better tonight as I was rested and knew what I had to both concentrate on and avoid.
On round two, I did a couple of things to help the re sawing effort. The first one is to put a light coat of mineral spirits on the blade to help keep it from letting the pine tar stick to it. The other one was to stop about half the way through and clean the blade. Here's a shot of the gummed up blade.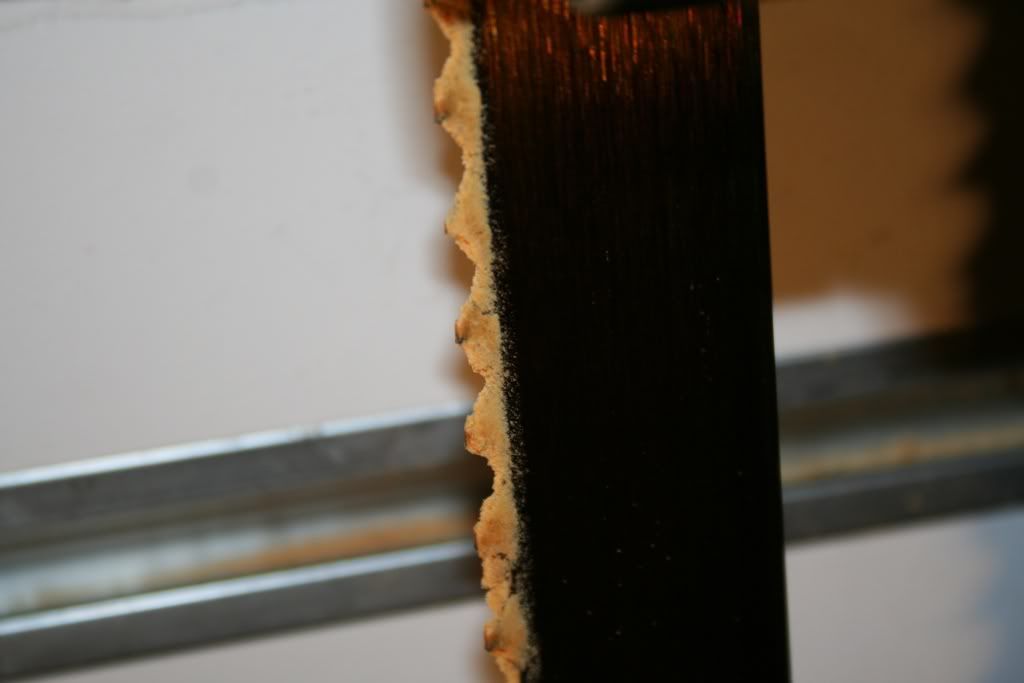 Here's a couple of shots of the resawed boards showing worm holes that have been gummed up solidly with pitch.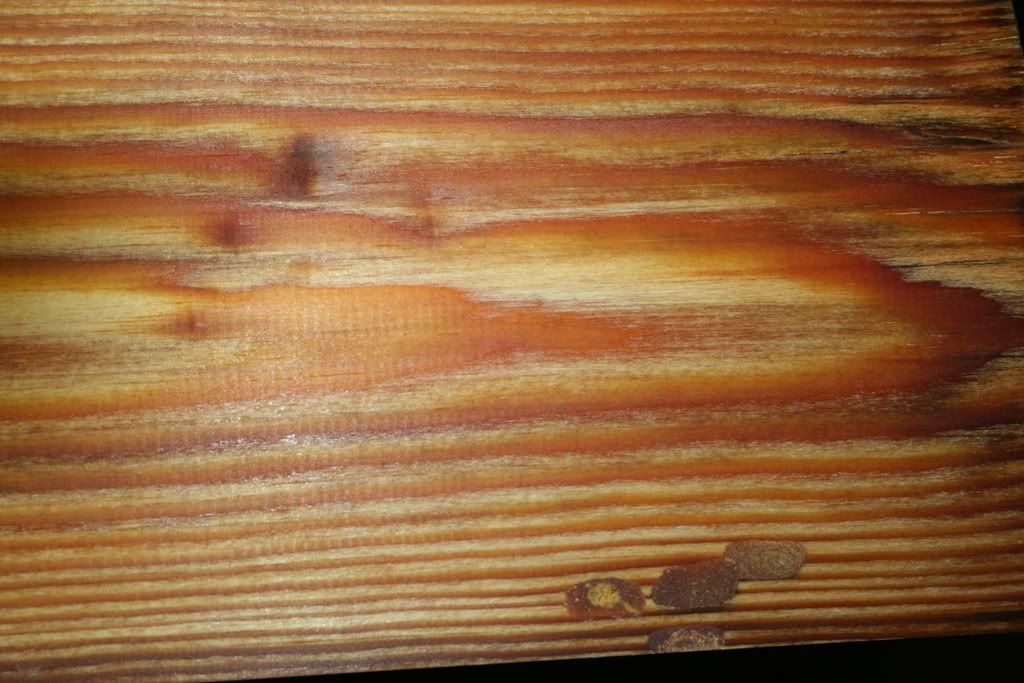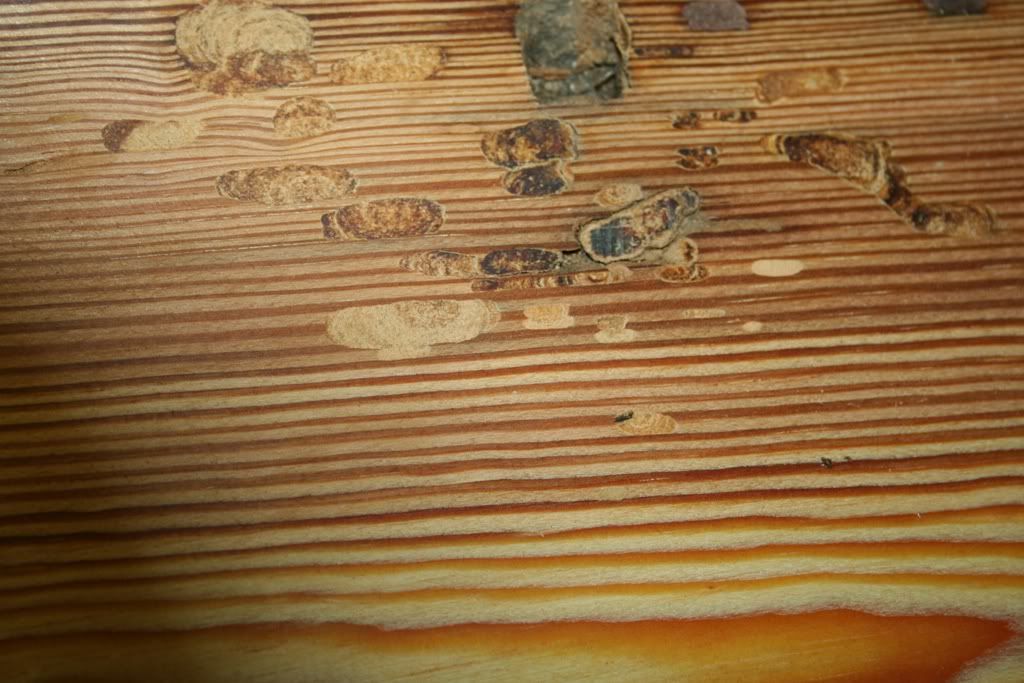 Here's another shot of the end of the beam which shows the tight grain and apparent old age.


I thank the Good Lord I've still got most of my thumb and really glad that the BS wasn't even turned on. A valuable lesson indeed.
Stay tuned, glueing up the top comes next!
-- Carl Rast, Pelion, SC
---