Dust collection has been discussed heavily on this web site. I'm about to discuss or rather explain what I'm doing in my shop. When I originally started building my house back around 1992 I really didn't even plan for a shop. There were at that time a few of us that ate breakfast at the same little restaurant here in scenic Pelion, SC and during the planning process of building my house the subject came up one morning. I was sitting there talking with Woody, an older fellow who's opinion was always worth listening to, and I was talking about foundation styles and the like. Woody asked me why I didn't consider building a basement instead of the usual concrete and brick pillar foundations that frequent the area around this small town. He indicated that I could probably add 3 or 4 thousand more into my budget and have a basement. The more I thought about it, the more it made sense to me. Go ahead, build the house with the basement and finish the basement part later. Heck, I could put a shop down there one of these days. So, build the house with a basement I did. Following Woody's advice was absolutely the best thing I ever did house building wise. Sooo, basically, I ended up with about 2000 square feet of basement space. It's a daylight-front basement, so I made a two car garage at one end and the rest was future shop.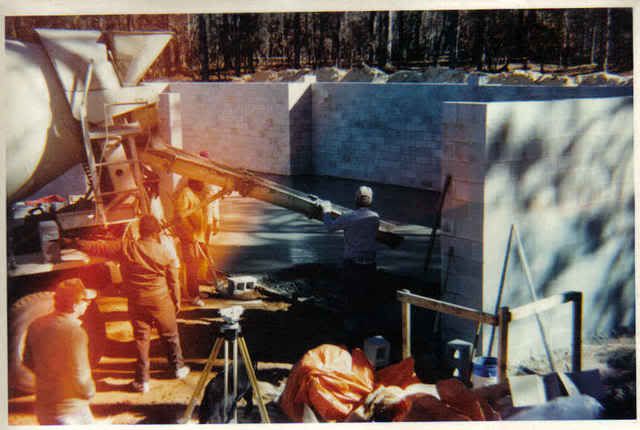 Here's an old picure of the slab being poured. If I'd had been as smart as GaryK, I'd have put the dust collection under the slab. At the time, I'd never even heard of dust collection.


Here's another of the framing with the basement underneath.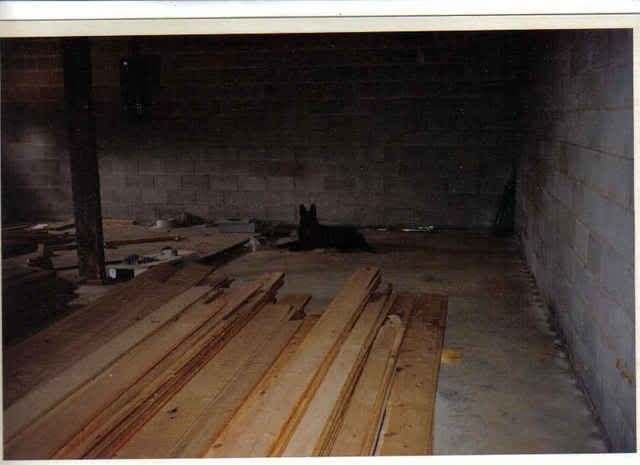 And another from the inside looking from about the halfway point.
At the time, I bought a Ryobi radial arm saw and set up a 30' long bench with the saw in the middle. This particular saw had a router collet attachment on the other end, and I used this setup to make all my baseboard and also ship lapped some juniper for use as wainscote. It's amazing I'm still here to tell this story because there was no dust collection down there and jeeze you have no idea how much saw dust I was breathing. Some times I'd run two or three hundred board feet through that thing, and the dust in the air was really thick. The explosion potential alone was a testament to my theory that the Good Lord was keeping me around for something, I don't know what.
Fifteen years or so passed and during that time about the only thing I did was relocate the radial arm saw bench to a wall and add some receptacles for some bench top tools. At the time I was into golf club repair, so all I needed was a small drill press and a 1" belt sander. Then, sometime around a year ago, I joined Lumberjocks and the woodworking bug bit me bigtime. I mean hook line and sinker. I had just paid off the home loan and was able to afford some tools. I bought a table saw, an OSS, a bandsaw, a router, a router table and a planer. I was able to get by with my Craftsman shop vac for a while until I got the planer. You can fill up a shop vac in about 15 min with a planer hooked up to it. So, next I purchased a Delta 1 HP dust collector. When I first started using it, I thought it was all I'd ever need. Wrong!
I'm planning to obtain a 3hp cabinet saw of some description and a bigger bandsaw and some other things. As most of ya'll know, that 1hp Delta ain't gonna cut the mustard. So, I figured I'd try to do some prudent planning and get dust collection under control first. There's a slew of dust collectors and systems out there that are greatly varied and very expensive. 30 micron bags, 1 micron bags, cannister filters, cyclones collectors, 2hp, 3hp and on and on.
One day I was looking at the Grizzly site and happened to see their standard 3hp portable with 30 micron bags. $395 plus shipping. As you know, 30 micron helps, but it still passes a lot of fine dust. I had planned to build a closet of some type to help with the noise and it suddenly occured to me that if I made it reasonably air tight, I could put regular residential air filters in the walls and maybe further filter the air particles. Another design consideration is I wanted the duct work overhead as I was tired of tripping over hoses and the like. If you've seen the Griz G1030, the air hookup is at the bottom. I figured I could maybe mount the motor and blower overhead and flip the airbag system. So, damn the torpedo's here we go…......nothing ventured, nothing gained. Another side benefit is that I wouldn't have to put to bends in the ducting to get it above where I wanted it. Here's how I put it all together.
Initially I thought I could build much of it from stuff I had laying around. I had an old water bed that had been collecting dust in the corner of the basement and I had never liked it. I sawed up the headboard to make 2×6's and used all of the plywood from it also. I got a strange pleasure from cutting all that stuff up for this, but did save some of the straighter pieces for future projects. I started making the top of this thing first, as I would have to mount the heavy a$$ motor and blower to it. I made it out of 2×6's and screwed 3/4" oak plywood to the top onto which attaching the motor and blower.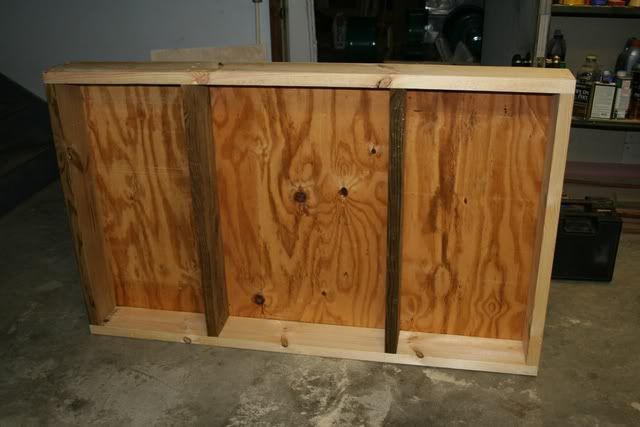 This is actually the bottom, the only difference it it and the top is the bottom has 5/8" plywood and the Bottom has a 3/4" oak plywood center panel.


Here is the other side.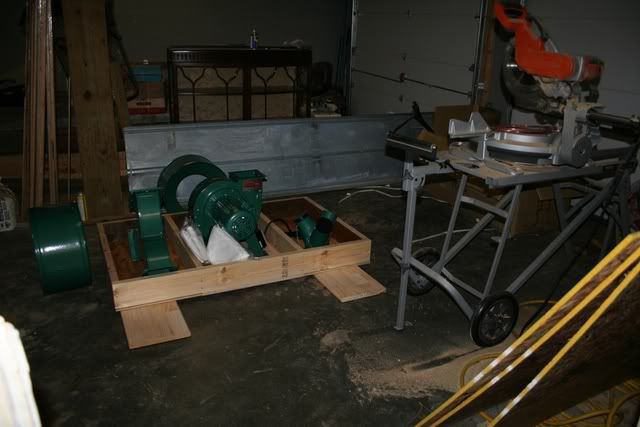 Here's a picture of the parts sitting in the top of the closet.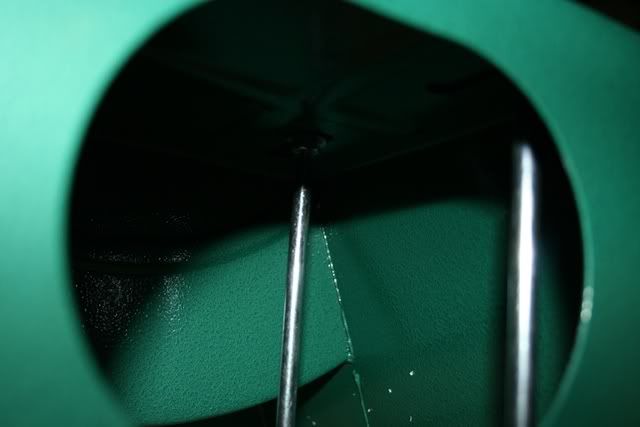 The base that came with this thing was not designed to "hang" the motor and blower from, so I ran 8" bolts all the way though the base and though the motor base. These were just "snugged up" up through the plywood to add stability and to keep it from falling if the base sheet metal broke. I put lock nuts underneath the motor base itself and these were pretty tight.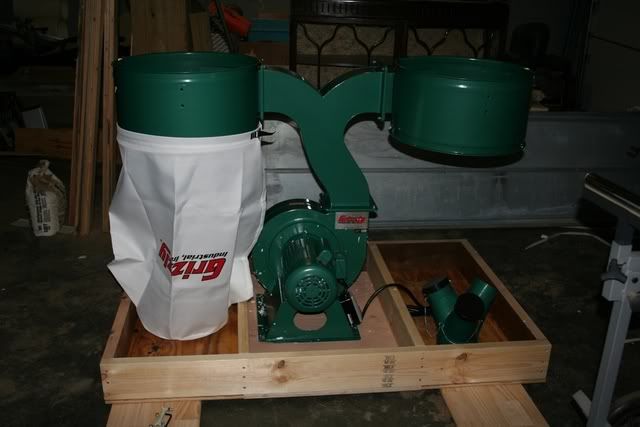 Next I started assembling the blower components to that I could make sure none of the framing would get in the way of the machinery.


Here's a view of the top showing the bolt heads and fender washers I used.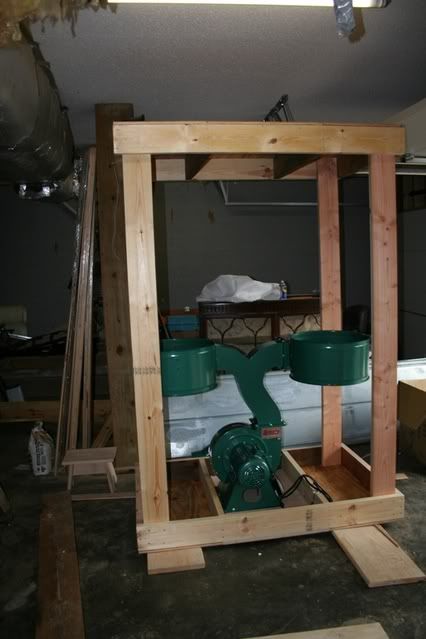 I made the corner supports from 2×6's formed into a T and put the top on. The 2×6 tees were probably overkill, but at least I don't have to worry about strength.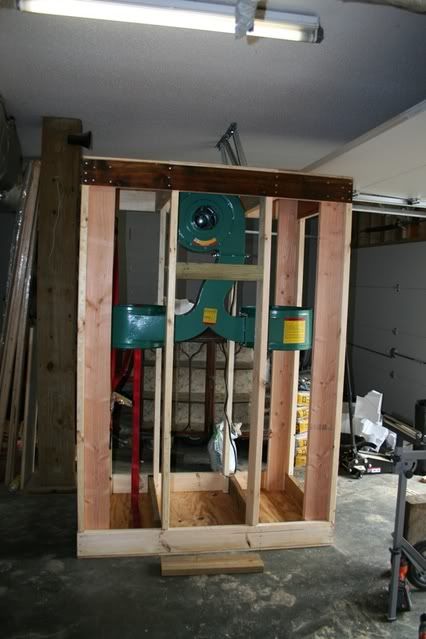 Next, I flipped her over before it got too heavy. If you'll notice, I only made this thing short enough so that it would fit under the garage door runners as I intend to place it between them.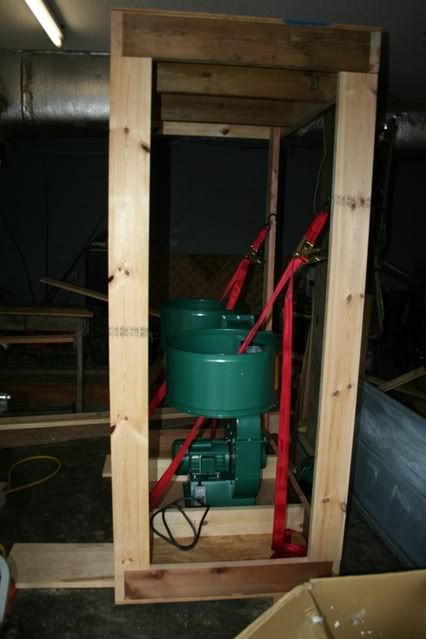 I used ratchet straps to keep everything plumb and square until the plywood was put on the sides.


I added the supports for the bag mounts and also added two removable/sliding plywood pieces to hold up the bag when under load from the sawdust.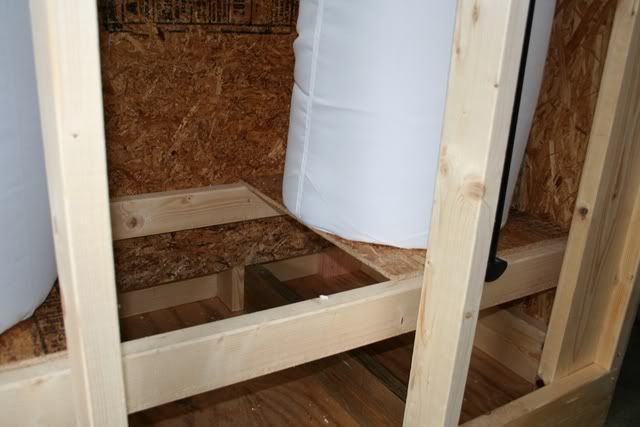 Here's a closer view.
Although you can't see it in these pictures, I've got a false wall on the inside that will force the air to move upwards and then down between the 2×6 corner supports and the front of the closet down at the bottom where I'll have three 16×25 air filters. This will also allow the air to circulate past the motor to help with cooling. I don't think cooling will be a problem as I let this thing run for thirty minutes or so today and the motor was just warm to the touch.
With this positioned in the garage end of the house, I'm going to run 6" ducting straight through the wall in to the main portion of my shop and then wye off to 4" side ducts for the machines I have in there. I'm going to put the cabinet saw in the garage end, along with my sliding compound miter. I'm also going to add an air filter between the garage and the main part of the shop. At the extreme other end, it's my intention to add a paint booth as far away from the DC as possible. I hope this works as planned and so far it's looking good to me. I'll post the finished product soon and let ya'll know how well or not well it works.
-- Carl Rast, Pelion, SC
---