I have an update on the bench. The top is completed and I'm nearing the home stretch. I'm already starting to come up with ideas for special uses/jigs for the inserts in the well…
I measured and drilled the holes for the end supports of the well and then threaded my pipe stock and checked for level. I also cut the blocks that are moved when you need to adjust the lateral clamps and positioned them above each leg and the center support. I laid in the MDF panels to make sure everything was more or less flush. So far so good.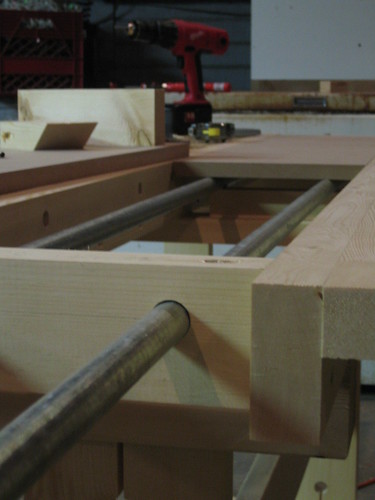 Better shot showing the panels flush with the rest of the bench top.


Next, it was time to check the hole alignment for the face clamps. Things were still going well.


Since everything was ok with the major elements of the well, it was now time to measure all the pipe, cut it to length with a hack saw and smooth up the ends on the grinder. I put a 45deg chamfer on the edge of all the cut ends. Getting the length right was just a matter of installing the clamp heads, extending the clamping screws all the way and adding an inch for good measure. I think this came out to a 3 1/2 extension (total length of approx. 75") past the bar support at the end of the well for the lateral bars and a length of around 28 inches for the face clamp bars.


It was then back to the drill press to drill all the finger holes in the MDF inserts. 1" holes were drilled 1 1/2" on center from each end of the insert. Easy enough with the fence set. The holes for the ends of the planing beam were drilled at this time as well since it was the same bit that was chucked up. The last step was to cut the slots in the ends of the planing beam so it can easily be moved on and off the vertical clamp bars in front of each leg. This was done on the band saw.
And here is where the bench stands to this point.


Next entry will be finishing the face clamps, the clamping blocks for the well, and the support for the planing beam.
-- Jeff, St. Paul, MN
---