First, let me say this is great stuff … dries fast and hard. There are a few gotchas however.
My first experience was a disaster. I mixed the topcoat and catalyst in the proper ratio, in the cup, and excitedly began to spray. To my dismay, the varnish came out of the spray gun in a gooey glumpy mess. It took some work to find out all of the particulars required to make using this product a success.
First, the bottle of catalyst says "See part A for directions" ... alright then.
APPLICATION: Stir well prior to use. Add catalyst according to instructions per label. Once the product has been catalyzed DO NOT store in a sealed container to avoid pressure buildup. Pot life is 6-8 hours. Discard any unused portions of material properly. Filter material through fine mes strainer before spraying. Spray medium wet films at 3-5 mil thickness. Sand between coats using #320-400 grit paper or super fine sanding pads. Remove dust before recoating. A minimum of 3 coats is recommended. GF Conversion Varnish is self-sealing. However, you can use GF Sanding Sealer if needed.
OK … seems straight-forward enough … it "ain't".
"Stir well prior to use" really means:
1) DO NOT STIR BY HAND … as per Tom Monahan "This is the most critical mistake people make. You have to mix the catalyst with a drill and a mixer to effectiively avoid a clumpy finish. If people just hand mix the caatalyst you will not get enough agitation" ... (good to know).
I use small amounts of the product as I only finish at most two humidors at a time. The only mixers I could find at Lowe's were quart size. As I was standing at the paint counter I cast my gaze upon those little metal things that painters use to open beer bottles (an occasionally paint cans). I cut the end off of one, put it on my drill and came up with one killer Conversion Varnish / Catalyst mixer.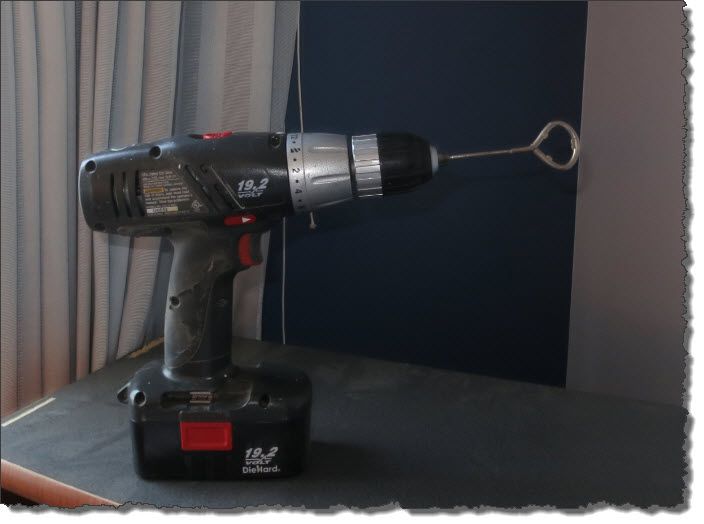 2) Before adding the catalyst to the top coat … place that mixer into the varnish and start mixing. Add the catalyst as you keep the mixer moving. If you add the catalyst to a still varnish they will begin their chemical dance and you just lost the pot.
3) Mix for the entire 5 minutes
4) Prepare the mixture 30 minutes before you need it (the instructions say 10 minutes … Tom Monahan says 30 minutes). I trust Tom.
5) Once the product is sweated in … perform a viscosity test for your HVLP. I initially thought a #2 was OK … it wasn't … the test proved I needed a #3 (Zahn seconds).
6) It says not to store the product in a sealed container. I initially considered the HVLP pot a sealed container … turns out the HVLP pot is OK to store the catalyzed varnish (for the duration of the pot life that is) since the pot is vented. This is how I can put on three coats of varnish (with two hour dry time) and leave the varnish in my pot for the entire time.
7) Do not mix the catalyst and varnish in the pot (which I did … by hand) ... mix it in another container and then strain the product into the HVLP can (they are pretty clear about this so that was my duh).
8) Tom said not to apply more than three coats per day … this works out pretty well since it takes two hours to cure (being safe) which puts me at the 6 hour pot life limit. Tom said that he was spraying with his mixture for 8 hours and he was still OK.
9) I topcoat mainly veneer (burls). Here are their recommendations for me:
a. Initially seal the burl with Arm-R-Seal (this is an oil product with really brings out the depth of the burl)
b. Apply one to two coats of General Finishes Sanding Sealer. This stuff is a bear to spray on vertical surfaces … too little and the finish is dusty … too much (which is incredibly easy to achieve) it runs.
c. Day 1) Apply three coats of Conversion Varnish (#320 to #400) between coats … remove dust.
d. Day 2) Repeat step c
e. Wait 7 days for CV to completely cure.
f. Begin my six step, proprietary, rubbing out process for a mirror finish on the humidor.
Ladies and Gentlemen … enjoy your CV experience.
I made an expensive mistake … I hope you can learn from my experiences.
---