Blogging when I should be working on the myriad of projects I have going on, but I made the mistake of putting poly on some things when I really need to empty my dust collection barrel. So here I sit waiting for poly to dry.
So when I last left off, I had a really heavy and ugly bar build going. It was in bad need of a top, bar rail and some vertical plywood. I got my bar rail from Denoon Lumber at about $8/foot. I needed about 20 feet of it, so it was pretty pricey. If I had had the table saw I do now, I might have tried to make a cove cutting jig and saved a bit, but maybe not. I could have gone the cheap route, but really like the look and feel f a standard rail and it was pretty easy to install. Had to make a little jig to prop it up on my miter saw for the angle cuts and getting the angles correct was a pain because when I set my crappy HF saw up for a 45 degree cut right of center and then swung it the other way, 45 degrees wasn't. I kept sneaking up on it though and dry fitting and eventually got it right.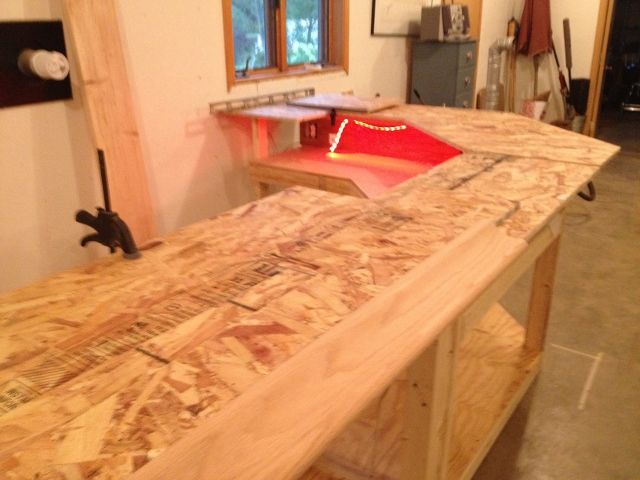 I covered the top using a decent Oak plywood and between cutting the angles on the bar rail and cutting the angles on the bar top and getting them to line up perfectly with no gaps or at least small ones, I was really regretting doing the 45 degree bar and not a straight L shape. At around $50/sheet I didn't want to screw it up. There was no way I was going to be able to do a crosscut on the long piece with my tiny, tippy Ryobi tablesaw so bought a decent blade for my jig saw. My jigsaw was a 60's or 70's era craftsman I think that I got from my dad. Clamped a fence on and was pretty happy with the cut it was making while cutting but when it was done, it was in no way 90 degrees to the face. Started trying to hand sand it straight and got frustrated so went out and bought a belt sander and still couldn't get satisfactory results so headed back to the internet and ended up here where someone had used a router with a flush trim bit to joint 2 faces. Off to the box store and bought a 2 1/4 hp combo router for around $100. To make a long story sort, it worked wonderfully. The joints aren't perfect, but they are close.
I knew I was going to need trim soon, so I looked at it the local menards and home depot and decided I could do that myself, so instead of paying high price for molding I bought a cheap router table for my new router and some oak stock. Then it was back to the internet, youtube and lumberjocks to see how other people did it. I had pretty much ditched the plans by now and was designing on the fly and got a lot of use out of that router and router table making crap fit together right.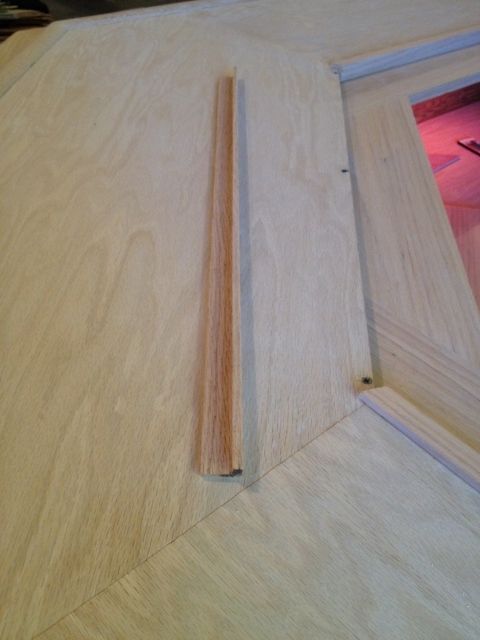 I covered the front and the sides in oak plywood as well, but thought I would save some money and buy lower grade B plywood. It looked pretty much the same.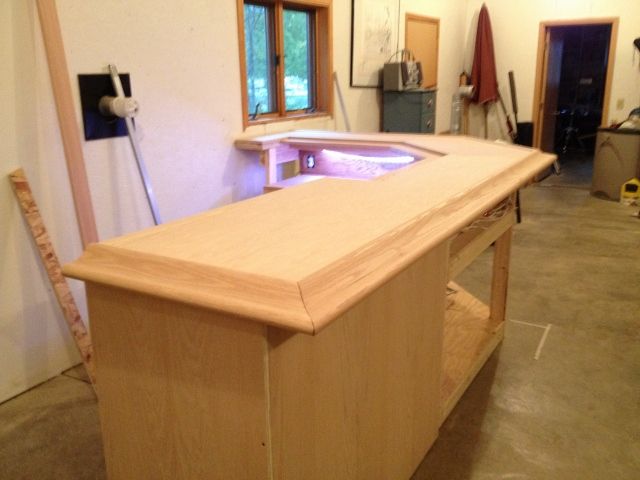 So that lower grade plywood came back to haunt me later. I'll get into that in the next episode when I cover more trim and my finishing adventures. Thanks for reading.
-- ---The day I learn nothing of value will be the day I'm laid to rest--- Burbs
---