So, if you read my first blog, you know I bought a house on a lake with a gigantic heated garage that my shop now resides in. No basement due to being just above lake level and the ground is too wet, so the garage has become my man cave. I eat and sleep in the house but spend most of my awake time in the garage.
I always wanted a basement that I could build a rec room with a bar but didn't have the room in my old house or a finished basement. The previous owners of our new house had a big tv in the garage and often threw Packer parties out in the garage and since it had room to spare I decided before we even closed that I would build a bar in the garage.
I brought a 2 foot by 8 foot plywood and 2×4 workbench from my old garage and put it in my new shop and built another 2 foot by 8 foot plywood and 2×4 bench to put my sliding miter saw on. I also bought a cheap Ryobi table saw and started researching bars and bar design. After spending a couple evenings looking at pictures and youtube videos and looking at various free designs, I bought a membership from barplan.com. I liked their plans because they are mostly 2×4 and plywood construction and that was something I was familiar with. Knowing what I do now, I would have made it out of much less 2×4 material and more plywood. As many 2×4's that I went through looking for straight ones, they still were not straight and I didn't yet have a jointer and planer to make them straight.
It was about this time that I got my first taste of Lumberjocks. My Ryobi saw would take a dado stack I think, but really didn't have the money at the time to invest in a dado plate and dado stack and from what I read, the saw didn't perform really well with a dado stack on it. I started looking at joinery options and it led me here. I browsed and learned but ultimately decided to buy a kreg jig and use that along with construction adhesive for most of the joints. So off to the box store for 2×4's, some plywood and a kreg jig.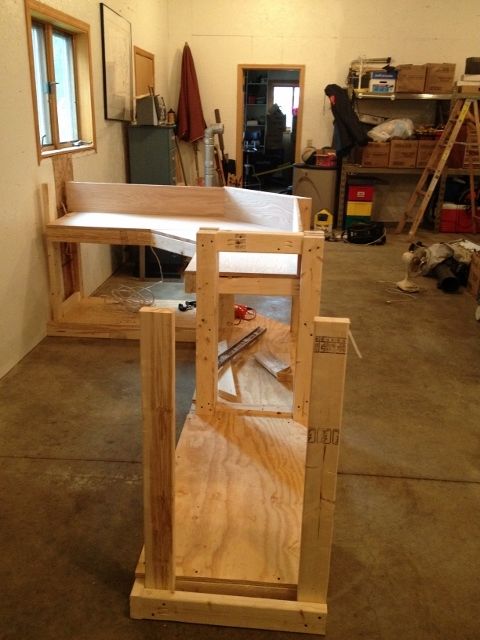 One of the first mistakes I made was not setting up some sort of stop for my miter saw. Second mistake was assuming my miter saw cut a perfect 90. I marked all the cuts individually and learned later on that all my cuts were not exact. 1/16" off here and there and slightly twisted 2×4's equals not square.
So, I used 2×4's for the frame, cheap plywood for the bottom and a decent oak plywood for the lower and top bar. The design I picked was an L shaped bar with a 45 degree corner. One end was designed to have a kegerator built in but I modified it a little so I could put a long beverage cooler underneath since I don't drink nearly enough beer. I'm more of a whiskey/scotch drinker most of the time. The bar lined up well with an existing outlet on one side of the L so I cut the wall out, put in a junction box and ran the wiring for 4 outlets and 2 switches for led lighting.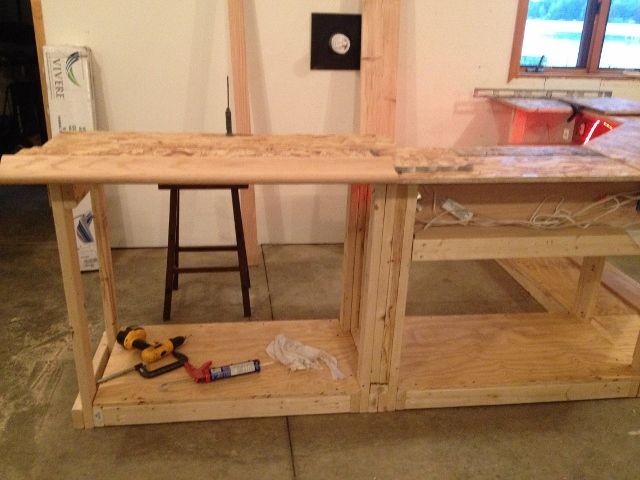 You can start to see what a beast this thing was turning out to be. The top is supported by 2×10's with osb on top of that and then oak plywood over that so the oak bar rail I bought would fit right. At this time, I no longer wanted to have to move the bar, so it was moved into it's final resting spot and will stay where it is until someone wants to tear it apart when I'm dead. There's no way it'll ever be movable.

Next time I'll get into the bar rail, top and front. Thanks for reading.
-- ---The day I learn nothing of value will be the day I'm laid to rest--- Burbs
---