Hi All,
I have been working with exotic woods for 2 years now and even though I have no allergies I have had some extreme health issues. The last few months have involved some expensive tests with little or no results. My wife is set on the idea of breathing the sawdust as the culprit and she could be right. Another round of blood tests are required for that. I do wear a mask when working with this but not as often as I should.
On a lighter note I received my Christmas bonus (much less then the cost of a new band saw) and decided to start looking into a used dust collector. I scoured the LJ posts of old to see what you all liked. Then hit Craig's list and E-bay.
Luck would have it that Friday I found one about an hour away in the western burbs of Chicago. A few year old JET DC-650 with no accessories. I looked it up and found several customer reviews telling the pluses and minuses of this model. So I went and checked it out. It was quieter then I expected and had more power then described in the reviews. Zero damage and looked barely used! It came home with me but not before a stop over at the local WoodCrafters store!
I got a separator lid (in the hope it will fit a garbage can I have at home) and 10' of 4" hose and some clamps. I have already designed how I want to set it up but for now just hooking it to my table saw and seeing the results was amazing!
My 47th birthday is Thursday and I'm hoping to get some gift cards to buy the additional pieces needed to hook up the DC to all my tools. This includes the sanding (yet to be built) table so I can sand my boxes and not die! This unknown medical issue(s) has been keeping me from my shop and it's driving me nuts! I cut up a few things and had the DC hose right there and it really did help. I'm looking forward to getting back to working on my boxes. I have attached a picture of the Jet in action. "Everyone say ooohhhh!"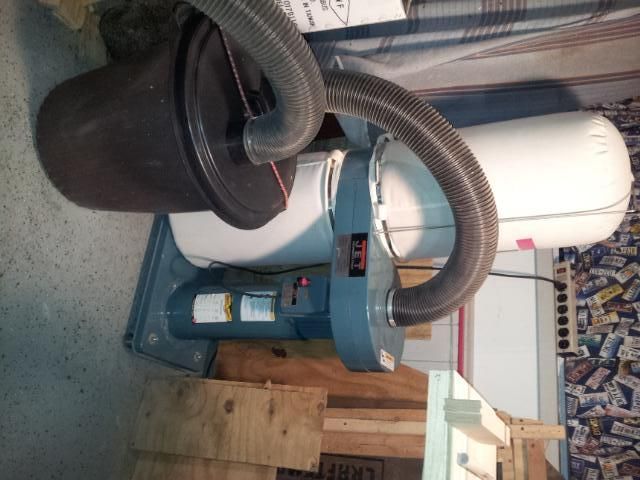 -- Measure twice and try not to cut your thumbs off!
---