This is my second attempt at this blog after loosing the first two thirds last time, whilst blogging. Is there a size limit on blogs I wonder (Martin)?
I digress. My first circle jig (Version 1.0) worked fine but lacked positioning accuracy. So on to version 2.
The materials for this jig were pretty much what I had on hand. Chipboard (they throw away half sheets of 10mm stuff that comes in with deliveries where I work), Beech, 8mm threaded rod, nuts, washers etc. The idea for the jig is based around three layers of chipboard with Beech for anything doing any hard or accurate work and trim.
First thing to do was cut a sheet of 10mm chipboard into three identical 800mm x 380mm boards.
-


-
One of theses boards, the base board, will have other layers, or parts of layers, attached to it or resting/sliding on it. I next cut a 9mm x 4,5mm slot in the middle and top boards so
-


-
When glued and screwed together this makes a channel for an 8mm threaded rod to run through.
-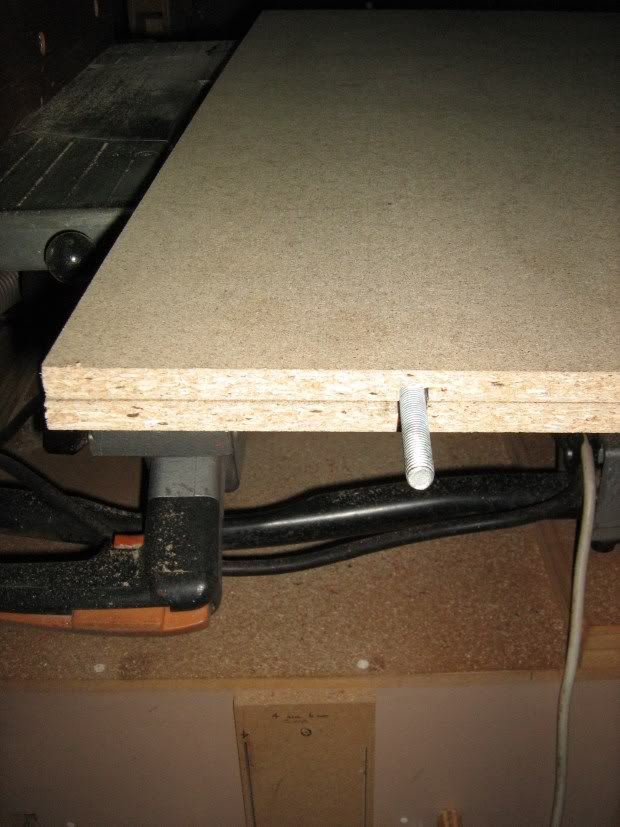 -
In order to keep the boards properly aligned during the glue-up I made a 9mm square waxed hardwood (in this case Purpleheart) stick .
-


-
When the glue was dry I cut the laminated board into two.
-


-
The left hand half (to be called the left fixed table from now on) is approx' 300mm wide.
I then glued a 30mm x 20mm strip of Beech between them.
-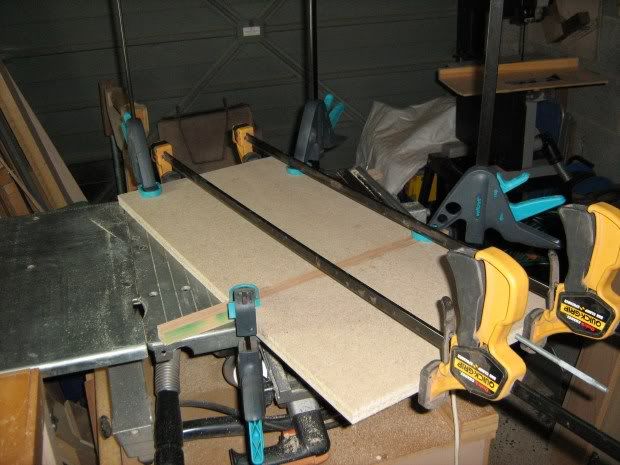 -
This forms the jaws of the two halves when cut through.
-


-
The left fixed table was glued and screwed to the base board.
-


-
I marked out waste areas on the bottom of the right hand half. Cut these out and replaced them with 50mm x 20mm strips of Beech
-


-
When this assembly was dry I set the tablesaw blade to 15° and cut it into three pieces.
-


-
The left side strip of Beech and the right side Beech/Chipboard piece become the runners which the centre piece (now to be called the sliding table) will slide within. The 15° angles holding the sliding table down to the base board.With the 9mm square stick threaded through the sliding table and two side pieces were butted up to the jaw of the left fixed table.
-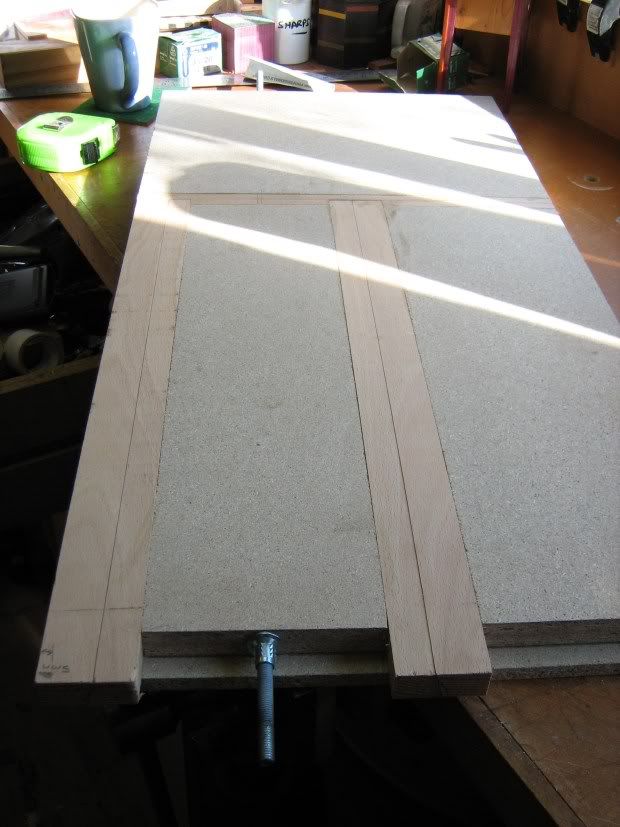 -
The two side pieces were glued and screwed to the base board. Now, with the threaded rod installed, the sliding table runs freely between its runners.
-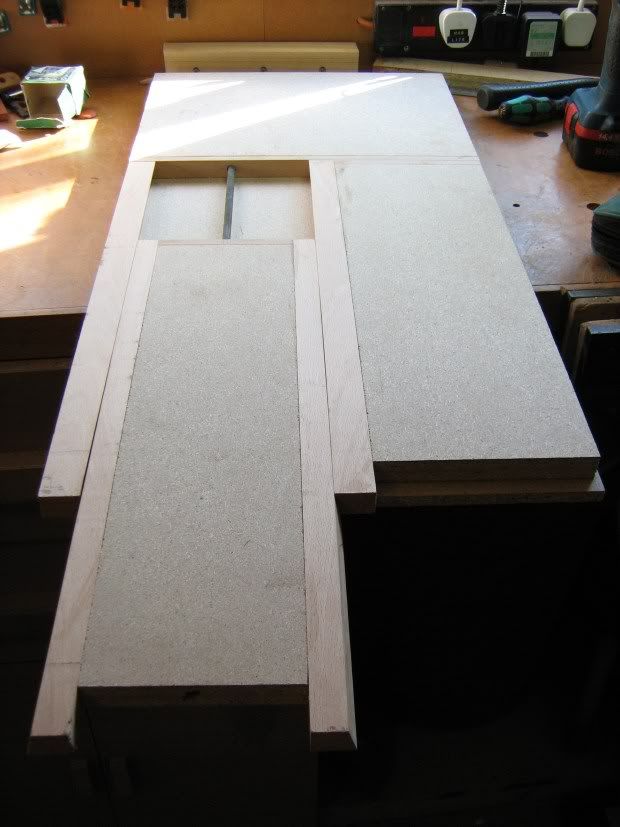 Right I'm trimming the blog off at this point so I don't loose anything.
Be seeing you.
-- Martyn -- Boxologist, Pattern Juggler and Candyman of the visually challenging.
---