Back in my computer days thats how we thought the Japanese put their kit together. They used mice with tweezers! Anyway steady hands needed here for the assembly. I had cut four 2mm square Ebony strips for the edging.
So here we go. Edge the pieces. Just showing the top here.
-


-
Each side piece was edged (one edge only) using the excess from the above. They were all trimmed to size on the disc sander, 180 grit disc. Attach side one to top, other sides ready and waiting. I think they enjoy watching.
-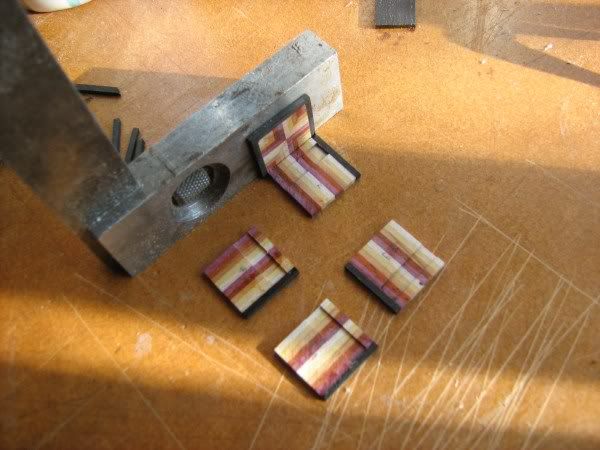 -
Side two on. Glue is cyanoacrylate (super glue). No wingeing out there its the best glue for the job.
-


-
Sides three and four go on in similar fashion to produce this.
-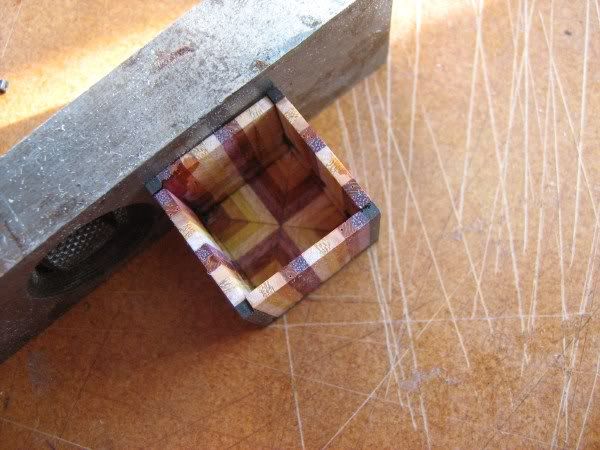 -
I trued up the bottom on the disc sander, with as 240 grit disc. Then glued the bottom on. After five minutes to thoroughly dry I disc sanded the sides and top flat to give this.
-


-
The wooden one is on the left. Its two mm higher because its still in one piece, haven't done the separation cut yet. I need to build a jig to surround this with if I'm going to let the table saw blade see it.
Thats all for now. My hands are shaking.
Be seeing you.
-- Martyn -- Boxologist, Pattern Juggler and Candyman of the visually challenging.
---