I lay awake desperately for two hours trying to figure out how I was to cut four sides and a top from this striped cross.
-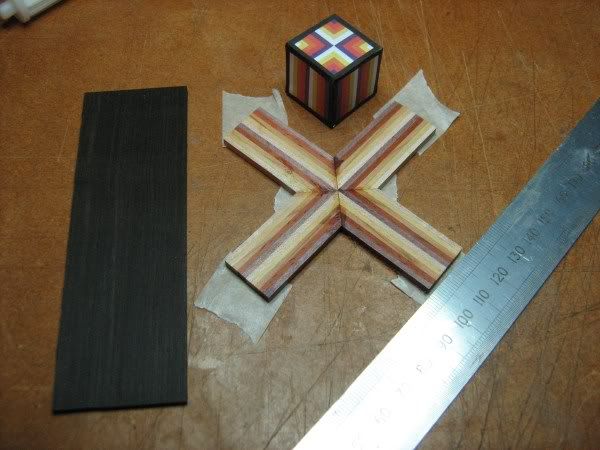 -
In the end I gave up and went to sleep.
My new planer arrived bright and early. My old one had died inexplicably. Damn I thought this is getting me away from the project. I dutifully put it together, tried it out and tidied away the old one all without much enthusiasm. Another trip to the re-cycle centre (used to be called the dump, now re-cycle Nazis quiz you as to whether you've sorted your trash). Tomorrow of course. Its only open Thursday to Sunday but I digress. In the end the shop looked almost normal and I glanced the stripey cross once more.
It was sitting on a scrap of 12mm MDF. You can saw a 3mm slot in a lump of MDF easily, not so a delicate little flower like the one sitting on top of it. If I could make the cross 'one with the MDF' I would have solved the problem. Old fashioned filament light bulb goes on in head! Cut the MDF to the outside size of the cross and route a cross shaped groove in it. Vioila! (the holes are incidental, an artifact of previous use of the MDF)
-


-
The cross fits snugly in.
-


-
First thing to do is route the lipping rebate in the sides
-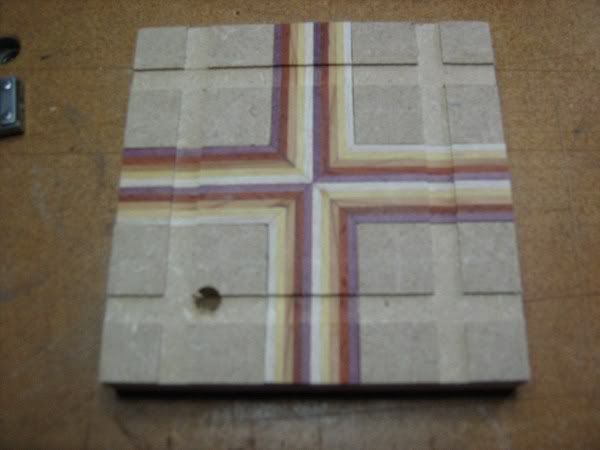 -
Then cut the sides to length. Zero clearence slab of MDF on the tablesaw
-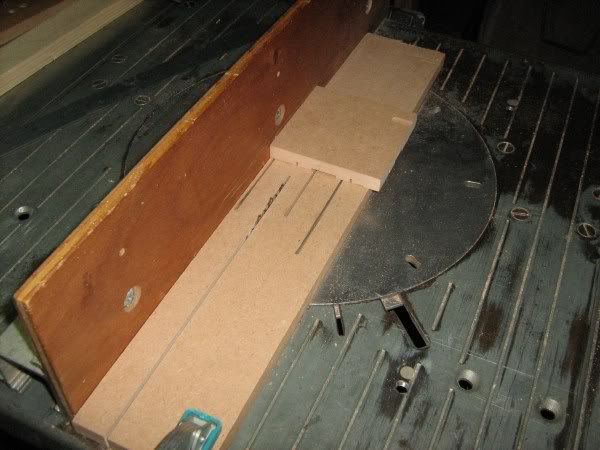 -
Fence distance set to the height of the side + 2mm (for box separation cut). Set blade height to 3mm so as to definitely cut through the box material and cut through all four sides
-


-
Peel out the box sides
-


-
Each side looks like this at the moment
-


-
That may look a bit ragged but remember the piece is only 22mm x 20mm x 2mm.
I took the stumpy cross out of the jig and double sided taped it back in. Once I start cutting the stumps off there will be nothing left to hold it in there!
-


-
Then reset the saw fence to cut the stumps off
-


-
and sawed them off.
-


-
Removed the top piece carefully, with a knife and cleaned off the double sided tape. Here the pieces are
-


-
They will need to be edged with Ebony next and assembled. Thats for another blog though
Be seeing you
-- Martyn -- Boxologist, Pattern Juggler and Candyman of the visually challenging.
---