Hello all. A little while back someone came up with a box that was 2 cubic inches in size. I looked up my old 'Little Bess Ring box' posting and found that to be approaching 3 cubic inches. Now there's a challenge I thought. So was born the idea for Atom, a 1 cubic inch box. Here is the paper model
-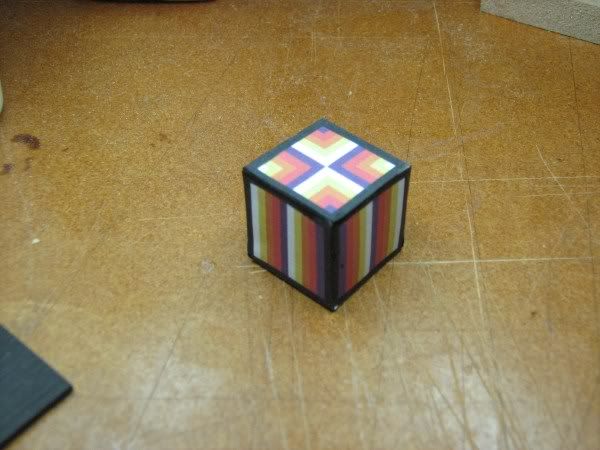 -
Its full size at 24mm on a side (just under 1"). It will have 2mm (5/64") thick walls. The lid will be drop on.
Now there is a tiny box.
Here is a pic of my progress so far
-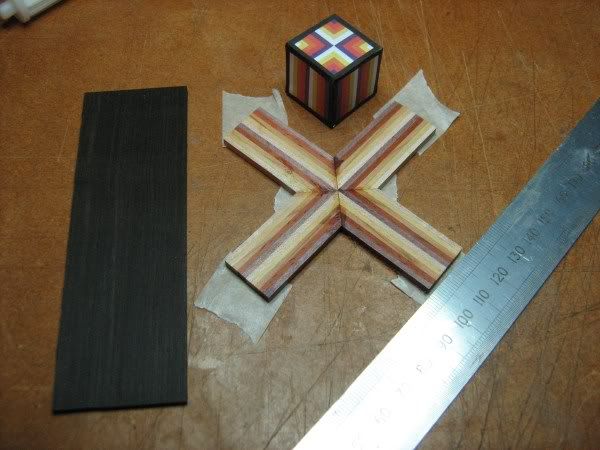 The black piece on the left is the material (2mm thick Ebony) for the bottom and the framing for the sides and top. The model is at the top. The cross shape is the sides and top of the box, still in one piece as they've just been glued and also need thickness sanding to 2mm (I think it'll be easier to do in one piece). The sides are 2mm strips of, in order; Sycamore, Pau Amarello, English Yew, Padauk and Purpleheart, repeated on each side.
So far the sawing has been done on the tablesaw as the pieces were reasonably robust. I dont trust it for the cut to separate the top from the sides (in the above cross shape). I wouldn't even think of EZmitre at side thicknesses under 6mm. It may be done on the bandsaw, I have spare pieces with which to do a dry run, or my new scroll saw. Needless to say I'm glad I've got my new glasses. I'm going to need them and a pair of tweezers.
Be seeing you.
-- Martyn -- Boxologist, Pattern Juggler and Candyman of the visually challenging.
---