Just a mini-blog today as I've found out the yacht varnish takes 12 hours to dry. Two coats, two sides thats two days. So I can't show the clip fitting yet but I can show you how the two sides turned out.
I took the board out of the clamp. Flat as a pancake, no ripples in the veneer. Little Boy never lets me down. The edges were trimmed to size. and on the work side I trimmed back the veneer at both ends by about 10mm and fitted a new piece of veneer with grain parallel to the edge. This board is going to get some heavy punishment and this minimises split ends on the veneer. I then rounded off the corners (same reason) and sanded the edges half round. Finish sanded both sides to 240 grit, by hand, the drum sander would be through the 0.6mm veneer in no time.
Heres a detail shot of the work side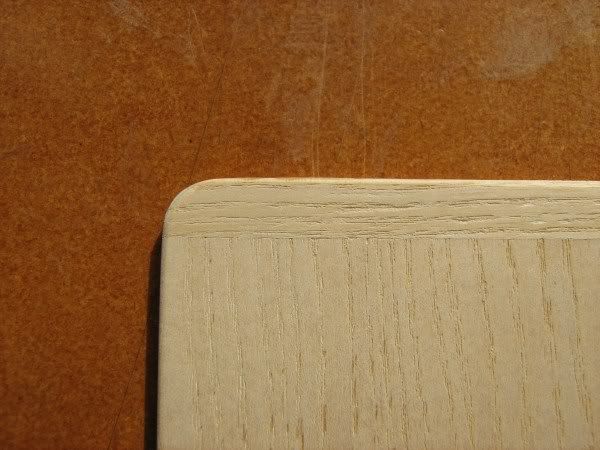 full width shot
And heres one of the pattern side, with the first coat of varnish on
I'll be varnishing for the next day or so. So don't expect a blog tomorrow.
Be seeing you.
-- Martyn -- Boxologist, Pattern Juggler and Candyman of the visually challenging.
---